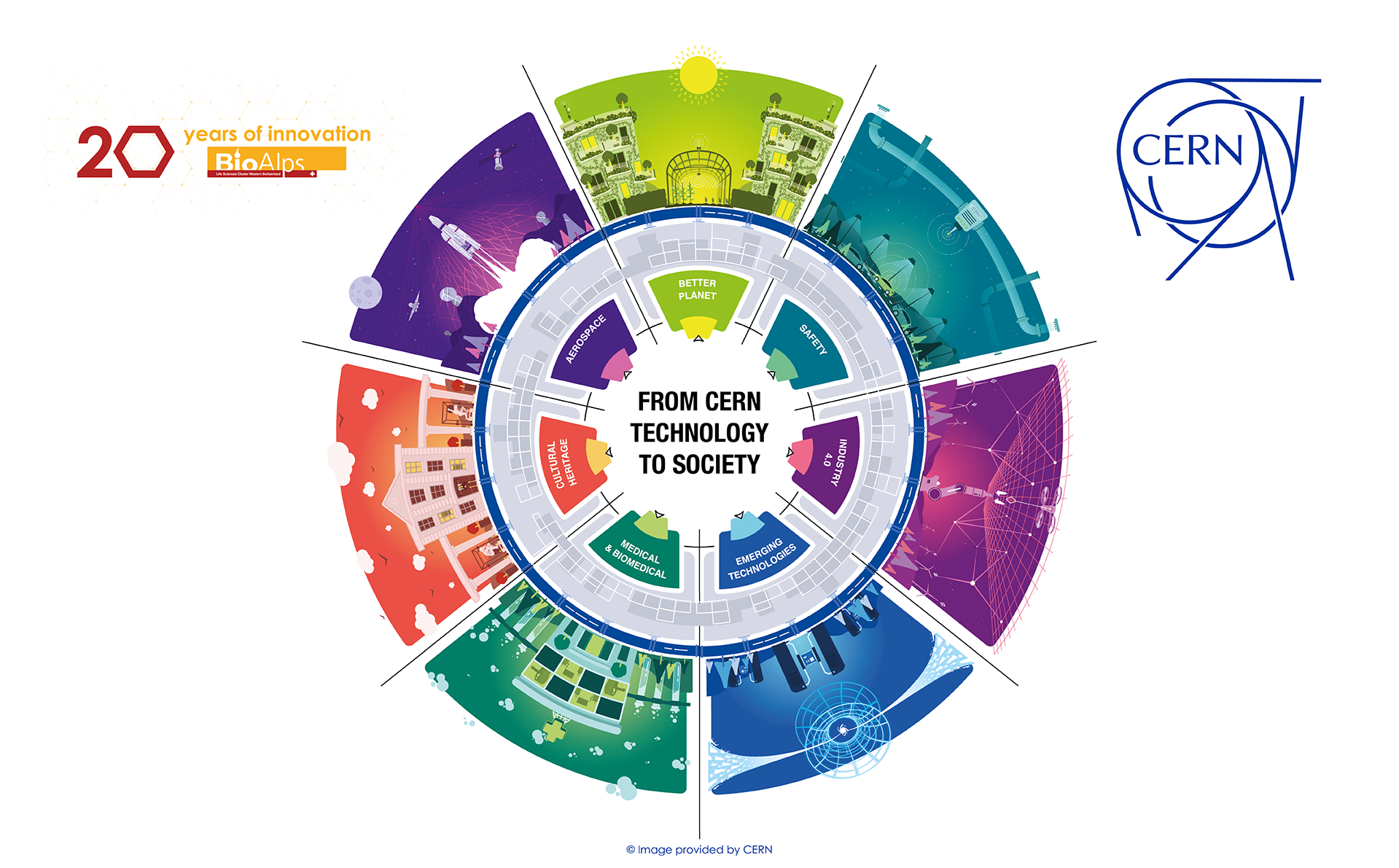 BioAlps | 20 years of innovation | CERN

CERN | Unique technologies with a wide scope of applications
We are pleased to share with you our new testimonial series as part of our ecosystem's 20th anniversary celebrations. The series aims to provide a platform for regional Life Sciences key players to present themselves, share their perspectives on the development of Western Switzerland's Life Sciences ecosystem and their outlook on upcoming challenges and opportunities. The following article is presented to you by the CERN.
Presentation of CERN's activities
CERN, the European Organization for Nuclear Research, is a centre of excellence in fundamental physics research. The unique technologies developed to perform its experiments have potential applications in other fields. In the medical domain, CERN has a track record of successful innovations in radiotherapy, clinical imaging and medical computing.
As a publicly funded international organisation, CERN's mission includes ensuring that society benefits from its work, not only through its contribution to the progress of human knowledge but also from the unique technological capabilities it develops to pursue its research. Many of the technologies required to operate its cutting-edge facilities provide trail-blazing solutions that are not available off the shelf. These technological breakthroughs can change the way we diagnose and treat patients. CERN's Knowledge Transfer group links the Organization's technology experts with innovators, enabling industry to uptake the technologies.
CERN's contribution to the development of Life Sciences in Western Switzerland and worldwide
With a view to finding  innovative solutions in the medical and biomedical fields, CERN scientists support the continuous development of more compact and better performing radiotherapy machines. In Switzerland, CERN is collaborating with the Lausanne University Hospital (CHUV) to create an electron FLASH radiotherapy device, which delivers high doses of radiation within milliseconds rather than minutes, potentially reducing harmful side effects. CERN has also licensed the design of a very compact accelerator element, a radiofrequency quadrupole (RFQ), to the Meyrin-based CERN spin-off ADAM S.A. (now part of Advanced Oncotherapy plc, United Kingdom) for integration into a breakthrough compact linear proton therapy machine.
The research required for the development of particle detectors leads to the development of faster and more precise technologies that are applicable in medical imaging. The Medipix3 chip, for instance, detects individual photons and analyses their energy. It has been integrated into an X-ray CT scanner by MARS Bioimaging Ltd (New Zealand) that uses the unique capabilities of Medipix3 to provide spectroscopic information in addition to a 3D picture. The first MARS scanner in Europe was installed at CHUV in June 2021. Additionally, with Innosuisse's support, CERN collaborates with the Geneva-based startup TERAPET SA on the development of their proton therapy dosimetry system.
Another initiative, MEDICIS, is a CERN-based facility that is part of an international collaboration dedicated to the development of unconventional radioisotopes for medical research, with Swiss partners like the Paul Scherrer Institut, the Geneva University Hospitals and CHUV. In computer sciences, the Institute for Global Health (University of Geneva) and CERN collaborate with internationally renowned institutes and industry on the development of BioDynamo, an open-source platform for complex biological simulations.
CERN's recommendations
The continued development of modern medicine requires ever more precise yet broadly accessible diagnostic and therapeutic tools. The resulting scientific and engineering challenges can be best tackled by closer collaborations at the regional, national and international levels. Organisations and networks that connect partners from industry and academia create the right environment to support collaboration and foster interdisciplinary developments.
Interdisciplinarity, international cooperation and openness to new partners and their challenges, along with the training and education of highly qualified scientists and engineers, are some of the key ingredients to successfully apply know-how and technologies developed for fundamental sciences to solve unmet societal needs. CERN remains committed to the knowledge-transfer process from high-energy physics to medical applications.