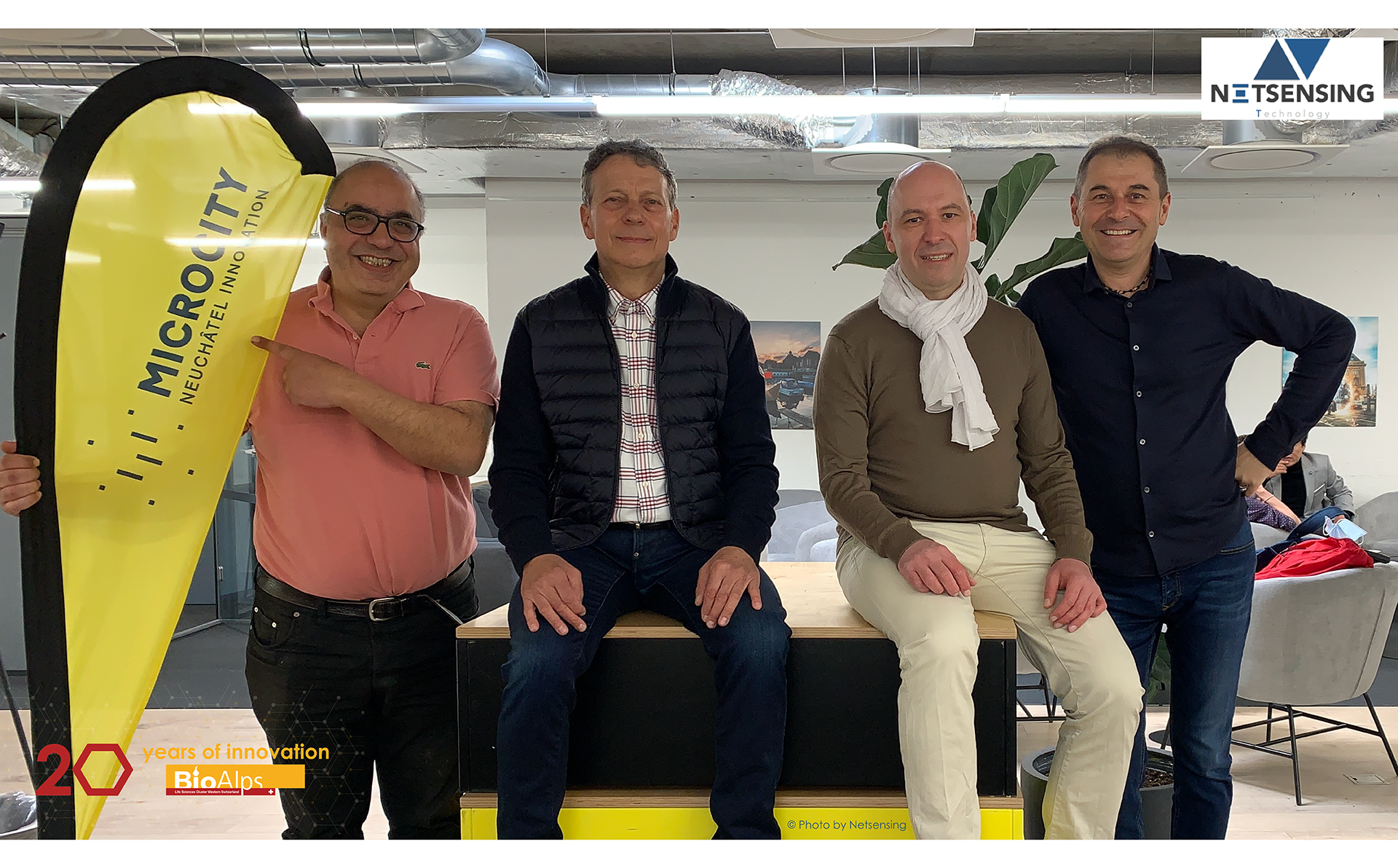 BioAlps | 20 years of innovation | Netsensing

Netsensing | Saving lives through the detection of sleep apnea
We are pleased to share with you our new testimonial series as part of our ecosystem's 20th anniversary celebrations. The series aims to provide a platform for regional Life Sciences key players to present themselves, share their perspectives on the development of Western Switzerland's Life Sciences ecosystem and their outlook on upcoming challenges and opportunities. The following article is presented to you by Netsensing.
Presentation of Netsensing's activities
Netsensing Technology Sàrl is a Swiss medtech startup, founded in 2019, which has patented a methodology to enable the mass detection of sleep apnea. This methodology is fully compliant with the American Academy of Sleep Medicine (AASM). The main objective is to save lives by enabling the mass detection of sleep disorders faster and cheaper than any other method. 
Major Life Sciences trends and developments in Western Switzerland and Netsensing's contribution
The ecosystem that Western Switzerland can offer in Life Sciences is crucial for Netsensing. Indeed, the academic and research excellence of Switzerland is serving as a hub of innovation and especially in the development of medical devices. The motivation behind our project is to enhance the accessibility of sleep apnea screening and diagnosis through an affordable and easy to use solution. When detected, sleep apnea is well treated. However, it is largely undiagnosed and untreated owing to inaccurate and expensive screening solutions and limited access to diagnostic labs. As a consequence, the chances of developing cardiovascular diseases, strokes, depression and type 2 diabetes increase, leading in some cases to an early death. The device HSATPro aims to overcome this challenge using state-of-the-art technologies developed in Switzerland.
Significant foreseeable trends and challenges in Life Sciences
One of the major trends, in Switzerland, the European Union and the United States, is the development of telemedicine enabling tele-prescription, and hence reducing time and costs. Since January 2019, telemedicine has been deployed in the United States under the "Remote Patient Monitoring" program. In Switzerland, platforms like www.soignez-moi.ch are expected to be fully deployed and adopted by 2022. The availability of screening devices in pharmacies (additional services) will allow doctors to send e-prescriptions to patients who want to get reimbursed. 
Major events which have contributed to the development of Life Sciences
The miniaturisation of components and substrate is certainly one of the major contributions to the development of medical devices. Furthermore, technological evolutions like AI, mobile communication, IoT and big data are contributing to accelerate innovation in the medical field. 
Netsensing's development towards personal health

Netsensing's development to meet the new demand for personal health will strongly depend on the digital transformation and rules related to the data protection. More and more personal data are collected and without a real intention from governments to regulate their distribution, it would be difficult to collect personal data without a clear change/shift in society.
Netsensing's recommendations
The fact that Switzerland did not sign the new bilateral agreement with the European Union is penalising medical companies, and especially startups, as the access to EU financing programs is not allowed anymore. Furthermore, exporting medical devices to the EU is becoming very complicate without having a subsidiary registered in one of the EU countries.