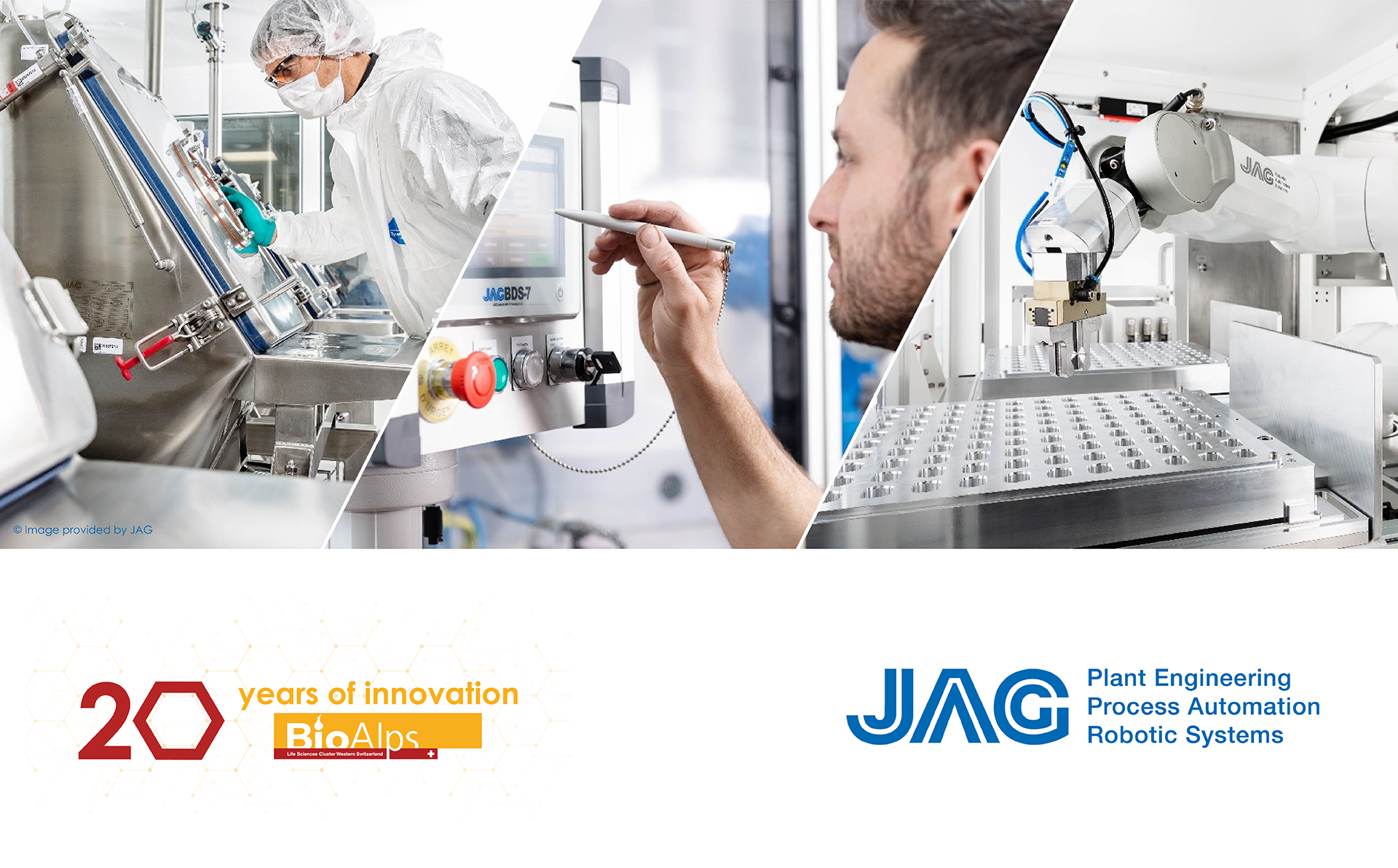 BioAlps | 20 years of innovation | JAG

JAG | Highly automated process plants for the pharmaceutical and biotech industries
We are pleased to share with you our new testimonial series as part of our ecosystem's 20th anniversary celebrations. The series aims to provide a platform for regional Life Sciences key players to present themselves, share their perspectives on the development of Western Switzerland's Life Sciences ecosystem and their outlook on upcoming challenges and opportunities. The following article is presented to you by JAG.
Presentation of JAG's activities and competences
JAG is a leading process technology company which designs and builds highly automated process plants for the pharmaceutical and biotech industries.
Being an automation and robotics specialist, we automate even the largest and most challenging production processes in the pharmaceutical and biotech industry. Our plants are among the world's most efficient.
Major Life Sciences trends and developments in Western Switzerland and JAG's contribution
The biggest recent impact was certainly the COVID-19 crises, which caused an immediate need for production capabilities for vaccines. Western Switzerland is home to leading CMOs particularly challenged to meet this most urgent need. In general, the pandemic drives health awareness, and consequently the demand for respective pharmaceutical and nutritional products providing healthier life and resilience. The Life Sciences and food industries in Western Switzerland are well positioned to cover such demand. Investments in production and R&D facilities in Western Switzerland are clearly demonstrating the attractiveness of the region as preferred place for industries' research, development and production activities.
JAG is close to the Life Sciences industries in Western Switzerland and has all the resources and expertise required to support these industries build up production capabilities within a short time frame. JAG contributes significantly to the industries investments in production facilities, in particular when it comes to fast-track projects, demanding production processes and highly automated production lines.
Significant foreseeable trends and challenges in Life Sciences
The population in most first world and emerging economies will be increasingly overaged. Average lifespan will continue to increase. The demand to cure rare disease and old-age disease will become paramount. In parallel, well-being, resilience and a healthier life will continue to be one of the population's most important desires. JAG considers the biotech, pharmaceutical and nutrition industries in Western Switzerland as well positioned to benefit from these trends. For various reasons, Switzerland will continue to be a preferred place to produce affordable pharmaceutical products and healthier food, both of uncompromising quality. An imminent shortage of sufficient qualified specialists will be a major challenge for the whole Life Sciences industry in Switzerland and for its contractors such as JAG.
Major events which have contributed to the development of Life Sciences
When talking of an individual event, it's certainly COVID-19. But trends as mentioned earlier are of similar importance for the success of the Life Sciences industry in Western Switzerland.
Planned developments to meet future challenges
Continuous improvements of business process, investments in continuous education for staff and on-going further development of JAG's solutions are key to meet future challenges. The capability and resources to design, engineer and implement high quality and fully automated process solutions and production lines, ensuring maximum quality of produced pharmaceuticals and nutritional products, are the cornerstones of JAG's success, today and in the future.