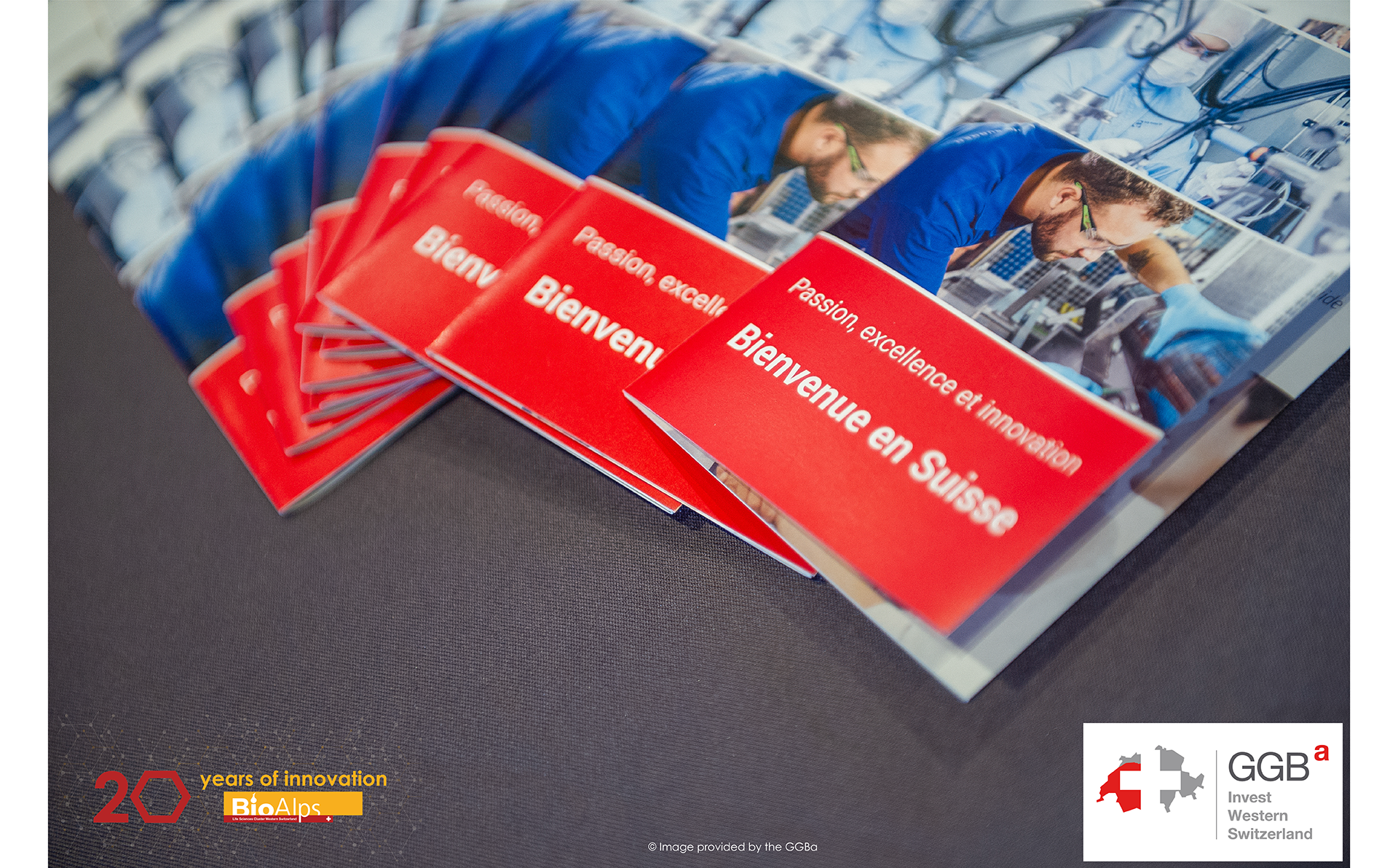 BioAlps | 20 years of innovation | Greater Geneva Bern area

GGBa | The official investment promotion agency for Western Switzerland
We are pleased to share with you our new testimonial series as part of our ecosystem's 20th anniversary celebrations. The series aims to provide a platform for regional Life Sciences key players to present themselves, share their perspectives on the development of Western Switzerland's Life Sciences ecosystem and their outlook on upcoming challenges and opportunities. The following article is presented to you by the GGBa.
Presentation of GGBa's activities
The Greater Geneva Bern area (GGBa) is the official investment promotion agency for Western Switzerland, bringing together the cantons of Bern, Fribourg, Vaud, Neuchâtel, Geneva and Valais. We advise and assist foreign companies in setting up business operations in the region. Our support is tailor-made, free of charge and confidential.
Major Life Sciences trends and developments in Western Switzerland and GGBa's contribution
The Life Sciences sector is a key target industry for the GGBa as they focus on strengthening the local ecosystem and bringing novel competences to the region. Over the past few years, Western Switzerland's Health Valley has seen a steady flow of new investments in R&D and manufacturing, as well as services and headquarters operations. In April 2021, Ferring Pharmaceuticals announced the opening of a state-of-the-art Biologics Innovation Center at the Biopôle Life Sciences campus in Lausanne. The Swedish company has been present in Switzerland since 2006, when it established its global headquarters, a production facility, and an R&D center in Saint-Prex. In January 2021, ZETA, an Austrian engineering specialist for the pharma and biotech industries, opened a subsidiary in Visp to work more closely with Swiss-based multinationals and SMEs. In November 2020, CSL Behring inaugurated its new manufacturing facility in Bern, a project worth CHF 300 million  that will create 50 jobs. In October 2020, California-headquartered JSR Life Sciences announced the expansion of the gene-to-GMP biologics manufacturing facilities of its affiliate companies KBI Biopharma and Selexis in Geneva. Together, the two companies will create more than 250 new technical jobs. In July 2020, Incyte inaugurated its new European headquarters in Morges. In parallel, the U.S. biopharma is investing CHF 100 million in a production facility in Yverdon-les-Bains. In January 2020, GE Healthcare Life Sciences (now Cytiva) announced plans for a new production facility at Signy Park, near Geneva Airport, to meet the increasing global demand for cell and gene therapies. Also in January, German Life Sciences heavyweight Merck unveiled plans for its Biotech Development Center, a CHF 270 million-facility in Corsier-sur-Vevey. The company has invested more than one billion euros in Switzerland over the past ten years.
Significant foreseeable trends and challenges in Life Sciences
Foreign entrepreneurs are drawn to Switzerland because of its political, economic and social stability, as well as its reliable infrastructure, liberal labor laws, and dynamic tech ecosystems. As outlined above, there have been a number of investments in Western Switzerland's Life Sciences industry in recent years, and we expect this trend to continue. The Health Valley could even benefit from the post-coronavirus period insofar as businesses involved in digital health, biotech or e-learning gain momentum as they roll out efforts to tackle the pandemic. The global health crisis we are navigating has also highlighted the need to relocate the production of medicines and strategic health facilities to Switzerland. Part of our job is to make sure that companies with similar projects are aware of what Western Switzerland has to offer.
Even though our region fares well in the fierce competition for new investments compared to other Life Sciences hubs around the world, we should not rest on our laurels. International firms are generally very mobile, and continuous efforts are needed to attract and retain the most innovative among them. The end of the mutual recognition agreement and related trade facilitating effects for medical devices between the EU and Switzerland in May 2021 could severely undermine the competitiveness of Switzerland as a business location and investment destination.
Major events which have contributed to the development of Life Sciences
Since the early 2000s, Western Switzerland has witnessed the convergence of biotechnology and medical technologies to form the so-called Health Valley. This initiative was spearheaded and promoted by political authorities and industry support organisations, as well as academics and philanthropists. Their vision and dedication enabled the region's Life Sciences ecosystem to become one of the most advanced and diversified in the world in just over 15 years.
Western Switzerland's Health Valley is unique in its ability to adapt and further develop technologies that were not intended for the Life Sciences industry and that have been the pillars of Swiss know-how for decades. The century-long watchmaking tradition, for example, has stimulated cutting-edge innovation in medtech. This cross-sectorial spillover adds significant value to the ecosystem, as do the frequent interactions between the academic, industrial, scientific, financial and political stakeholders, fostered and coordinated by the BioAlps Association.
GGBa's recommendations
As a small country at the heart of Europe that is not a member of the EU, Switzerland has decades of experience in creating ideal framework conditions for businesses. This includes excellent access to foreign markets, which should be maintained. Stabilising the bilateral cooperation with the EU is in the common interest of both parties involved.