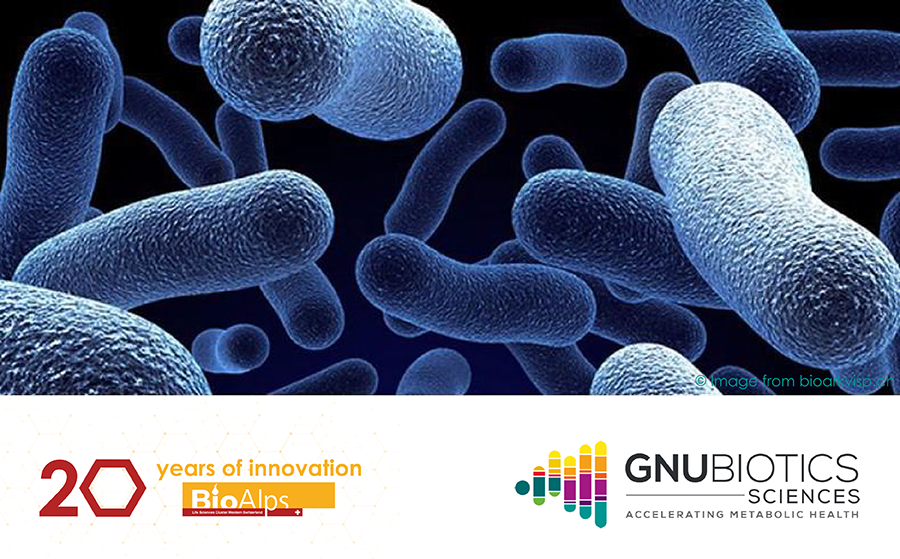 BioAlps | 20 years of innovation | Gnubiotics

Gnubiotics | Novel microbiome health solutions
We are pleased to share with you our new testimonial series as part of our ecosystem's 20th anniversary celebrations. The series aims to provide a platform for regional Life Sciences key players to present themselves, share their perspectives on the development of Western Switzerland's Life Sciences ecosystem and their outlook on upcoming challenges and opportunities. The following article is presented to you by Gnubiotics.
Presentation of Gnubiotics' activities
Gnubiotics is a global leading innovator developing novel microbiome health solutions for companion animal and humans. We are changing the paradigm of health by harnessing the power of the microbiome.
Major Life Sciences trends and developments in Western Switzerland and Gnubiotics' contribution
The microbiome is an emerging field of health. It has been identified as the new target for potential treatment of a number of different diseases and conditions for which we have no solutions currently available.
In this context, Gnubiotics has developed its own unique proprietary solutions to address the microbiome challenge based on two strategic pillars of innovation:
Microbiome monitoring an analysis: discovery of signature markers of microbiome correlated to diseases states that allow us to accurately diagnose and predict them.
Proprietary glycan-based products clinically proven to modify the microbiome in animals and humans: some of the applications we are exploring are microbiome recovery after antibiotic treatment, IBD, Multi drug resistance organisms, microbiome restoration post chemotherapy and increased ICI response rates for Melanoma and CRC.
The uniqueness of our approach to the microbiome using this set of unique technologies puts us at the spearhead of microbiome innovation.
Significant foreseeable trends and challenges in Life Sciences
Biotech is capital intensive and as with anything, access to capital is always a major challenge. The treaty between EU and Switzerland is key for a number of reasons not the least of which is providing access to alternative sources of funding for R&D and access to a market with over 500 million people which is key for the economical success of any enterprise in Switzerland. We remain confident that this is just a delay and that it will be resolved successfully.
How will Gnubiotics evolve to meet the new demand for personal health in a growing, interdisciplinary market?

There is an enormous effort from the whole industry to improve health and healthcare services. Perhaps the most effective way of tackling the problem is the use of predictive diagnostics to release the pressure on the national healthcare systems around the world (i.e. with infectious diseases crisis such as the COVID pandemic we saw how easily overwhelmed any national health system can be).
Predictive diagnostics and active surveillance of any disease state is key to better manage the next pandemic crisis.
Gnubiotics' recommendations
It is key for Switzerland to successfully renegotiate the framework agreement with the EU. Switzerland is at the helm of biotech innovation in the world but without these agreements in place it is an added challenge to an already sometimes impossible challenge the industry faces to bring innovation to the market and ultimately create wealth for the country.