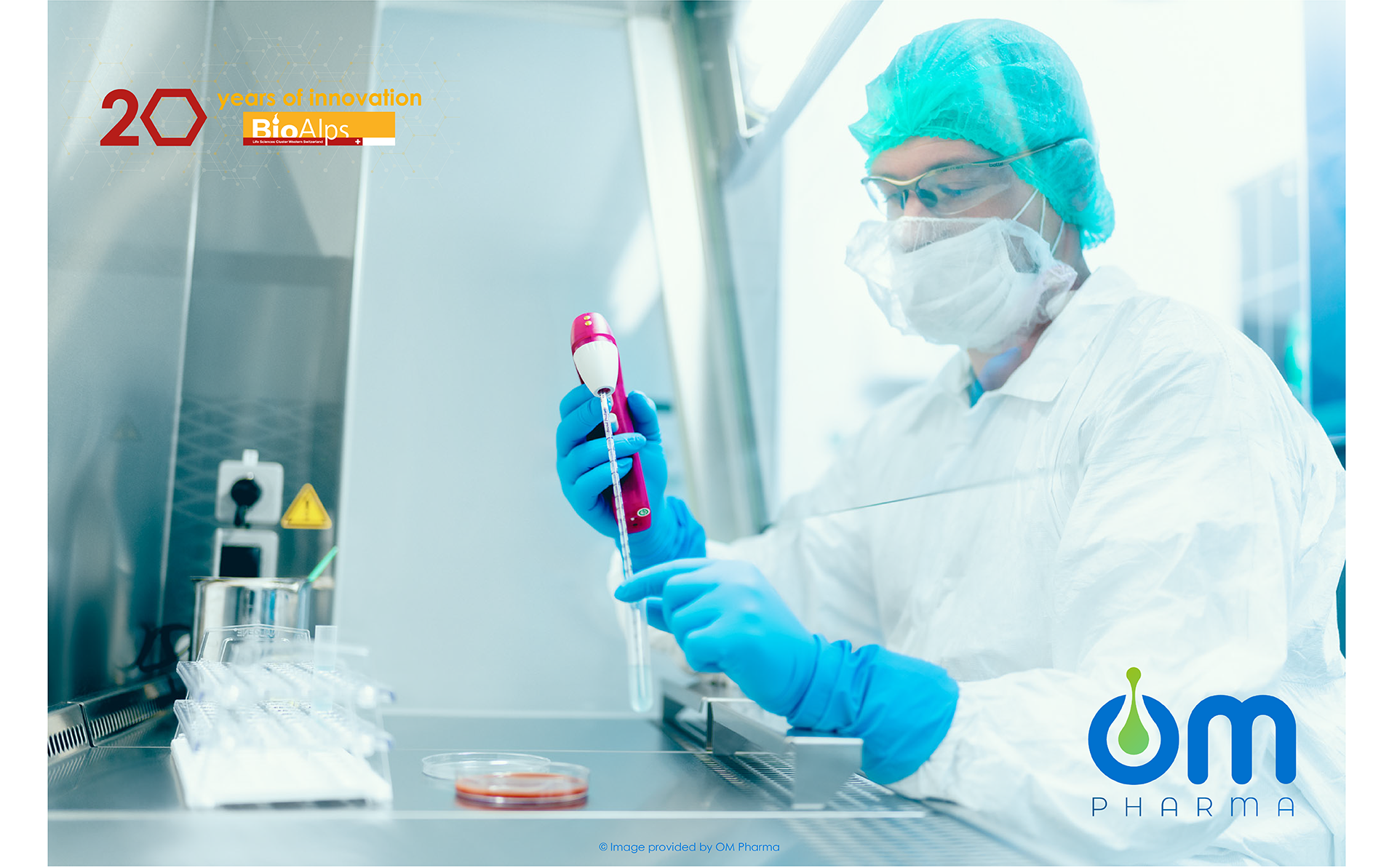 BioAlps | 20 years of innovation | OM Pharma

Investing, innovating and hiring in Switzerland to prevent infection worldwide
We are pleased to share with you our new testimonial series as part of our ecosystem's 20th anniversary celebrations. The series aims to provide a platform for regional Life Sciences key players to present themselves, share their perspectives on the development of Western Switzerland's Life Sciences ecosystem and their outlook on upcoming challenges and opportunities. The following article is presented to you by OM Pharma.
Presentation of OM Pharma's activities
Founded in 1937 in Geneva, OM Pharma has been developing different formula of bacterial extract to modulate the immune system and prevent respiratory and urinary tract infections. These products are manufactured in Geneva and distributed in more than 100 countries across the world. OM Pharma employs around 400 collaborators with a strong presence in Switzerland, 300 in Geneva (Global Headquarter & Biotech center) and 40 in Fribourg (Commercial affiliate, Swiss market).
The family-owned business was acquired by Vifor Pharma (Galenica Group) in 2009. Just a year ago in October 2020, Etienne Jornod, former Executive Chairman of Vifor Pharma and Galenica, bought it back with entrepreneurs with the ambition to further expand worldwide and invest in R&D to exploit the full potential of the bacterial extracts.
Major Life Sciences trends and developments
The COVID-19 crisis has put a new spotlight on infection control. Beyond treatment and diagnostics, prevention of infections is the most relevant tool against global threats, including pandemics and antimicrobial resistance.
In the past decades, innovation efforts have been mainly focusing on therapeutic novelties, i.e. bringing new molecular entity on the market. The credo of OM Pharma is to focus on the still largely untapped potential of its bacterial lysates that have been produced by the biopharmaceutical company for over 80 years. While the original idea of an oral vaccine was appealing, the scientific understanding of a broader and more complex mechanism of action of bacterial lysates gives OM Pharma some valuable insights to further unleash their immunomodulatory potential while relying on decades of experience on the market.
OM Pharma's contribution to Life Sciences in Western Switzerland
To further develop the company and its products, OM Pharma will invest more than CHF 250 million over the next few years in R&D and in manufacturing capacities in its Biotech Center in Geneva. OM Pharma's shareholders – entrepreneurs themselves and convinced about the potential of the bacterial-based immunomodulators – are fully engaged to reinvest all their profits and dividend payments until 2027.
To meet its ambitions, OM has been recruiting more than 100 new positions in Geneva in 2021, in different areas spanning from Manufacturing to Marketing or Clinical research.
OM Pharma's geographical position is a significant competitive advantage to attract talented people with a strong pharmaceutical expertise. Geneva lake is a real pole of attractiveness which drive people from neighboring countries such as France and Italy.
OM Pharma's visitors are always impressed by the remarkable industrial facilities in Geneva, using state-of-the-art biotech equipment covering the entire supply chain, from bacterial cell culture to the finished products.
These significant investments, combined with the current emphasis on preventive treatments, underline OM Pharma's ability to become a leading global biopharmaceutical company focused on improving the lives of patients with respiratory and inflammatory diseases worldwide.