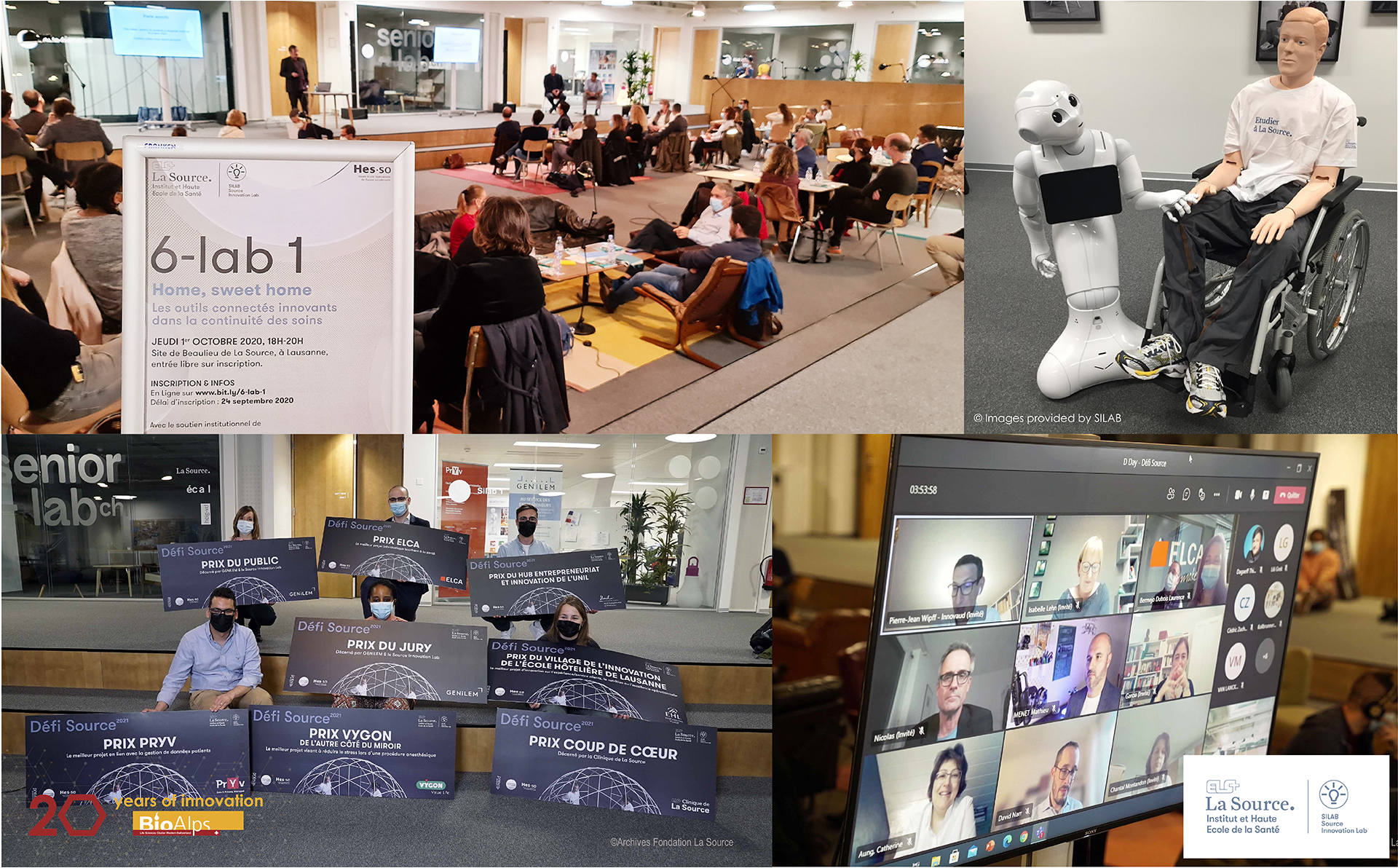 BioAlps | 20 years of innovation | SILAB

SILAB ǀ Dedicated to promoting a relevant and sustainable innovation in healthcare
We are pleased to share with you our new testimonial series as part of our ecosystem's 20th anniversary celebrations. The series aims to provide a platform for regional Life Sciences key players to present themselves, share their perspectives on the development of Western Switzerland's Life Sciences ecosystem and their outlook on upcoming challenges and opportunities. The following article is presented to you by SILAB.
Presentation of SILAB's activities
SILAB is the Innovation Laboratory of La Source School of Nursing, HES-SO University of Applied Sciences and Arts Western Switzerland. It promotes innovation in healthcare by providing coaching and hands-on support for innovators, teaching innovation to nursing students and the organisation of events linked to innovation in healthcare.
Major Life Sciences trends and developments in Western Switzerland and SILAB's contribution
Innovation is one of the possible answers to ensure the sustainability of our health system and guarantee accessibility, equity, security and excellence with controlled costs. But it has to answer real needs.
In the field of healthcare, immediate efficiency, error-proof guarantee, acceptance and ease of use are crucial factors to make a product or service a success.
In a visionary move, SILAB was conceived five years ago as an active stakeholder of innovation from the healthcare professionals' perspective and to foster innovation in healthcare that is relevant and sustainable.
An academic structure with business-oriented activities
SILAB participates as an academic structure in training and teaching of nurse students and acts as a research partner towards multiple grant funding agencies. But SILAB also accepts mandates and missions from external partners, including startups and innovators at large.
A solid heritage transmitted through generations
The missions of SILAB are encoded by a double-stranded DNA with two complementary strands: coaching and acculturation.
Coaching
SILAB creates the conditions for ideas or prototypes of external partners to be discussed, assessed, safely and scientifically tested and improved. Health professionals can expose real-life problems that innovators can turn into solutions. Conversely, innovators present solutions that are confronted with comments from real-life users. The goal is to rapidly exchange on various issues such as acceptance, desirability, usability or relevance of a proposed solution to propose next best steps to decrease the time- and effort-to-market with an innovation that is identified at early stages to fit users' needs and expectations. This creates partnerships built on common needs and shared visions.
We offer a facilitated access to simulated clinical facilities loaded with professional medical equipment. We can organize mock clinical studies in this secured environment, help in drafting research or clinical protocols or in recruiting patients through our strong relationships with hospitals and clinics.
We work with most business-oriented coachs, incubators and accelerators as well as internationally, especially through Swissnex.
We are especially pleased to help startups gain real business advantage by preventing mistakes and wasted time.
Through this wide panel of activities, we can foster medical innovation that represents genuine added-value to health professionals and institutions and patients.
Acculturation
Acculturation and education both enable the transmition of knowledge: SILAB participates in the educational cursus of nursing students, familiarizing them with the process of innovation and new technologies.
SILAB organizes multiple events to promote bottom-up innovation. The Defi Source event held in 2021 gathered 160 participants, 15 sponsors, 40 coachs and experts and selected 20 projects among 48.
Just like DNA strands, acculturation and coaching are intrinsically linked by solid bonds. In a two-way process, we often associate them for interdisciplinary collaborations, so each one learns from what the other one sees or does.
A specific contribution in a global professional offer
Concentrating on hands-on work, SILAB is a facilitator on its own. It integrates perfectly into the existing Swiss landscape of innovation and complements the efforts of professional coachs.
Significant foreseeable trends and challenges in Life Sciences
Efforts should be undertaken to involve healthcare staff in as many ideation and implementation phases as possible, providing them with training in innovation, promoting bottom-up innovation and interactions between developers and healthcare staff. Failing to do so may be a risk for the future health system.
Major events which have contributed to the development of Life Sciences
The launch of the Health Valley was the starting point of a magnificent dynamism for creativity and innovation in Life Sciences. We are blessed to be able to benefit from this world-class cluster and its critical mass of companies, high schools, universities, research centres, hospitals and innovation support structures. Most of the startups and innovators that we work with today are the natural offsprings of this visionary endeavour.
How will SILAB evolve to meet the needs for healthcare innovation in a demanding, interdisciplinary market ?
We are convinced that only interdisciplinary efforts are able to make an efficient health system. With this in mind, we are in the process of building a community of care by gathering actors from the healthcare, medical, clinical, academic, institution, foundation, state and private sectors around SILAB. We will do our best to act as a centralised platform to promote interactions, collaborations and partnerships. Many of these institutions have so far demonstrated their trust in SILAB and we keep expanding this community. This ecosystem will be a great resource, in particular for all startups and companies, as targeted partnerships are the way to go at a time of interdisciplinary and exponential change.
SILAB's message to the innovation community
We encourage innovators to involve healthcare professionals in their innovation process;
We encourage healthcare students and professionals to become active players in innovation;
We encourage care and medical institutions to promote internal bottom-up innovation;
We encourage academic and care institutions, hospitals, clinics, patient and care organisations and professional coachs to join forces with us to create a strong community dedicated to relevant innovation that will build the health system of tomorrow.