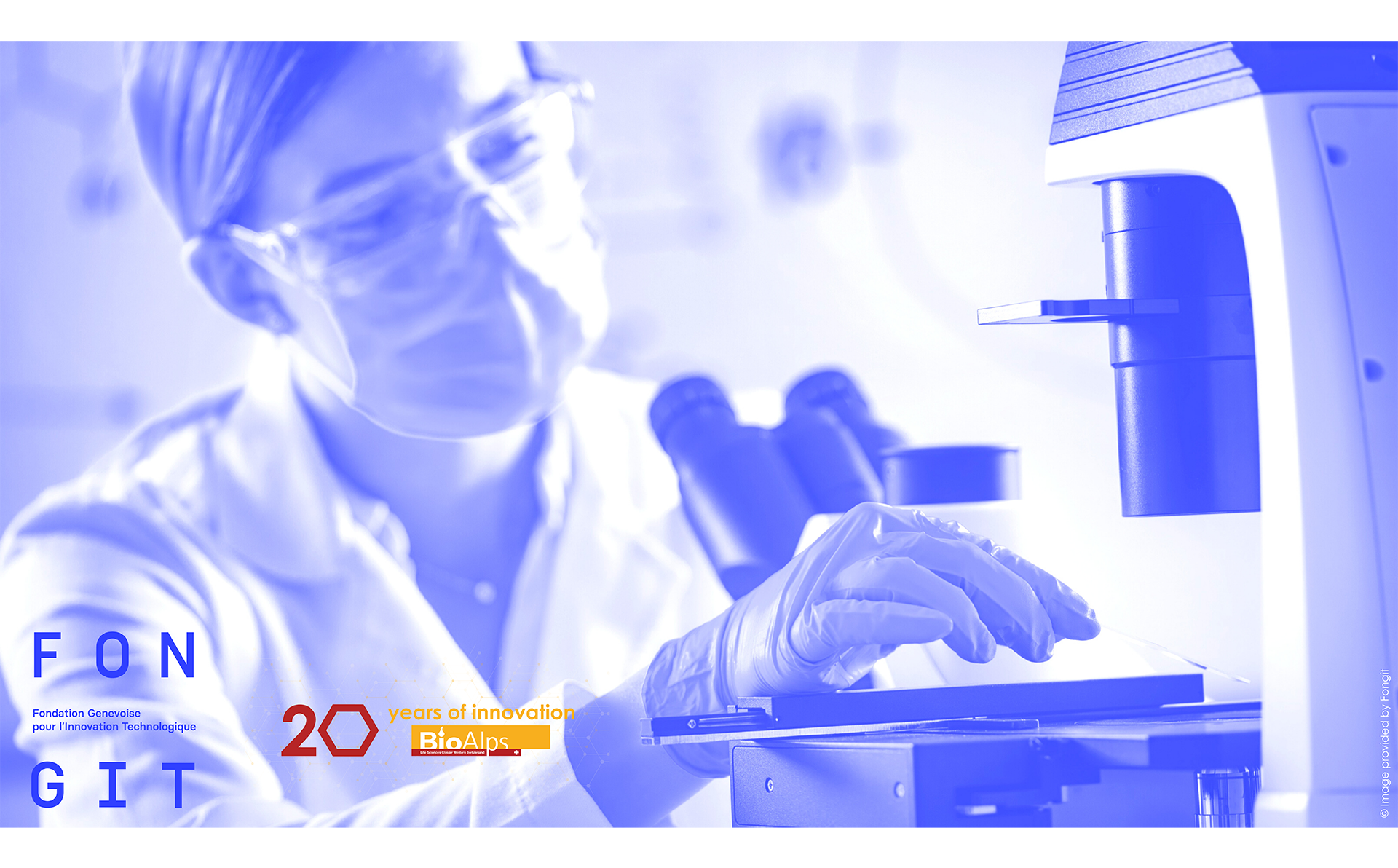 BioAlps | 20 years of innovation | Fongit

Fongit | Switzerland's premier startup incubator
We are pleased to share with you our new testimonial series as part of our ecosystem's 20th anniversary celebrations. The series aims to provide a platform for regional Life Sciences key players to present themselves, share their perspectives on the development of Western Switzerland's Life Sciences ecosystem and their outlook on upcoming challenges and opportunities. The following article is presented to you by Fongit.
Presentation of Fongit's activities
The Fondation Genevoise pour l'Innovation Technologique, Fongit, is Switzerland's premier startup incubator. Founded in 1991, Fongit currently supports over 100 deep tech startups that are active in: Life Sciences (biotech, pharma, medtech, diagnostics, digital health), ICT and Advanced Engineering, representing over 800 jobs. In the past few years, more than CHF 300M of private funds have been invested in Fongit-supported startups.
Fongit's unique integrated support program combines: coaching by seasoned entrepreneurs and experts, essential administrative, legal and accounting support; hosting in professional offices and lab spaces; and access to seed funding. Our entrepreneurs are connected with a thriving innovation community, which has the resources to maximise startup success.
Fongit is a private, non-profit foundation, whose mission is to empower entrepreneurs to successfully transform innovation and technology into growing sustainable businesses, delivering economic and social value in Geneva. The foundation benefits from financial support from the State of Geneva.
Major Life Sciences trends and developments in Western Switzerland and Fongit's contribution
The past decade has seen a strong sustained growth in innovative Swiss startups. In 2020, Life Sciences startups raised more than 1 Billion Swiss francs in investment compared to CHF 250M raised in 20121.
Geneva Life Sciences benefit from the combination of a track record of strong research institutions: UNIGE, HUG, Wyss, CERN, and successful companies: Serono, Amal Therapeutics, Selexis, Endosense, Obseva, Geneuro, Spineart, Adam. The region counts numerous local "serial entrepreneurs" who, having built successful startups, are now founding and supporting the next generation of innovators. Some examples include Anteis, who was acquired by Merz Pharma in 2013, and whose leadership team has now launched five new Swiss startups and are contributing as angel investors and mentors in the community.
Another surprising story is the one of Selexis, first acquired by JSR Life Sciences, it is now building a larger corporate headquarters in Geneva for more than 200 employees. We can see that the local startup scene is going from strength to strength.
Life Sciences remains a very risky but highly rewarding business. Success of course depends on cutting-edge science but also on good entrepreneurial spirit and high quality project management. Fongit brings training, coaching, access to financing and networking with experts in Life Sciences to support the entrepreneurs in their development and commercialisation journey.
1

To give a full breakdown in 2020 – Biotech startups raised CHF 820 million in 42 rounds; Medtech startups raised CHF 161 million in 33 rounds; and Healthcare IT raised a total of CHF 160 million raised in 18 rounds. (All numbers from startupticker.ch: https://www.startupticker.ch/en/swiss-venture-capital-report)
Significant foreseeable trends and challenges in Life Sciences
In an overall positive and promising trend, the recent political decision to get out of the European agreements will have an impact on Swiss projects. Over the seven years of the Horizon 2020 programme, Swiss researchers were awarded by the European Research Council on average more than EUR 130 million per annum.
European grant programs have been tremendously valuable in proving and extending the technical mastery of our startups. By sharing some of the technical risk with the investors, startups are able to go further, faster. Moreover, the European program is well complementary with the entire chain of financing of Swiss startups. Switzerland's economy is built on high value exports, and the key to remain competitive is to remain connected. We do have great concerns about the impact that this exclusion will have on innovation and research in the coming years.
On another note, Swiss academic research is world class, however there is still a gap between publishable scientific results and the Proof of Concept necessary for investment. Innosuisse is providing great support in funding high value projects across this gulf. We have also noticed that working with academics early-on to draft a Target Product Profile, helps them focus their research, accelerate their development and raise grant money. We believe this combination of grants and targeted coaching is highly effective.
Major events which have contributed to the development of Life Sciences
The importance of startups in renewing the economy was demonstrated in 2011 following Merck-Serono's decision to close their site in Sécheron. This stimulated an effort to create the Campus Biotech, which today hosts world-class research and innovation centres, as well as more than 50 companies. The Schumpeterian process of creative destruction calls for new innovations to replace those existing ones that are rendered obsolete over time. To support the kick-start of this process, Fongit, together with EPFL innovation Park launched geneus.ch – a Life Sciences program to initiate innovation and support researchers in shaping their ideas and research into viable startups.
Interdisciplinarity and Life Sciences
It is perhaps no coincidence that BioAlps was founded a few months after the publication of the initial sequencing of the human genome in 2001. Since then, Life Sciences have enjoyed some of the exponential benefits of the information age: the cost of genetic sequencing has far exceeded Moore's law – falling by 7 orders of magnitude.
The recent announcement by AlphaFold2 of Deepmind AI's prediction of the shape of 350'000 proteins further demonstrates the power of this combined approach. Today, Life Sciences startups are born interdisciplinary.
Fongit's food for thought
Switzerland has a strong track record in Life Sciences startups, let's continue to grow this successful sector, and build the future together.