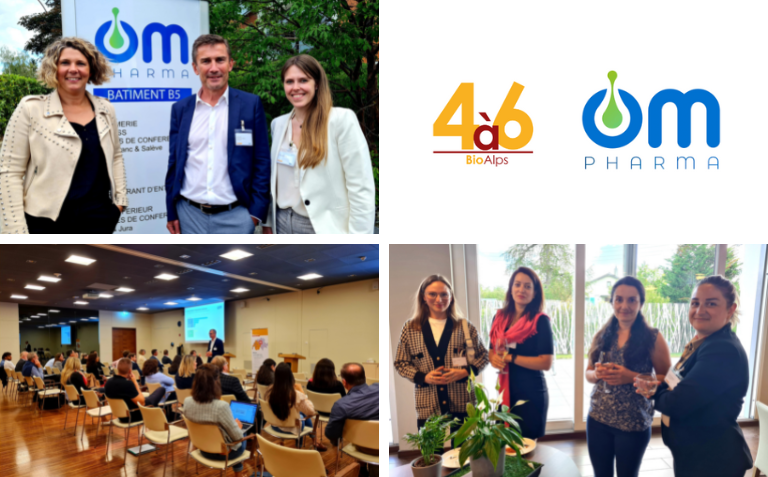 On 9 June 2022, during a BioAlps' 4à6 event, the Heath Valley Community had the opportunity to visit OM Pharma in Geneva.
OM Pharma is a leader in the prevention of recurrent respiratory and urinary tract infections with products regulating the immune system based on oral bacterial extracts. Broncho-Vaxom® and Uro Vaxom® are marketed in 64 and 41 countries respectively. The biopharmaceutical company also fights vascular disorders such as microangiopathies, chronic venous insufficiency, hemorrhoids and capillary hemorrhage, which can affect many patients, either as complications of underlying metabolic diseases or as separate conditions. Its products are Doxium® and Dicynone®, which are marketed in 55 and 72 countries respectively. Sandrine Bertrand, Head of Technical Operations Transformation and Christian Pasquali, Head of Preclinical & Scientific Director answered a few questions.
Can you present OM Pharma is few sentences?
Sandrine Bertrand: OM Pharma is a biopharmaceutical company, we operate in more than 100 countries via an international network and two affiliates. The headquarter in Geneva is also a state-of-the-art biotech center, where we produce from scratch drugs from bacterial lysates. Our products help patients suffering from respiratory and urinary diseases. 460 employees work worldwide, including 390 employees here in Geneva, where all departments work together in close cooperation. Indeed, production, laboratories, research, support and administrative teams work together on a daily basis to demonstrate our values and the strong company culture.
Why did OM Pharma choose Geneva to set up its business? 
Sandrine Bertrand: Switzerland is the country for innovation, efficiency and high quality, offering patients reliable and effective drugs. Scientific organizations like EPFL, the Campus Biotech, and the universities in Romandy provide high-level academic programmes and generate talents that we are able to hire and develop. We pay deep attention to sharing our knowledge and know-how with future generations through our training and internship programmes representing more than 10% of our site headcounts. Finally, Geneva has always been an attractive working location for international employees from France, Italy or other countries. Switzerland is one of the best places to live and to work in Europe, especially in Geneva, we have extraordinary living conditions!
Is the R&D and innovation activity located in Geneva?
Christian Pasquali: Yes, our R&D center is also located in Geneva, for the study of new indications of our medicinal products and for the development of new drugs.
Thanks to the long safety history of our products, we can rely on a strong international network of collaboration in pre-clinical research and clinical development. We have close links with renowned academic research centers, such as the Pasteur Institute and the University of Arizona and the same hold true for Switzerland with the University Hospitals of Geneva, Bern, Basel, Lausanne CHUV and with the EPFL. 
In particular for our bacterial lysates, to better address the unmet medical needs of patients suffering from recurrent urinary tract infection or from asthma which particularly affect children, we are focusing on developing our bacterial lysate portfolio with new products, administration routes, formulations, and new indications 
More than 250 million Swiss francs have already been allocated to these initiatives and to expanding the production capacity of the Geneva biotechnology center.
So it is a long-term vision, supported by our new investors, to consolidate a highly innovative biopharmaceutical company based on the unique expertise in bacterial lysates, developed for decades by OM Pharma, with the aim of improving the lives of many patients. 
Key figures
460 employees worldwide / 390 employees in Geneva
Presence in +100 countries
200M capsules / year
15M blisters / year
15 tons of lyophilisat / year
100 tons of concentrate (liquid active ingredient) / year