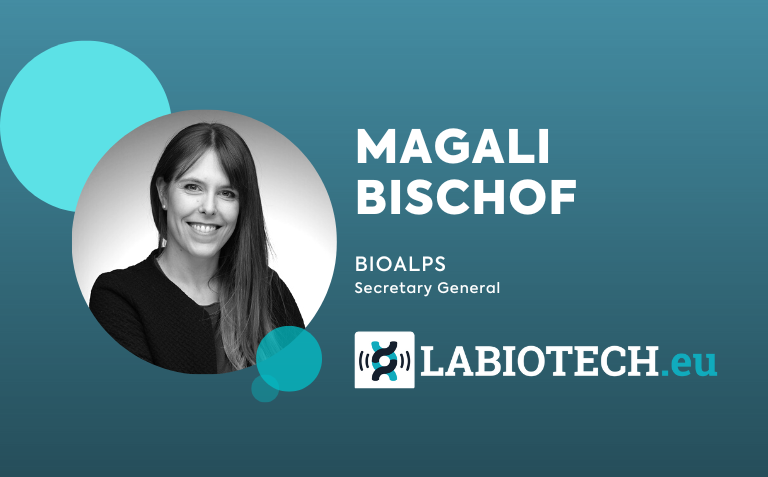 BioAlps and the Swiss Health Valley

Listen to Magali Bischof, BioAlps Secretary General, on Beyond Biotech podcast speaking about the Swiss Health Valley and the role of BioAlps association. Here is the transcription of the interview.
▶️ Listen to the podcast on Labiotech.eu | From 00:31:50 to 47:30
Could you tell us about BioAlps – when it was formed, what it does, the geographical area it covers? 
The BioAlps Association was founded in 2003 by the academic institutions of Western Switzerland. They wanted to have a regional representative to promote the science and innovation emanating from their research groups.
In 2008, within the framework of the New Regional Policy (NRP) both the federal government and the 7 cantons of Western Switzerland decided to support economic development across 4 tech pillars, life sciences being one of them. As BioAlps already existed, they choose to assign the management and development of the programme to the association. 
The BioAlps Association's mission is therefore to promote the life sciences research and innovation from Western Switzerland, a region we call the Swiss Health Valley, foster synergies and partnerships between academia and industry, but also among industry players.
The tools we use to do so are our communication channels (website, newsletter, social media) and our different events. We have 4 BioAlps event formats: BioAlps Networking Day, Deep Dive, Innovators Connect and 4à6 events. We also partner on many other events and go to international trade shows.
How many members are there, and what sectors are represented?
We have two types of members. Our institutional members, who support us financially. These currently include 14 academic institutions and 7 cantons. The other type are affiliated members. This category includes every organisation and company based within Western Switzerland that has an activity linked to innovation in the life sciences sector. Affiliation to our association is automatic as soon as the organisation sets up in the region or that new activities linked to innovation or research in life sciences are developed. We include all types of actors from startups to multinationals, research centers, academic institutions, innovation support organisations, media and service companies. The sectors we cover under the life sciences umbrella are: biotech, medtech, pharma, digital health, nutrition and cosmetics. Currently, we have listed around 1340 players in our region. 
There are a lot of members, is it easy to manage?
The complexity is mainly linked to the members' diversity. There are some key principles that are common between all life sciences fields but there are also some fundamental differences between for example biotech and medtech. Therefore, we do need to tailor our services through the understanding we have of our ecosystem. This diversity is also what makes our Health Valley so unique. I also believe it is what drives innovation and growth.
The complexity of the technology which is being developed is also increasing. Some new digital health products will include biotech and medtech elements, combined with data gathering and monitoring algorithms. 
What are the benefits for their membership?
Members can have access to our events and to our network. We often support organisations that come to us wishing to get into contact with other players from the region. We also support all life sciences organisations through our communication platforms. All news and events linked to our members can be showcased on our website.
Could you tell me about some of the events that take place?
BioAlps Networking Day – the main life sciences gathering in Western Switzerland with conference, exhibition and networking sessions attracting more than 250 people each year – Next event is planned for 9 November 2023 at Campus Biotech with the theme: "Personalized Medicine and Digital Health".
4à6 – we organise company visits, and went or will go at Incyte, BioArk and Debiotech…
Deep Dive – a discussion with key experts from the region (1 partner, 1 topic, 1 theme) – Last September we organised a discussion around Quantified Self with Biopôle.
Innovators Connect – 1 partner, scouting by BioAlps within the Swiss Health Valley, a tailored event – example CSL
What is the status of the life sciences sector in the region? Is it growing?
The sector is constantly evolving and extremely dynamic. Investment grew between 2021 and 2022.

 

We also see more and more companies that wish to strike partnerships.
Change in the landscape.
Is there government support for companies and facilities in the region, and what form does that take?
BioAlps is one of them – we work very closely with the economic promotion agencies from each canton we are supported by.
Innovation support organisms are also mainly supported by the local governments such as Biopôle, FONGIT, BioArk, Microcity, FRI UP, Medtech Accelerator in the canton of Jura and sitem-insel
There are other financial and expertise support mechanisms such as Innosuisse and BRIDGE which strive to foster industry-academia partnerships across industries.
Do you have relationships with other regions? For example, Basel and Lyon are quite close.
We do not have any established partnerships, but we do have some contacts, and we are always very happy to share the information about initiatives from other regions which could benefit our members. We are a small team at BioAlps, but the aim is to strengthen these relationships in the future and increase collaboration. Collaboration is one of the key elements of BioAlps' essence.