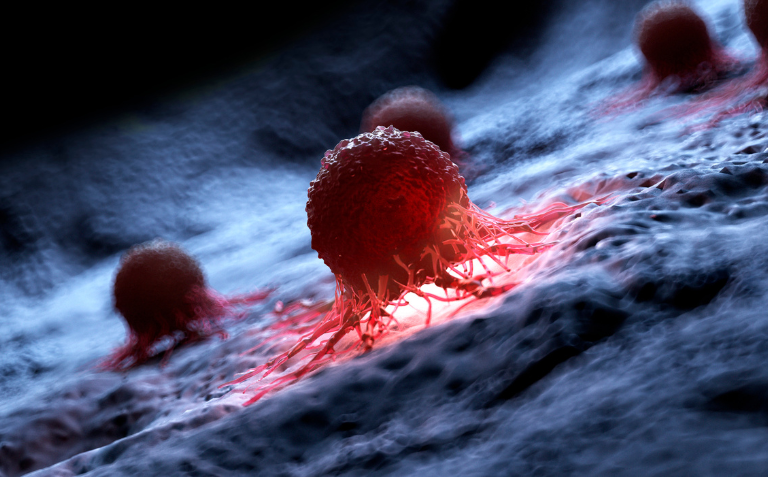 CHUV, EPFL, SIB and Roche found molecules able to suppress resistance to immunotherapy

A breakthrough in the fight against cancer: researchers from EPFL, the Ludwig Institute of the CHUV, the SIB, and Roche have discovered have successfully tested on mice a combined treatment that attacks the most resistant tumors. A test on humans will follow.
Immunotherapy is a cancer treatment that involves reprogramming a patient's immune system to attack their tumor. This cutting-edge approach is having a huge impact on the treatment of cancer patients, and is already resulting in long-term remission. Yet many patients do not respond to immunotherapy or, if they do, the effects are temporary.
In a recent study published in "Immunity", scientists have found a way to suppress this resistance in mice with pancreatic neuroendocrine cancer. This cancer is highly resistant to a type of immunotherapy called checkpoint blockade, in which the patient receives a drug that blocks proteins that are supposed to dampen the intensity of immune responses. But this drug can also prevent T cells from attacking and killing cancer cells. And so it wipes out the body's defense.
Double effect combined
The study was conducted by Douglas Hanahan's team from the Swiss Institute for Experimental Cancer Research at EPFL, along with the Ludwig Institute for Cancer Research, CHUV, the Swiss Institute of Bioinformatics and Roche. The scientists studied a type of modified protein-antibody fusion called immunocytokine, which is increasingly used in immunotherapy. They focused on the bispecific immunocytokine PD1-IL2v. Recently developed by Roche, this immunocytokine can enter tumors, where it activates killer T cells to target the cancer cells responsible for tumor growth.
Scientists have combined it with the immune checkpoint inhibitor anti-PD-L1, boosting immunity against tumours that are resistant to such treatment. The combination of these two molecules, enhanced immunity and activation of killer cells, increased the survival rate of mice with tumors, producing a longer lasting therapeutic effect than immunocytokine alone. This combination improved therapeutic efficacy by allowing immune cells to better "detect" cancer.
Trials planned with cancer patients
"This novel combination sensitizes immunotherapy-resistant tumors infiltrated by so-called 'stem' T cells expressing PD-1, which have recently been shown to be important in maintaining effective antitumor immune responses, leading to tumor destruction with a consequent survival benefit," explains Douglas Hanahan. "These exciting results warrant clinical trials to evaluate this therapy, perhaps initially in immunotherapy-resistant cancer patients with T-cell infiltrated tumors."
Sources: EPFL