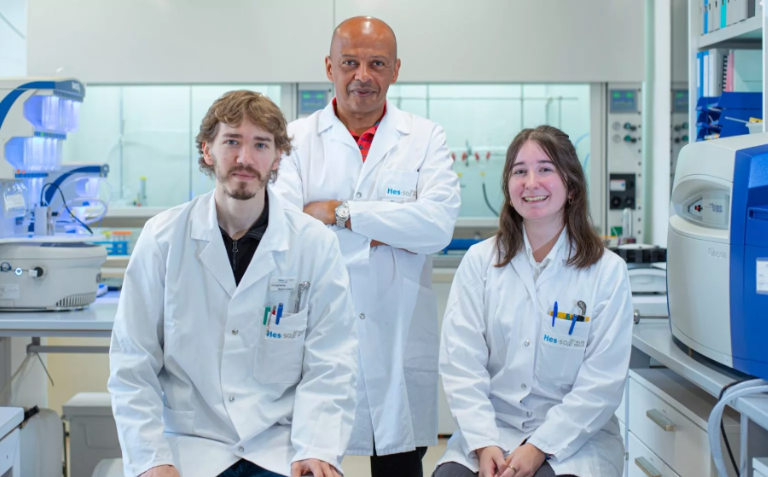 Cancer Research: HES-SO Valais-Wallis and Debiopharm sign a partnership

The Life Technologies Institute of the Haute École d'Ingénierie has signed a new five-year collaboration agreement with Debiopharm Research & Manufacturing S.A. in Martigny. Funded to the extent of CHF 1.1 million by Debiopharm, with the possibility of a further CHF 1 million bonus, this joint research project aims to revolutionise the preparation of conjugates of therapeutic antibody fragments in the fight against cancer.
The joint research project involves the development of Antibody Drug Conjugates (ADCs) to make them more effective, using new conjugation technologies that combine a targeting agent with a therapeutic molecule, making it possible to envisage powerful targeted therapies in oncology. This new collaboration between HES-SO and Debiopharm extends the successful agreement between the two partners initiated in 2018, which led to the development of the AbYlinkTM technology. The improvement of this technology for conjugating anti-cancer molecules (or other entities) will be aimed at therapeutic and diagnostic applications.
Under the name Debiolab 2.0, which will also designate the dedicated laboratory at the HES-SO Valais-Wallis, this new research project will begin in November 2023 and run for five years. The funding of CHF 1.1 million provided by Debiopharm will cover the research costs over this period.
This collaboration between the HES-SO and Debiopharm marks a continuation of a fruitful public-private partnership that has lasted for almost 25 years. Cédric Sager, CEO of Debiopharm Research & Manufacturing, comments: "The scientific collaboration between Debiopharm and the researchers at the HES Valais is a fine example of a successful, long-term public-private partnership, which not only takes the form of a research collaboration but also continues with the regular recruitment by Debiopharm of engineers trained at the HES-SO. We are therefore very pleased to be funding a new joint research programme on targeted therapies in oncology. François Seppey, Director of the HES-SO Valais-Wallis, commented: "This partnership is fully in line with the mission of the HES, which is to provide qualified manpower for the economic and social fabric of the Valais and to respond, in its research missions, to the problems of companies and institutions.
Patrick Garrouste, Executive Director of Research and Development at Debiopharm Research & Manufacturing, added: "The HES-SO Valais-Wallis is at the cutting edge of innovative technologies and the specific knowledge associated with this research. The collaboration we are entering into with it in Debiolab 2.0 with this contract will take us into a new dimension of targeted therapies. The synthesis of peptides (and associated derivatives) is one of the HES-SO's centres of excellence, which will help to make our vision a reality: to cure patients of cancer using therapies targeted at tumour cells, while protecting healthy cells".
Origène Nyanguile, head of the Peptide and Protein Technologies research group at the Institute of Life Technologies (ITV, HES-SO Valais-Wallis), says: "I am delighted to resume the collaboration with Debiopharm in order to refine the therapeutic antibody conjugation tools that we have been setting up since 2018. This partnership represents real added value for the Life Technologies Institute, as it offers the opportunity to consolidate our scientific expertise and contribute to drug development and patient well-being."
Source: HES-SO