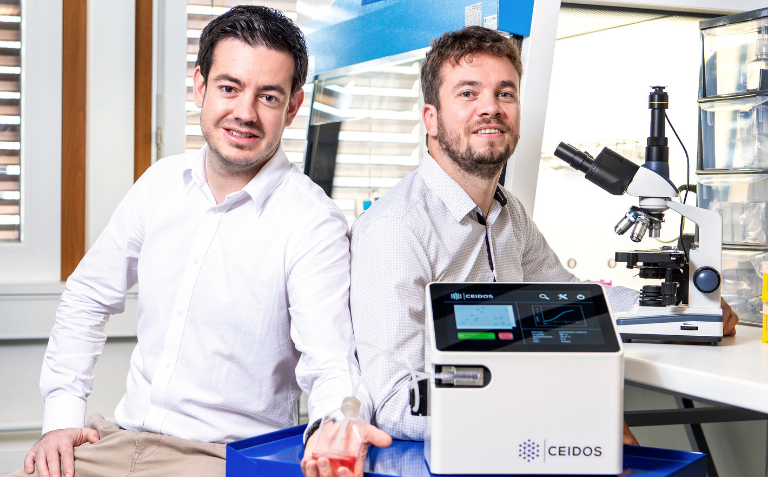 Ceidos revolutionises cell culture

The BioArk startup received a CHF 100 000 loan from FIT
Advanced therapy medicinal products (ATMPs) are active medicines that are based on genes, tissues, or cells. They offer groundbreaking new opportunities for the treatment of cancers, degenerative diseases, genetic disorders, and injury. But producing them is a challenge and very expensive.
Leonard Barras and Sébastien Walpen, the co-founders of Ceidos in Monthey (Valais), have created an innovative cell culture system. The C-NETICS optimises the cell culture process by fully automating the control of cell expansion in a closed system, thus avoiding contamination by opening the bioreactor. The device allows continuous monitoring of cell density and viability measurement in an automated, aseptic and non-destructive manner. This technology avoids the risk of contamination and reduces manual handling time, accelerating production time.
Ceidos is incubated at the Fondation The Ark and has received a Tech Seed loan of CHF 100,000 from the Foundation for Technological Innovation (FIT), in order to develop its solution and begin the first phase of industrialisation. The young start-up must work on the compatibility of its system with the bioreactors on the market, guarantee cell viability measurements, and promote this tool as a reference application for cell therapies.