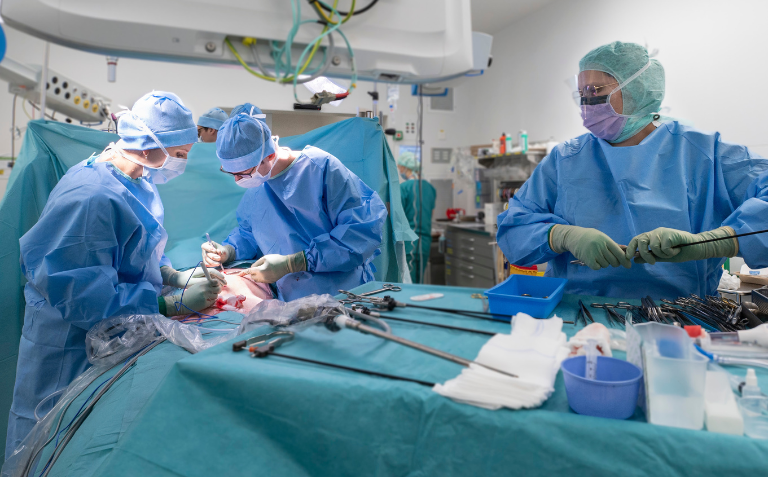 The ERAS protocol, developed at the CHUV, receives the "Nobel Prize for Surgery"

Under the guidance of its Director General Nicolas Demartines, the CHUV was the first hospital in Switzerland to adopt the "enhanced recovery after surgery" (ERAS), an innovation developed by Danish doctor Henrik Kehlet that has made a major contribution to improving the lives of patients after surgery, as well as reducing costs. The protocol just received a BJS Society Award
The BJS Society Award, which recognises an outstanding individual for their profound impact on patient care, was presented for the first time in Lausanne by the prestigious British Journal of Surgery, following a rigorous evaluation process similar to that used to select Nobel Prize winners. The winner of this new prize is Professor Henrik Kehlet from the University of Copenhagen, known for his work on "enhanced recovery after surgery" (ERAS), a body of protocols that has changed clinical practice in many areas of surgery and improved outcomes for patients around the world.
Vice-Chairman of the BJS Society Committee, CHUV General Director Professor Nicolas Demartines was the first in Switzerland to introduce this innovation, promoting the application of these ERAS protocols within the hospital as early as 2011. "For a long time, it seemed obvious to me that we were complicating patients' post-operative care by refraining from stimulating them immediately after an operation. Today, we know that this is precisely what needs to be done. Systematic studies, many of which were carried out at the CHUV, demonstrate the value of the ERAS concept," emphasises Professor Demartines.
Better health and lower costs
The protocols resulting from Professor Kehlet's research comprise a series of evidence-based care elements that can be applied before, during and after surgery, all of which promote healing by reducing the body's stress reactions caused by the injury.
ERAS protocols not only lead to better outcomes for patients and a quicker return to better health, they also offer significant financial benefits to the healthcare system. Since 2011, almost 9,000 patients have undergone surgery at the CHUV using these protocols, resulting in a cost reduction of more than 16 million Swiss francs. Thanks to fewer complications and shorter hospital stays, up to CHF 8,000 per patient can be saved, depending on the type of operation. "Several surgeons and anaesthetists at the CHUV, in addition to the teams in the visceral surgery department that I headed at the time, actively participated in, and even directed, the publication of ERAS international recommendations in several surgical specialities," adds Professor Demartines.
The BJS Society is a charitable organisation whose mission is to advance and improve the teaching of surgery, and to disseminate knowledge of new and improved methods of teaching and practising surgery in all its branches.
Source: Chuv Press Release