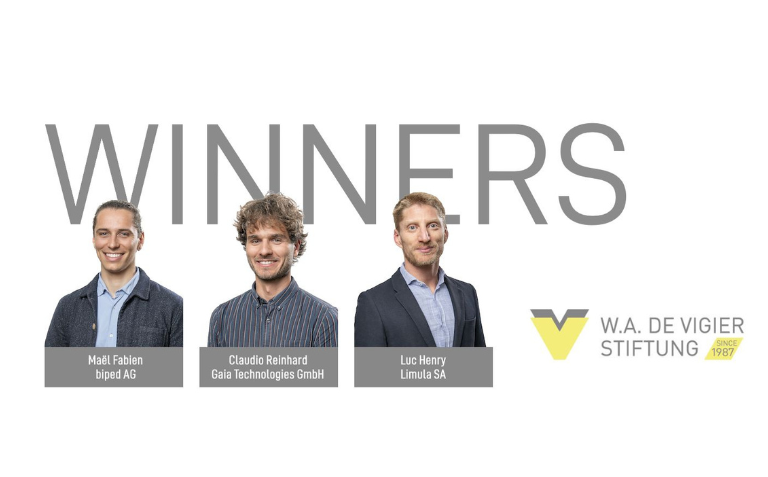 Three Health Valley projects received a W. A. de Vigier Award

biped.ai, Gaia Technologies and Limula received a W. A. de Vigier Award, each endowed with CHF 100,000. Over 300 submitted projects were submitted.
biped AG from Epalinges (VD) – Independence for the Visually Impaired
270 million visually impaired people worldwide face challenges in their daily mobility, like avoiding obstacles and finding their way. biped is a small harness, worn on the shoulders, equipped with cameras. Just like a self-driving car, it can detect and predict all obstacles and play a short "beep" in bluetooth headphones to warn the user. biped is on a mission to support visually impaired people to spend time outdoors stress-free, and ultimately help them discover new places independently.
Gaia Technologies GmbH from Berne (BE) – Turning Agro-Waste into Valuable Ingredients
Agricultural waste contains a plethora of resources that could replace synthetic compounds used in the cosmetic and food industries, however, this waste mostly gets discarded without being valorized. ETH-spinoff Gaia Technologies is building scalable solutions to enable the industry to replace harmful chemicals with renewable biocompounds. The core of their IP is a fully biodegradable sorbent that can be regenerated several times before serving as soil amendment.
Limula SA from La Tour-de-Peilz (VD) – Cell and Gene Therapy Made Easy
Cell and Gene Therapies (CGT) can save the lives of people with previously incurable conditions, including aggressive cancers. Unfortunately, the production of these highly personalized 'living drugs' is still so complex and expensive that only a small fraction of eligible patients has access to a treatment. Limula is developing a fully automated device that enables manufacturing of high-quality cell therapies at lower costs, on demand and at scale, with the potential to dramatically increase their accessibility.
Two others projects were also selected: Rematter and Voltiris.