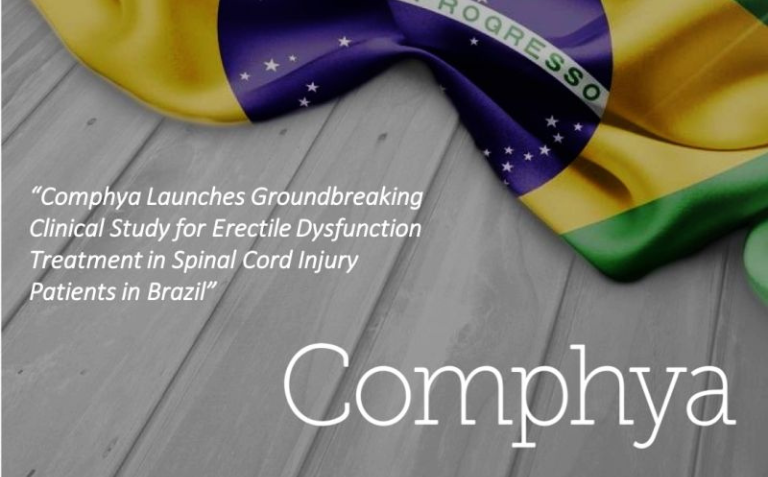 Comphya SA launches clinical study for erectile dysfunction in Brazil

After raising CHF 850 000 in January, and starting a clinical trial in Australia, the Swiss Medtech startup launches a clinical trial in Brazil for its neuromodulator to treat erectile dysfunction in spinal cord injured patients.
Comphya SA is a pioneering medical technology company, based in canton of Vaud, Switzerland. The clinical study was approved by the ethical committees CEP and CONEP, and the federal competent authority ANVISA in Brazil. This study addresses the pressing need for effective treatments for erectile dysfunction (ED), particularly among spinal cord injury patients.
The clinical study, conducted in collaboration with esteemed institutions such as the Faculdade de Medicina do ABC (FMABC) and the Mario Covas Hospital, aims to evaluate the effectiveness and safety of Comphya SA's innovative CaverSTIM system. Recruitment of candidates has been initiated and marks the exciting beginning of our forthcoming clinical study, which holds tremendous potential to positively impact countless lives.
"We are thrilled to begin this important study in Brazil, as it represents a significant step forward in our mission to provide innovative solutions for erectile dysfunction," said Dr. Rodrigo Silva, Ph.D., CEO of Comphya SA.
"We are delighted to contribute to this important study, which has the potential to transform the lives of patients suffering from erectile dysfunction. By evaluating the effectiveness and safety of Comphya's innovative technology, the CaverSTIM system, we aim to provide much-needed solutions for our patients," stated Dr. Sidney Glina, Principal Investigator at FMABC.
"Participating in this clinical study is an exciting opportunity to advance our understanding of ED treatments and improve patient outcomes. We are proud to collaborate with Comphya in this groundbreaking research," commented Dr. Luis Rios, study investigator.
Praxis Spinal Cord Institute, a supportive partner to Comphya, emphasized the importance of this study for spinal cord injury individuals. "As a T6 paraplegic living with SCI for the past 26 years, I feel this technology has the potential to be transformative for thousands of men around the world. As a newly injured 19-year-old, one of the first questions I had for my clinical team was erections and how this would work. There were no answers at that time. Pills became available a few years later; however, they're not overly reliable. This technology provides an opportunity to safely and effectively solve and support these challenges for men living with SCI", stated James Hektner, BC Interior Regional Community Liaison at the Praxis Spinal Cord Institute.
Source: press release