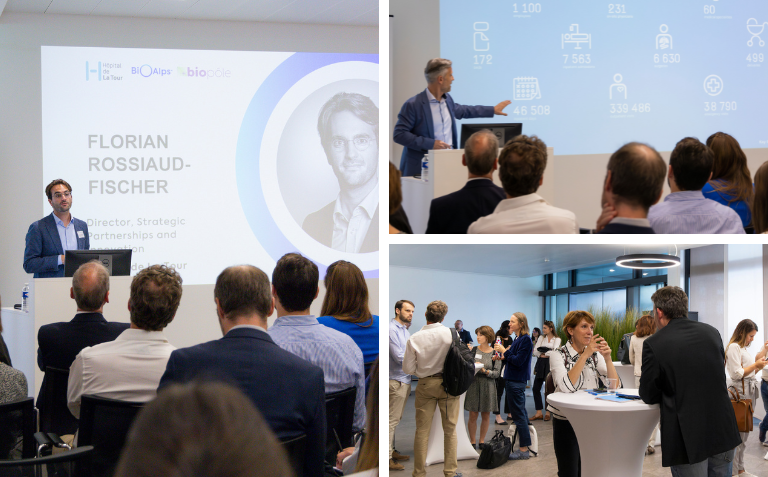 Innovation at Hôpital de la Tour

On Thursday 1 June, the Swiss Health Valley Community was received by Hôpital de la Tour in Meyrin during a BioAlps 4à6 event. The 70 participants discovered the "Value Based Health Care" strategy implemented by the hospital and the ambitious project of health campus. They also had the opportunity to visit the radio-oncology and the sport rehabilitation centre.
Value Based Health Care" strategy
Mr. Rodolphe Eurin, La Tour CEO, presented to the audience the innovative "Value Based Health Care" strategy he has introduced since becoming head of the hospital. This approach was defined fifteen years ago by Harvard professor Michael Porter, and has since been developed on an international scale. Value-Based Health Care" is based on the patient's medical outcome and on teamwork. It aims at both reducing costs and better organise patient care. In 2022, this strategy paid off, as Hôpital de La Tour was one of the winners of the first "European private hospital awards" organized by the European Union of Private Hospitals. Seven hospitals were rewarded for their "innovative and remarkable" projects, out of a total of 72 entries. The hospital also ranked number one in orthopaedy in Western Switzerland, and number three in cardiology.
An ambitious health campus
Pierre Guth, director of Ergon, the real estate company founded by La Tour's investors, presented an ambitious health campus project. The investors plan to build a dozen buildings on a surface area of 180,000 m² – including the existing 30,000 m² occupied by the hospital. The first building could be put into service in 2027. The investment reached CHF 750 Million. The city of Meyrin and the Canton of Geneva are also involved.
Innovation at the heart of the hospital
Florian Rossiaud-Fischer, Director of Strategic Partnerships and Innovation, finally presented innovative projects at the hospital. State-of-the-art equipments (new Ethos radiotherapy device, the Mako Robotic-Arm for Knee surgery, etc.), a digital interface for patients which includes many services (medical records, personal health objectives, convocation time, digital consent forms, etc.) and a follow-up tool for professionals.
BioAlps Association wishes to thank Hôpital de la Tour for this incredible opportunity, and especially Rodolphe Eurin, Florian Rossiaud-Fischer and Sonia Pérez. And also Daniel Loeffler, Deputy Secretary General for Economic Affairs, of the Canton of Geneva, and Nasri Nahas, CEO of Biopôle, partner of this event. 
🎥 GGBa, Greater Geneva Bern Area. Pierre-Yves Oehrli.