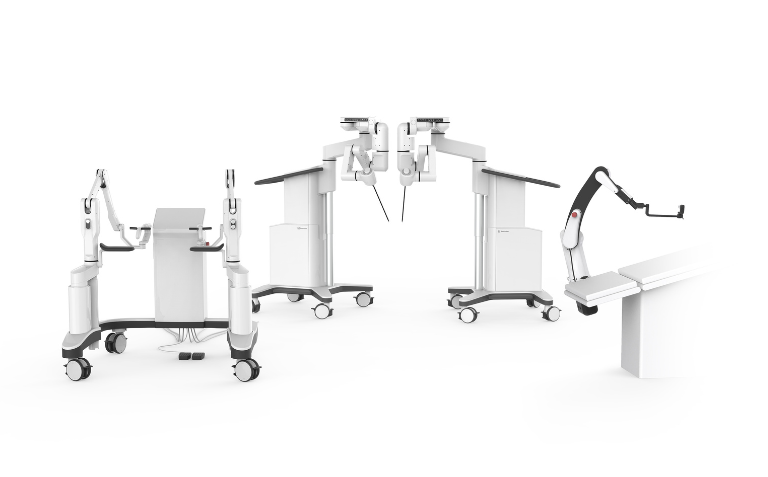 Dexter®, the Swiss surgery robot, makes its way to Germany

The Dexter® on-demand robotic surgery system created by the swiss company Distalmotion is now used by the Department for Women's Health and Gynecology at the University Hospital Tübingen in Germany.
Prof. Dr. med. Diethelm Wallwiener, Prof. Dr. med. Sara Brucker, Prof. Dr. med. Bernhard Krämer and their teams used theDexter robot in several surgical procedures. Cases, where the surgeons drew on robotic assistance from Dexter, included the removal of an ovarian cyst (cyst extirpation), the removal of an ovarian tumor (adnexectomy) and the removal of a patient's uterus (hysterectomy).
These surgical procedures have in common that they entail complex work steps where utmost precision and care are required. When removing an ovarian tumor, for example, surgeons must take extreme care to avoid rupturing the tumor, yet also ensure all cancerous cells are removed, and all this must be achieved without damaging the surrounding healthy anatomy. In surgical jargon, this sort of work step dealing with the delicate removal of adversely affected tissue is referred to as resection. Resection and other complex surgical work steps like dissection, happening around delicate areas of the anatomy such as the ureter or vessels, require the utmost accuracy and control.
Robotic aid is a supplement in "keyhole surgery" and a surgical robot is most useful for tasks like dissection and resection that require the highest degree of dexterity and precision.
Surgeons remain in total control in the OR
Prof. Wallwiener explains the concept: "On-demand robotics is different by design. It is not so much about a new piece of technology, as it is a new mindset for robotic surgery. Every patient and every case is different. As surgeons we navigate a great deal of uncertainty in the Operating Room, while having to deal with significant pressure and responsibility, including making vital decisions affecting the quality of life of our patient. Confirming the extent and scenarios in which on-demand robotics gives us additional flexibility, control and security requires substantial clinical experience with the concept."
Prof. Brucker weighs in: "Our first experiences indicate that on-demand robotics redefines the relationship between surgeon and robot. The concept simplifies robotics, to make it user-friendly and give us total control of the OR. The idea may seem obvious and simple, but the proverb 'simplification is the ultimate sophistication' applies when dealing with the complexities of laparoscopic surgery and robotics." She follows up: "We are keen to contribute further towards the evaluation and development of guidelines for deploying on-demand robotics in gynecologic surgery."
Empowering surgeons for the benefit of patients
Based on his first surgeries with Dexter, Prof. Krämer summarizes: "On-demand robotics gives us direct access to our patient and all surgical instruments – at all times. These benefits are new to robotic surgery. Initial experience suggests that this new freedom of choice can weigh strongly in empowering surgeons across a variety of indications and case-types. At the University Hospital Tübingen's Department for Women's Health and Gynecology we embrace our role as care providers, educators and researchers. We see an opportunity for on-demand robotics to make an impact in advancing all of the said pillars in our mission statement and we are working out the next steps to pursue this cause."
Michael Friedrich, Dystalmotion's CEO comments: "A surgical robot is not always the surgeon's best helper. Sometimes other tools and techniques are preferable. When the robot is needed, Dexter is available on-demand, quick and easy for surgeons to set up and operate. Surgeons can operate from the robotic console whenever they deem robotics their best helper for the given patient and procedure, that can be intermittently by leveraging 'the switch' between modalities, or it can mean employing the benefits of robotics more extensively, non-stop even."