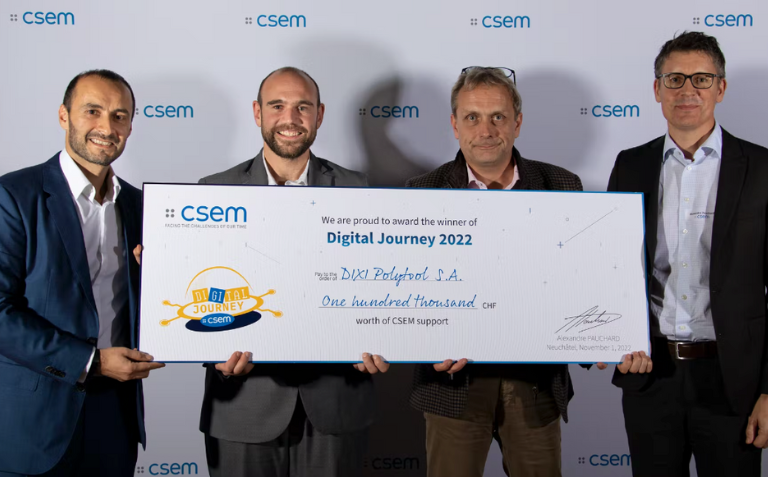 Dixi Polytool wins CSEM's Digital Journey Contest

The company will receive CHF 100,000 in technical support from CSEM to develop a smart factory and a 100% autonomous production chain.
Family-owned DIXI Polytool is based in the heart of Switzerland's watchmaking county, Le Locle in Neuchâtel. Specializing in precision, solid carbide, and diamond cutting tools, the company plans to use CSEM's knowledge to help it advance in digitalizing its processes and adopt a global industry 4.0 approach. This will allow the company to improve its productivity, ensure its competitiveness at a European level, and maintain the production of its products in Switzerland.
Staying competitive
"With a strategy focused on niche markets and a desire to grow through geographical expansion through European sales branches, DIXI Polytool aims to keep its production in Switzerland. However, with this strategy, we must consider that while sales in the eurozone are growing, current fluctuations in exchange rates are hurting export margins. We must thus improve our company's productivity to remain profitable and competitive in European markets," notes Simon Bournez, Technical Director at DIXI Polytool. "Digitalization and automation of our manufacturing processes are essential to meet this challenge, and they work perfectly with our implementation of lean manufacturing concepts in recent years," says Bournez.
"In winning the CSEM Digital Journey award, we want to develop a 100% autonomous production cell encompassing the entire process chain, from material preparation to packaging and quality control. This requires various digital elements, such as sensors, artificial intelligence, and communication protocols, which CSEM can provide us with, helping us achieve our digital transformation. Moreover, this purely local partnership facilitates the exchange of knowledge and will enable the acceleration of the project," enthuses Bournez.
The CSEM Digital Journey award
Open to any Swiss SME looking to enhance their business through digitalization, the CSEM Digital Journey award was envisioned to help national and traditional SMEs increase their impact in their designated industry and boost the Swiss economy.
"Given that Switzerland cannot participate in the EU's Digital Europe program, supporting digital innovation in Switzerland and helping our SMEs break new ground is now more important than ever," says Bahaa Roustom, Head of Marketing & Business Development at CSEM and President of the Digital Journey Jury. "CSEM has been actively coordinating and cooperating with the EU research industry for over three decades. We can share our years of invaluable knowledge from working in local, national, and international contexts. We are thrilled to award this prize to DIXI Polytool, and we look forward to seeing them expand within Europe. Our expertise in IoT, AI, smart vision systems, and predictive maintenance and manufacturing will be at their disposal. We eagerly await matching our technologies to DIXI Polytool's ambitions," Roustom adds.
Source : Press Release