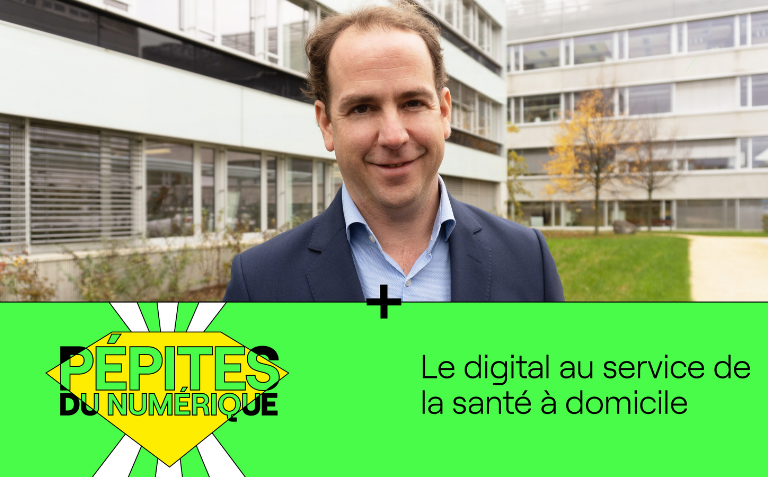 Domo Health: a digital platform for home health

Lack of resources and staff, aging population, an increase in chronic diseases: the challenges of the medical world are numerous and the situations to be managed are increasingly complex. Domo Health develops a digital health platform powered by artificial intelligence. It collects, processes and analyses data from patients and healthcare professionals to optimise prevention, diagnosis, treatment, and follow-up.
Making the care network around the patient more efficient and increasing quality of life
What happens if an elderly person falls at home and cannot press the alarm button? It is from this question and following difficult personal experiences that Guillaume DuPasquier co-founded the company Domo Health in 2012. He became aware of the lack of technology in the home that would allow data to be synchronised between the patient and the medical world. It is important to know that 50% of people over 65 fall at least once a year and that it is about 5 times a year from the age of 90.
For 6 years, Guillaume and his team have been developing a digital health platform in collaboration with medical professionals, hospitals, clinics, pharma and universities. Powered by AI, the solution draws on multiple sources of continuous and longitudinal real-world data, such as wearables, medical devices, IoT, mobile applications and clinical studies. This data provides key insights into health issues ranging from neurodegenerative diseases to cardiovascular disease. Domo Health's multi-source approach is a huge advantage that enables quality predictions.
Today, the platform can automatically detect and prevent emergencies at home. Domo Health works directly with the patient by offering alert systems, which integrate up to eight family members and an emergency centre, who will be notified if the patient does not respond to an alarm. Domo Health also offers remote health monitoring and disease tracking.
The aim is to keep patients at home as long as possible or discharge them earlier from hospital, increase their quality of life, delay admissions to nursing homes and save lives.
A unique platform that connects patients and healthcare professionals with a global approach
The patient has a dedicated application that allows him/her to see his/her health data in real time, alert and give feedback on his/her treatment. In parallel, Domo Health also offers a dedicated application for healthcare professionals that serves as a dashboard to gather and consolidate their data with that of the patient at home.
The interactive visualisation and change detection tools allow for continuous monitoring of disease trajectories, improved history taking and personalised treatment and preventive care.
Domo Health's approach is horizontal, developing patient pathways that integrate the entire value chain, so that the patient is cared for at home as if he or she were in hospital. Domo Health starts from the doctor's need to know which tools to install in the patient pathway according to his or her illness: questionnaire, diagnosis, change of treatment, measurement tools, connected medical devices, etc. These longitudinal measurement tools, in daily life, also make it possible to evaluate the effectiveness of the treatment.
Monitoring of chronic diseases and the most serious pathologies
Domo Health focuses particularly on chronic diseases such as cardiovascular diseases, Parkinson's, Alzheimer's, cancers, multiple sclerosis and spinal muscular atrophy. The latter is currently the subject of a clinical study in collaboration with Roche and the CHUV.
Domo Health's Data Science team is developing a library of digital biomarkers using new artificial intelligence techniques and clinical expertise. Digital biomarkers are clinically validated physiological and behavioural indicators. They are the result of data collected from connected devices and processed by innovative algorithms. These objective measurements can be used to identify and predict certain clinical parameters. For example, 2 hours before a dangerous crisis, we can imagine that thanks to digital biomarkers, an automatic alert informs health professionals and the patient's relatives of an imminent risk so that the latter can be taken care of appropriately.
Domo Health is a modular, scalable, adaptable platform, which is also offered as a white label to help its partners go digital.
The next challenges? Software interoperability and adaptation to legislation in other countries.
Domo Health in a nutshell
6 years of development
17 scientific publications
7 clinical studies
30 employees
3'000 users in Europe
Les Pépites du Numérique
Domo Health is the Nugget of the Month for December 2022 selected by the Alp ICT, BioAlps, CleantechAlps and Micronarc platforms, which, thanks to their fieldwork, discover remarkable innovation projects that are not yet widely publicised. Most of the time, these are projects within companies that use digital technologies to meet their internal needs or to develop their activities.
The term "pépites" was chosen in reference to the gold nuggets (pépites in french) that form in geothermal springs, through cracks in hard rock, and therefore in places that are difficult to access. A nugget is not necessarily known, it has value but it can remain hidden if nobody is looking for it.
This is why the platforms have decided to reveal these hidden nuggets, from 2022, through a series of monthly portraits. This is a great way to showcase the dynamics of our regional companies, to inspire the ecosystem to innovate and to make technologies more accessible. Each month, we share the portrait of a new nugget: how did the project come about? By what means? What were the challenges? What are the returns on investment?