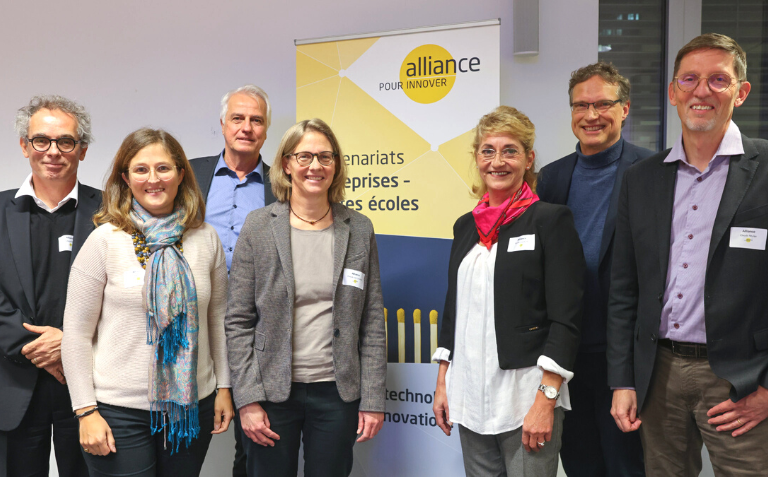 Alliance, your partner for your Innosuisse application

You have an innovative project and are thinking of submitting an Innosuisse application? With its team of specialized advisors, Alliance is your ally! Between 2020 and 2021, the EPFL based association has raised over CHF 57 million for Swiss SMEs.
What is Alliance and how was the structure created?
Alliance is the technological innovation program for French-speaking Switzerland. With a network of more than 6000 researchers, we develop synergies between companies and universities and support the setting up of technological projects.
Alliance was created in 2005, at the initiative of the Swiss Confederation. If at the beginning the projects were mostly direct mandates, the CTI projects (future Innosuisse) quickly gained in importance. With the success of the program, the French-speaking cantons joined the program and Alliance became part of the ARI-SO network (initially CDEP-SO) in 2008. Ten years after its creation, Alliance raised nearly 9 million for projects and five years later, between 2020 and 2021, more than CHF 57 million were raised from Innosuisse. Over the years, Alliance has developed a unique expertise and know-how, with a success rate of 80% of funded projects.
What are its missions?
Alliance's mission is to help companies develop innovation projects, find the right academic partners and obtain funding from Innosuisse. Our advisors support more than a hundred projects each year, with a success rate of more than 80% in raising funds.
Alliance creates links between companies and laboratories in order to intensify technology transfer, for the benefit of both entrepreneurs and researchers. Alliance has thus created a proactive network to initiate new encounters, to support a dynamic collaboration between research and the economic fabric, promoting growth and job creation.
How does the collaboration process work?
First, one of our advisor visits the company. The second step is to identify the company's needs with precision. We then mobilize the Alliance network to find the appropriate academic partner(s). Finally, we help to formulate the project and its financing in detail, whether to apply to Innosuisse or to other funding agencies.
Why call on Alliance instead of putting together my own application?
Active for 17 years in setting up technological projects, Alliance has a valuable know-how. Our success rate for funded projects is 80%, higher than the national average. Each year, more than a hundred projects benefit from the expertise of our advisors each year. Calling on us allows companies to benefit from our vast network and increase their chances of obtaining funding for their projects.
I have an innovative project, how can I request the services of Alliance?
Elise Gortchacow, Pascale van Landuyt, Philippe Nasch, Robert van Kommer and Claude Muller, our advisors are available to help companies develop their projects. To request our services, simply contact us by email (alliance@alliance-tt.ch) or by phone (+41 21 693 35 75) to arrange an appointment.