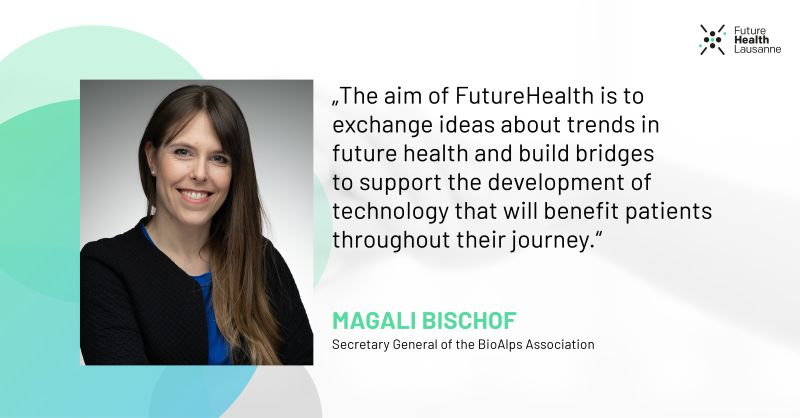 Future Health Lausanne, an opportunity for the Swiss Health Valley

Future Health Lausanne is taking place on 3 October 2023 at the Swisstech Convention Center in Lausanne. The event is a real opportunity to bring together the regional life sciences ecosystem according to Magali Bischof, BioAlps' Secretary General.
Tell us more about the translation ecosystem in the region?
The Swiss Health Valley is home to a striving life sciences translation ecosystem with many different types of players building the bridge between research/innovation and industry. This support is provided by research and academic partners, but also industry players and innovation support organisms all working together across the cantons of Western Switzerland in a close-knit network reinforced by the broader BioAlps community.
Through our innovation tradition and research heritage, we are blessed with the presence of world-class research centers such as CSEM, Adolphe Merkle Institute, SIB Swiss Institute of Bioinformatics, Idiap Research Institute, Ludwig Center for Cancer Research and CERN which all support the acceleration and translation of innovation. Technology Transfer Offices from key University Hospitals, Universities and Universities of Applied Sciences are the main protagonists of translation helping breakthrough innovations reach patients. To name a few: PACTT, UNITEC, UNIFR and UNINE Tech Transfer Teams and Alliance. The renowned EPFL, its network of Swiss Innovation Parks and its innovation acceleration initiatives (Tech4Eva, Tech4Growth, Future of Health Grant, Tech4Trust) contribute extensively to the success of innovation translation in Switzerland and beyond.
Innovation support organisms, such as Biopôle, FONGIT, BioArk, Microcity, DayTech Accelerator, MassChallenge Health, sitem-insel, Venturelab offer different services and tap into the local ecosystems with close ties to the cantonal promotion agencies.
Private clinics and hospitals are now also developing their innovation reach with an extensive focus on value-based-healthcare and linked innovations at l'Hôpital de La Tour and a brand new, state-of-the-art facility to test and develop breakthrough innovations in situ at the Genolier Innovation Hub.
Other consulting and service companies also support the translation and innovation path towards Future Health with regulation, IP and HR advice. Check out our directory of these players on our community page.
How does the Lausanne edition complete the Basel edition?
FutureHealth Lausanne is not just another regional edition of the FutureHealth event. The aim of the Lausanne edition is to gather life sciences innovation peers to discuss burning questions regarding the future of health with a specific focus on breakthrough innovation and translation. Invited speakers will share their experience and their vision of how bench innovation and technology development can be translated to support patient empowerment and well-being; and ultimately accelerate the move towards value-based healthcare.
Why should people attend this event?
The event will be the perfect opportunity to network with forward-looking peers from the region, from Switzerland and beyond. Participants will also hear from key experts and experienced entrepreneurs about their vision and key learnings regarding translation of innovation. Finally, the aim of the event is to exchange about the latest trends in future health and build bridges to support the development of technology which will benefit patients along their journey.
 3 October 2023
SwissTech Convention Center
Registration
More information