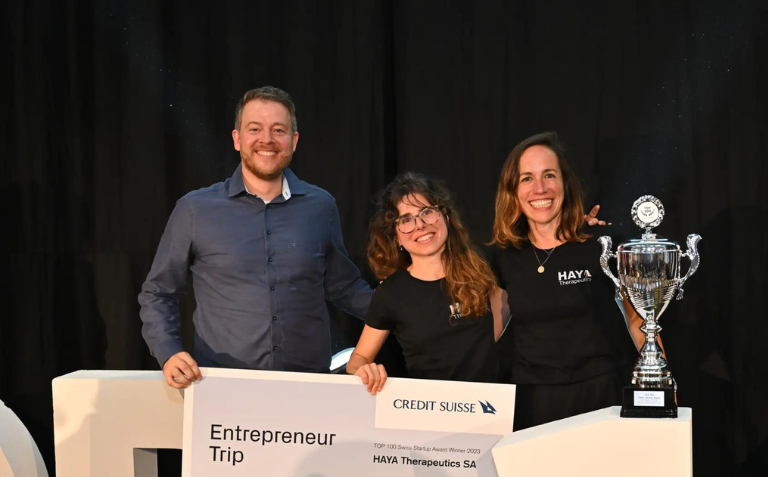 HAYA Therapeutics is Switzerland's most promising startup

The 13th edition of the TOP 100 Swiss Startup Award celebrated Switzerland's best startups according to a 100-person strong jury: HAYA Therapeutics (1st), Planted Foods (2nd), and Yokoy Group (3rd) lead the ranking.
First place: HAYA Therapeutics | Epalinges (VDà
The biotech startup HAYA Therapeutics develops precision drugs. The lead candidate for cardiac fibrosis is currently in the preclinical phase. The Vaud-based startup was founded in 2019 by Samir Ounzain and Daniel Blessing and ranked 8th in 2022.
Second place: Planted Foods | Kemptthal (ZH)
Planted Foods revolutionizes the food industry by creating plant-based protein made of 100% animal-product-free ingredients. The vegan meat alternatives do not include any additives. Planted Foods was founded in 2019 by Christoph Jenny, Eric Stirnemann, Lukas Böni, and Pascal Bieri and ranked 2nd in 2022.
Third place: Yokoy Group | Zurich (ZH)
Fintech company Yokoy Group uses artificial intelligence to automate the entire corporate spending and corporate credit card process. The Zurich-based startup was founded in 2019 by Melanie Gabriel, Devis Lussi, Thomas Inhelder, Philippe Sahli, and Lars Mangelsdorf and was ranked 1st in 2022.
The 13th edition of the TOP 100 Swiss Startup Award was organized by Venturelab, in collaboration with its presenting partners Credit Suisse and Swiss Venture Club.
Source: VentureLab