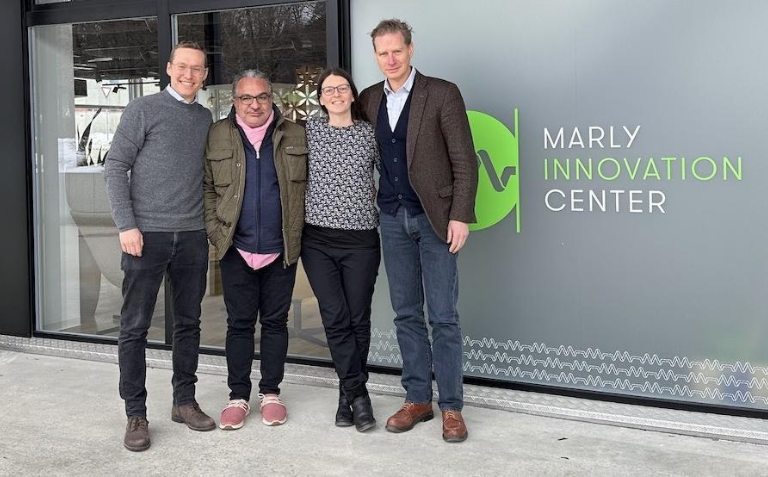 Impossible Materials wins CHF 150,000

After raising CHF 3.8 Million last month, the Fribourg-based startup won the third and final stage of the Venture Kick programme.  The company develops sustainable, cellulose-based white pigments that could replace titanium dioxide (TiO2).
The startup also creates other plant-based ingredients for a broad range of industrially manufactured products that allow for more sustainable product formulations that help create a circular economy.
Impossible Materials's first product is a cellulose-based white pigment that addresses a need created by the recent EU-wide ban on titanium dioxide (TiO2) in food, also known as the food additive E171, a common white pigment found in a wide variety of products, including many drugs (Efferalgan, Doliprane, etc.) . The ban is not only a response to the potential health risks caused by long-term accumulation of TiO2 in the body, but also to the environmental impact of titanium mining. The ban has affected health-sensitive industries in particular, creating a need for a sustainable alternative.
Impossible Materials is pioneering novel, high-performance ingredients that could redefine various industries. Its first product uses cellulose to mimic the structure of the bright white Cyphochilus beetle's exoskeletal scales. Cellulose is a component that is widely available, biocompatible, and easy to process, creating a safer and better-performing white pigment.
Highly opacifying and 100% plant-based, the product has potential uses in a wide range of formulations in the production of food, cosmetics, pharmaceutical, coatings, and many other markets. Globally, the TiO2 ban has created a market potential of USD 16 billion for its sustainable alternative.
The startup will invest the CHF 150,000 awarded by Venture Kick in bringing their cellulose white pigment solution quickly to the food market, including regulatory approval and further business development in this sector.
The startup, which was founded in 2022 as a spin-out of the University of Cambridge and the University of Fribourg, is led by Dr. Lukas Schertel (CEO) who developed the solution with leading cellulose expert Prof. Dr. Silvia Vignolini, who functions as the startup's scientific advisor. They are joined by Oliver Polcher (CBO), who has ample experience in entrepreneurship, as well as Dr. Wadood Hamad (CTO), an expert in cellulose scaling and sustainable product development.
"The Venture Kick program has drastically accelerated our growth by giving us access to a unique startup environment in Switzerland with high-value add advisors, investors, and commercial contacts. The funding and network we have been accessing through Venture Kick is a major part of our recent success and we look forward to continuing this journey together," said Lukas Schertel.
📸 From left to right: Impossible Materials' Lukas Schertel, Wadood Hamad, Silvia Vignolini, and Oliver Polcher ©Venture Kick
Source: Press release