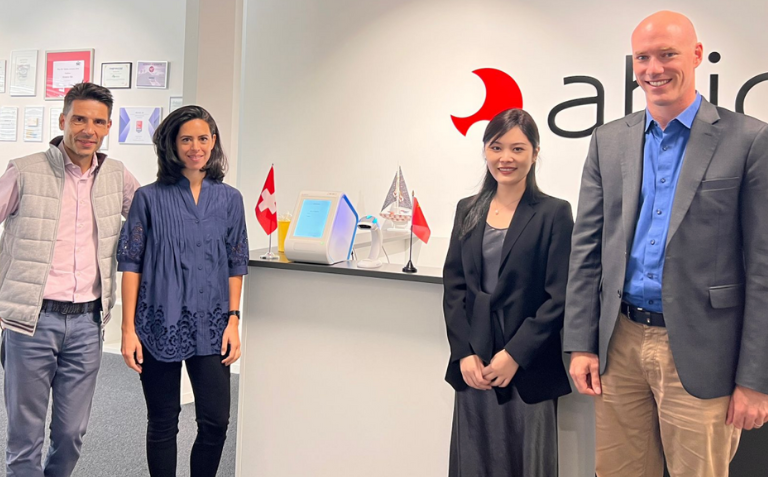 LASCCO SA and Abionic SA announce a partnership to commercialize a sepsis diagnostic solution in China

LASCCO SA and Abionic SA, both based in Biopôle in Epalinges, announced that they have signed a licensing agreement with global life science company, Fapon for the use of the pancreatic stone protein (PSP) biomarker for sepsis diagnosis in China.
This agreement initiates a strategic cooperation between LASCCO, Fapon and Abionic SA, LASCCO's partner since 2015 for the development and commercialization of PSP on Abionic's abioSCOPE® device.
Under this agreement, Fapon will engage in the development and commercialization of PSP on its chemiluminescent immunoassay (CLIA) analyzer within the Chinese market. In 2022, Abionic's abioSCOPE® device and PSP test were granted the IVDR certification for in-vitro diagnostics. Since then, the PSP test has been commercially deployed in 20+ countries and is already widely used to diagnose ICU patients in several European hospitals, providing clinicians with a clear result in all at-risk patients in 5 minutes. Moreover, Abionic is in final preparation of preparing an application for 510(k) clearance with the FDA in the United States.
This strategic partnership will usher in a significant breakthrough in the medical field, removing barriers to early sepsis diagnosis. Performing PSP testing on high-risk individuals can flag potential sepsis before the onset of clinical symptoms. Early detection enables to rule in / rule out for critical care, to treat in a timely manner which is tightly linked to reduced risks of organ dysfunction and improved survival rates, and to optimize allocation of medical resources.
Source: Press Release