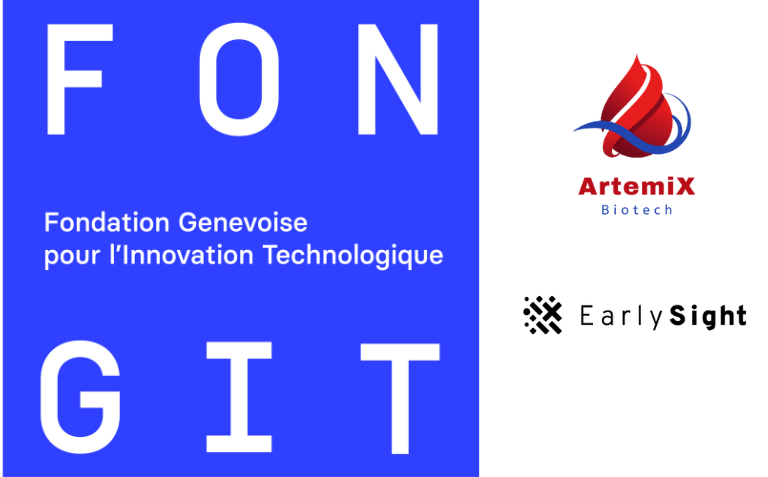 EarlySight SA and ArtemiX Biotech SA supported by the FIF

Two Geneva-based life sciences startups have been awarded the Fongit Innovation Fund (FIF) for their innovative projects. A seed loan has been awarded to EarlySight SA for its imaging-based detection tools in the healthcare sector and a grant has been provided to the ArtemiX project to continue the development of an innovative solution for treating chronic kidney disease.
Seed loan of CHF 100,000 awarded to EarlySight SA
Early detection is the key to preventing vision loss. A spin-off of the Swiss Federal Institute of Technology in Lausanne (EPFL), EarlySight SA's advanced eye imaging tools enable medical professionals to observe the effects of diseases that are typically undetectable using standard methods.
Grant of CHF 50,000 awarded to ArtemiX Biotech SA
The FIF has awarded a grant of CHF 50,000 to ArtemiX, an early clinical stage project of the School of Pharmaceutical Sciences of the University of Geneva and the University Hospital of Lausanne. ArtemiX Biotech SA works on novel methods of treating chronic kidney disease.
Applying to the FIF
Two other start-ups were also supported:  a growth loan has been granted to Resolve SA for its platform connecting private borrowers with financial institutions. And a seed loan has also been awarded to DroneControl Sàrl for its solution aimed at emergency services.
The FIF supports the Swiss Health Valley 🇨🇭 start-ups and meets several times a year to evaluate and award projects with funding. The next deadline to apply for the FIF is 7 November 2023. Companies may learn more and apply here.