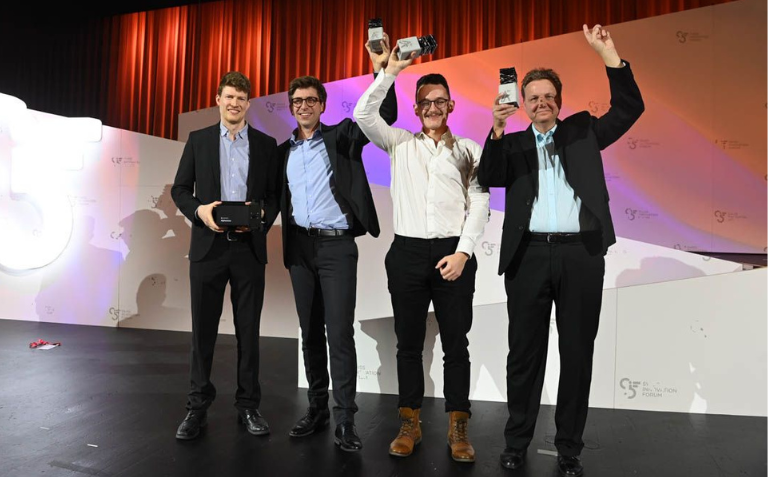 Limula wins the start-up Swiss Technology Award

During the Swiss Innovation Forum on 23 November 2022 in Basel, Limula won the Inventor Award.
Two other companies were also awarded: Sevensense Robotics an ETH Zürich spin-off that wants to make delivery robots autonomous, got the start-up award. And Schleuniger Group got the Industry Innovation Award. 
Precision medicine made affordable
Limula is a Biopôle-Based start-up that has set itself the task of helping personalized cancer therapy achieve a breakthrough. Limula focuses on CAR-T cell therapy, in which the patient's immune cells are genetically modified to recognize and fight cancer cells. In this process, the patient's own immune cells are removed, processed in the laboratory and reintroduced via an infusion. The company's patented technology is composed of a self-contained manufacturing unit and single-use kits, allowing healthcare providers to safely manufacture CGT in a decentralised fashion, directly at the hospital and at a lower cost.
The Swiss Innovation Forum
The Swiss Innovation Forum is organised by NZZ in Basel. This year, the event gathered about 85O attendees. Nine keynote speakers from all over the world and more than 20 experts from a wide range of industries gave participants new food for thought.40 exhibitors provided interactive entertainment in the Experience Zone with innovative products and creative booths. The focus was on new technologies such as the metaverse and quantum computing, but also on softer topics such as collaboration across organizational boundaries.
Source: startupticker