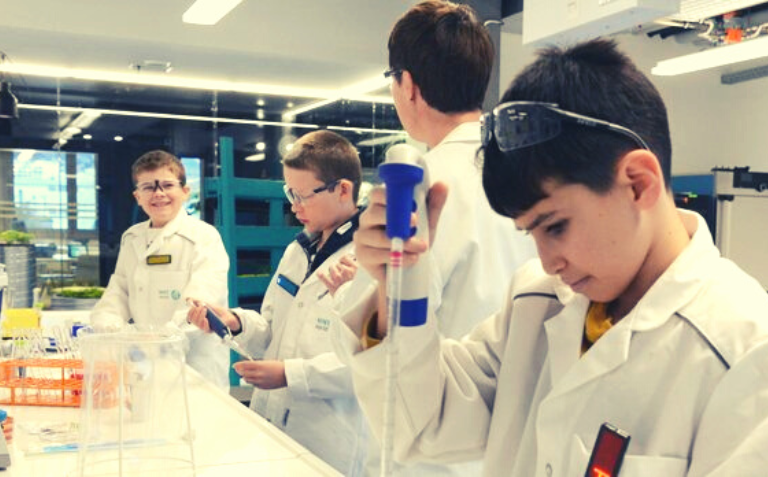 Lonza wants to encourage careers In Life Sciences and opens MINTWorld

Faced with a shortage of qualified personnel in the field of mathematics, computer science, natural sciences and technology (MINT) in the Swiss Health Valley, Lonza and the Department of Economy and Education (DEF) of the canton of Valais have joined forces to create a discovery and innovation space for the promotion of MINT.
Located in Visp in the BioArk premises, this space will welcome pupils from primary schools and young people from all over the Valais in order to arouse their interest in these disciplines, which are essential for maintaining the competitiveness of the Valais economy.
Priority for compulsory school pupils
This new space, housed in a building at the BioArk in Visp, is aimed particularly at primary school pupils and their teachers. Designed to accommodate classes of all levels, MINTworld is a tool made available to teachers to enable them to put into practice and deepen the subjects of the Plan d'études romand (PER) and the Lehrplan 21 studied at school, in real conditions, in laboratories and rooms called "Makerspaces" benefiting from state-of-the-art equipment. The aim is to awaken and maintain interest in MINT subjects at all school levels by means of practical workshops and learning through experimentation. In the MINTworld area, teachers are supported by specially trained Lonza trainers, who work with the visitor groups on the various modules.
A complete floor at the BioArk in Visp
The MINTworld is a public-private partnership in which the investments are co-financed and the operating costs are borne solely by the private sector, on the basis of a ten-year agreement. The State of Valais has granted an investment subsidy to BioArk Visp AG for the construction of the interior fittings and fixed equipment. Lonza rents a complete floor dedicated to the project from BioArk Visp AG and bears the balance of the investment costs. Lonza is also financing the mobile equipment and the implementation of the animation offers.
The centre will be accessible to all pupils and teachers in the canton from the start of the 2023/2024 school year.
Source: BioArk