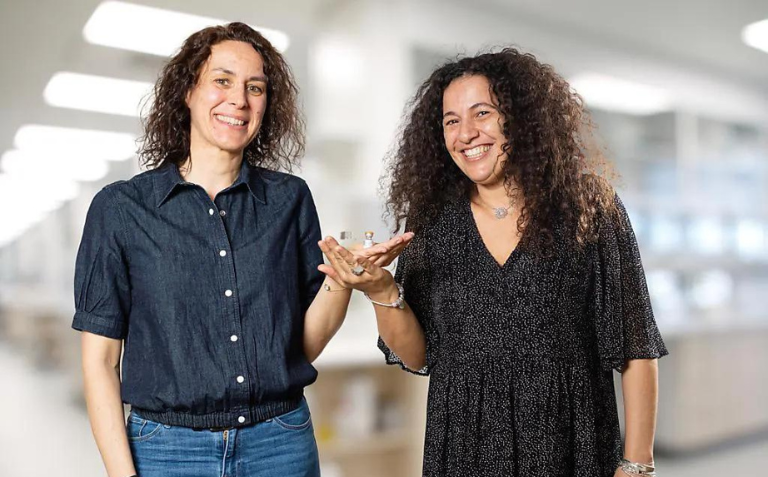 Geneva researcher wins European Inventor's Award

Geneva-based researcher Madiha Derouazi is co-winner of the European Inventor Award. With the French immunologist Elodie Belnoue, she is rewarded for her therapeutic vaccines against cancer.
The European Patent Office (EPO) awarded the two researchers the European Inventor Award 2022 in the "SME" category at a ceremony in Munich on Tuesday.
The teammates have developed a platform for the production of therapeutic vaccines, which allows the individual assembly of the components of a vaccine. Their invention could open a new era in the treatment of this disease, as their vaccine provokes a stronger immune response than has been observed to date.
Other researchers have tried to develop therapeutic cancer vaccines, but either failed to elicit a strong enough immune response or the vaccines only worked on a few patients.
"This remarkable invention has the potential to save many lives," notes EPO President António Campinos, quoted in a statement. "It seemed impossible at first glance, but Madiha Derouazi and Elodie Belnoue have moved forward with ingenuity and perseverance to create a new path for cancer treatment," he says.
This prize is one of the most prestigious in Europe for innovation. It is awarded annually to inventors from Europe and beyond in several categories (Industry, Research, SME, Non-EPO Countries and Lifetime Achievement).
First tests on humans
Madiha Derouazi and Elodie Belnoue's invention makes it possible to bring together three essential components of a vaccine in a single molecule, which means that their platform can be used to produce vaccines against different types of cancer. Currently, their KISIMA platform is being used to produce their first vaccine to treat metastatic colorectal cancer.
The metastatic colorectal cancer vaccine is in its first human trials and is being tested in patients either alone or in combination with products designed to activate the immune system.
These trials are a major accomplishment for Madiha Derouazi, who became interested in making therapeutic cancer vaccines during her postdoc. In 2012, she filed a patent application for her platform while at the University of Geneva and created a spin-off company, AMAL Therapeutics, to bring the assembly platform to life and commercialize the fruits of her labor.
Biology at UNIGE
Elodie Belnoue was his first employee. In July 2019, AMAL Therapeutics was acquired by the pharmaceutical group Boehringer Ingelheim for 433 million francs. This was the largest acquisition of a biotech company in Europe that year.
Madiha Derouazi studied biology at the University of Geneva, before obtaining a Master's degree in biotechnology at the Technische Universität Berlin in 2000. In 2005, she obtained her PhD in biotechnology at the Swiss Federal Institute of Technology in Lausanne, followed by a post-doctoral fellowship at the CNRS in France.