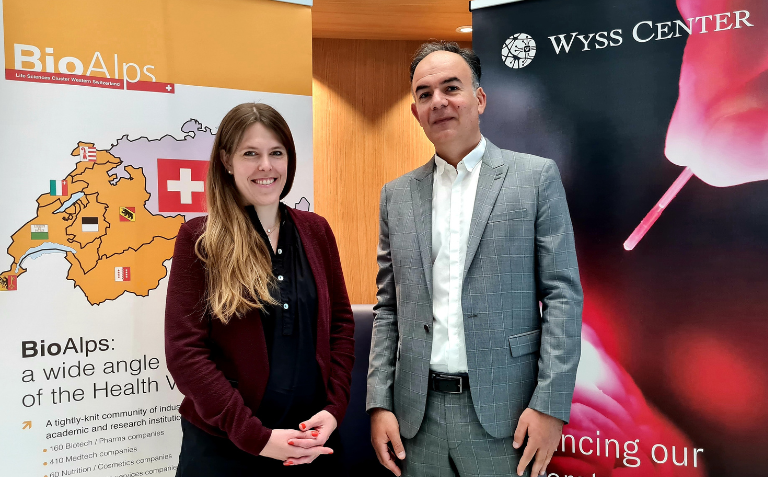 Wyss Center joins life sciences cluster BioAlps 

The Wyss Center for Bio and Neuroengineering, a non-profit organization dedicated to accelerating discoveries in neuroscience to improve patient lives, has joined

BioAlps

, the life sciences cluster for Western Switzerland.
"We are honored that the Wyss Center for Bio and Neuroengineering has agreed to join BioAlps. This leading research center is a pioneer in neuroscience and its innovations in neurobiology and neurotechnology help create and inspire the therapies of tomorrow. Its contribution to the life sciences ecosystem in Western Switzerland is absolutely necessary and valuable", says Magali Bischof, Secretary-General of BioAlps.
BioAlps has established a dynamic biotech, medtech and digital health network in Western Switzerland. Comprising research centers, universities, hospitals, startup companies and multinationals. The BioAlps Association powers knowledge exchange, supports the translation of technologies from research to industrial settings and, through its networking activities, provides access to local and international partners.   
"With the beating heart of the Wyss Center based in Western Switzerland, it is only natural for us to foster and support our local ecosystem in which BioAlps plays a very important role. At the same time, BioAlps is much more than a local Swiss network. As we strive to address global neuroscience challenges, BioAlps also offers fantastic opportunities to reach international audiences", says George Kouvas, MBA, Chief Technology Officer at the Wyss Center. 
The Wyss Center advances understanding of the brain and drives the development of transformative bio and neurotechnologies. The Center's activities address indications such as epilepsy, Alzheimer's disease and locked-in syndrome as a result of ALS (amyotrophic lateral sclerosis). The Wyss Center team has wide-ranging expertise in neurobiology, advanced imaging, technology development and regulatory affairs. The Center works closely with clinical partners and patients to develop and implement novel diagnostics and therapies. 
About the Wyss Center for Bio and Neuroengineering, Geneva, Switzerland
The Wyss Center is an independent, non-profit, research and development organization that advances our understanding of the brain to realize therapies and improve lives.  
The Wyss Center staff, together with the Center's academic, clinical and industrial collaborators, pursue innovations and new approaches in neurobiology, neuroimaging and neurotechnology. 
Wyss Center advances reveal unique insights into the mechanisms underlying the dynamics of the brain and the treatment of disease to accelerate the development of devices and therapies for unmet medical needs. 
The Wyss Center was established by a generous donation from the Swiss entrepreneur and philanthropist Hansjörg Wyss in 2014. Additional resources from funding agencies and other sources help the Wyss Center accelerate its mission.
Images: download here
Credit: ©BioAlps
Caption: Magali Bischof, Secretary General of BioAlps (L) with George Kouvas Chief Technology Officer at the Wyss Center (R).
Wyss Center media contact
Jo Bowler, Communications Manager: +41 (0) 58 201 03 09. johanna.bowler@wysscenter.ch 
BioAlps media contact
Sandra Ansanay-Alex, Communications and Event Manager: +41 (0) 76 686 77 05. sandra.ansanay@bioalps.org