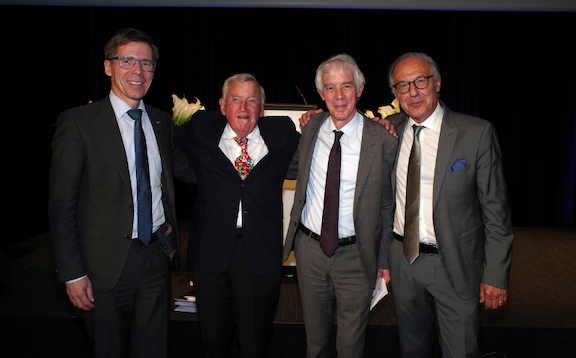 Hansjörg Wyss, the life sciences philanthropist

On 17 May 2022, Hansjörg Wyss received the Gallatin Award from the Swiss American Chamber of Commerce for his great commitment to the science landscape in Switzerland.
"The ongoing commitment of Hansjörg Wyss and his Foundation to support groundbreaking research in Switzerland and elsewhere is more than a gift: it is a strong symbol of confidence in science and in the scientists that make it live on a daily basis", says Federal Councillor Guy Parmelin, in charge of the Federal Department of Economic Affairs, Education and Research. The famous philantropist was celebrate during a ceremony in Campus Biotech Geneva.
The Gallatin Award celebrates personalities who have performed extraordinary things to bring Switzerland and the USA closer together. The Award is named after Albert Gallatin, born in Geneva in 1761, who was the longest-serving US Secretary of Treasury, founder of New York University and the Bank of New York.
A brillant entrepreneur
Hansjörg Wyss was born in bern, Switzerland, in 1935. His father sold mechanical calculators and his mother was a homemaker. After receiving a master's degree in civil and structural engineering from the Swiss Federal Institute of Technology Zurich in 1959, he earned an MBA from Harvard Business School in 1965. Following that, he worked in various positions in the textile industry, including as a factory engineer and project manager for Chrysler in Pakistan, Turkey, and the Philippines.
Wyss also worked in the steel industry in Brussels, Belgium and set up a side business selling aeroplanes. Through one sale, he met a surgeon who had co-founded Swiss medical device manufacturer Synthes.  He became president of Synthes USA in 1977. He sold the company for $19.7 billion in cash and stock to Johnson & Johnson in 2012 (it is now part of the DePuy Division), and has since put his fortune at the service of culture and sciences. 
Three Wyss Centers in Switzerland
Altogether, his donations already exceed CHF 500 million in less than 10 years, which makes him the most generous private donor to the Swiss research and innovation landscape. Last year alone, Hansjörg Wyss committed to donations in the order of CHF 100M each to the Wyss Centers in Geneva and Zürich as well as the Wyss Academy in Bern. Each of the Wyss Centers or Academy works in close collaboration with prominent Swiss institutions: EPFL, University of Geneva, ETH Zurich, University of Zurich and University of Bern. As of 2022, they sum up to more than 250 high-profile research, implementation and administrative positions that amplify the strength of Swiss science and innovation. Twenty-five companies have already spun out from or with the support of these centers, active in fields ranging from robotics to medicine. In April 2022, The Geneva team announced, thanks to their research, that communication was now possible with locked-in patients.
Wyss Center for Bio and Neuroengineering in Geneva 
• Founded in 2014, based at Campus Biotech
• 56 employees
Translational Center in Zurich
• Founded in 2014 by ETH Zurich and the University of Zurich
• 169 employees
Wyss Academy for Nature in Bern
• Founded in 2020 at the University of Bern
• Initial donation: CHF 100M plus CHF 100M of co-funding by the University of Bern and the Canton of Bern
• 45 employees