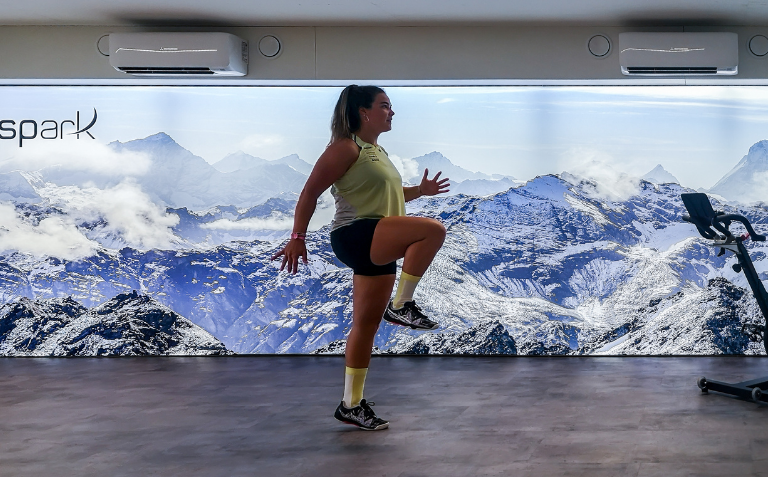 SpArk, the centre for movement science and technologies, is born!

This new centre, dedicated to sport and performance, is the result of collaboration between the City of Sion and The Ark Foundation.
Officially launched on Thursday 19 May, SpArk aims to exploit the potential of digitalisation in health, sport and performance. The new cluster aims to be a driving force for economic development, by promoting collaboration and networking of the best regional, national and international expertise.
SpArk, a driver for economic development
"The SpArk project is intended to be a driver for economic development, mainly in the field of sport, performance and health. The vision is to bring together different expertises under the same roof in order to create, innovate and above all, to move towards the digitalisation of movement," explains Patrick Flaction, head of the SpArk project. Initially, SpArk will be based in the premises of the building at Rue de l'Industrie 13. It will then move to the heart of the Campus Pôle Santé in Sion by 2025, alongside the EPFL, the Haute Ecole EPFL, the Haute Ecole de Santé and the Ark Foundation.
SpArk, a real federator for movement sciences and technologies
SpArk presents itself as a place where the best expertise in the field of health, sport and health, sport and performance. One of the strengths of this centre of expertise is based on 4 pillars: medicine and sport, movement sciences technological innovation, industrialisation and start-ups. These different players These different players will make up the innovative ecosystem that SpArk wishes to highlight in this centre at the service of movement, sport and health. "The City of Sion supports SpArk, because this project is totally in line with our strategic intent. Sion wants to develop by focusing in particular on innovation in the fields of the environment, energy, but also sport and health", explains Philippe Varone, President of Sion and President of SpArk Sport & Performance SA.
Innovative projects from the start
From the outset, SpArk has been home to some innovative nuggets. For example :
– Loxy, which seeks to democratise hypoxia in health and sport,
– Concussion, which establishes quantitative measurements and automated diagnoses
following a concussion,
– O2Score, which studies the prevention of fatigue-related accidents in manual occupations
manual occupations and high-risk sports,
– SpArk Data Hub+, a joint care management platform for the health sector.
the health sector.