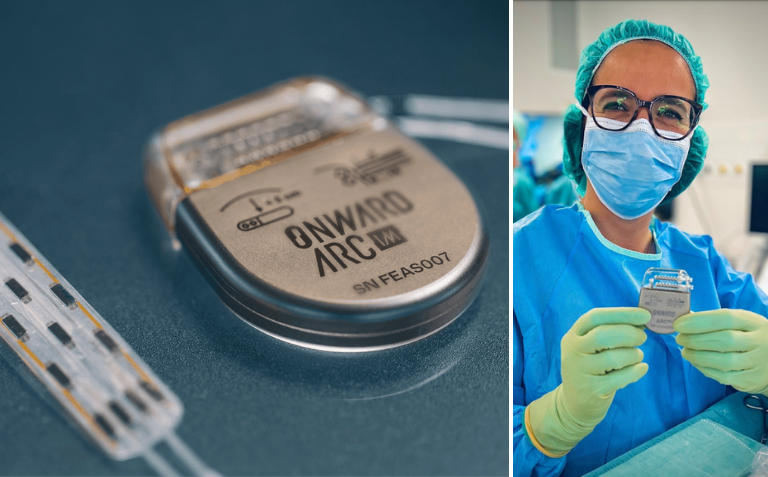 ONWARD's Neurostimulator Restores Mobility for Patients with Spinal Cord Injury

This is the first time the ARCIM is used on a human patient. This implantable pulse generator (IPG) stimulates the spinal cord to restore movement and autonomic functions for people with spinal cord injury and other conditions that affect mobility.
This first implant on a human patient is a major milestone in ONWARD's successful development of implantable neurostimulation technology. The EPFL spin-off creates innovative therapies to restore movement, independence, and health in people with spinal cord injury (SCI), and announces the first patient enrollment in the HemON Study and first-in-human use of the company's ARCIM implantable pulse generator (IPG).
"ONWARD's ARCIM IPG offers surgeons precision and flexibility never before available in an implantable neurostimulator", said Dr. Jocelyne Bloch, Chief of Functional Neurosurgery at Switzerland's Lausanne University Hospital (CHUV). "Clinicians will be able to leverage these advanced capabilities to refine and deliver epidural stimulation therapies for people with spinal cord injury."
The ONWARD ARCIM IPG was purpose-designed to deliver targeted electrical stimulation to the spinal cord in the precise areas responsible for triggering or controlling movement and autonomic functions that may be affected by a spinal cord injury or neurodegenerative disorder. The IPG is designed to operate in closed loop, incorporating data from sensors or other devices that may be deployed inside or outside the body. It is also designed to deliver therapy through an associated ARCIM lead with precision and flexibility, allowing clinicians to apply biomimetic stimulation that can closely replicate normal spinal cord activity patterns during mobility or autonomic function.
The HemON Study (NCT05111093) aims to evaluate the safety and preliminary efficacy of ARCIM Therapy to improve blood pressure management and trunk control in people with spinal cord injury who suffer from orthostatic hypotension, which is characterized by debilitatingly low blood pressure that may occur when people sit upright, stand, or change body position. Orthostatic hypotension has been observed in approximately 75% of people with spinal cord injury. HemON will enroll up to 16 participants at CHUV in Lausanne, Switzerland.
"The first implant of our ARCIM IPG is a huge milestone for ONWARD and the SCI community", said Dave Marver, CEO of ONWARD. "This important achievement validates our vision for a future in which clinicians will no longer need to struggle with modified pain stimulators to explore new treatments and instead will be able to use devices and therapies designed specifically to treat people with spinal cord injury and their unique needs."
Source: Press Release