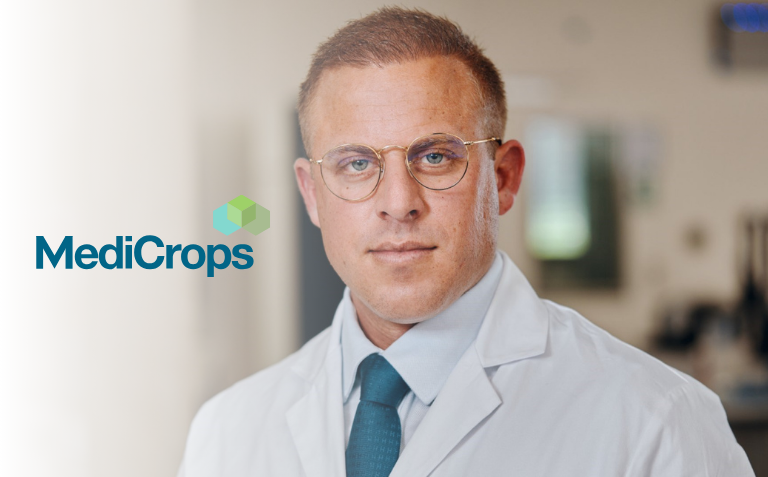 Medicrops acquires Swiss Alpinopharma

A strategic move to enhance digital patient care in the booming European cannabis market.
MediCrops Holding AG ('MediCrops'), based in Schwyz and at Biopôle in Lausanne, has acquired Berlin-based company Swiss Alpinopharma GmbH ('Swiss Alpinopharma'), a disruptive market leader in the field of medical cannabis and owner of telemedicine platform Enmedify. Swiss Alpinopharma also offers doctors-certified CME training on the use of medical cannabis. The acquisition consolidates MediCrops' position in a European market that is expected to grow to EUR 4.5 billion by 2026.
A pioneer in Germany and Switzerland
Swiss Alpinopharma is the first and only Swiss company to have successfully launched medicines in Germany, which is the largest medical cannabis market in Europe. Sales in Germany's medical cannabis market are set to reach approximately EUR 313 million in 2023.
Swiss Alpinopharma has proven its quality and expertise, having successfully launched a number of medical cannabis products. The company also owns the leading telemedicine platform Enmedify, which serves a large number of patients each month from dozens of locations in Germany and relies on a broad network of doctors.
A fully digital patient journey
MediCrops is planning to digitise every step of the patient journey. The acquisition of Swiss Alpinopharma, including the Enmedify platform, has brought the company several steps closer to achieving this goal. "This acquisition is an important milestone for our vision to revolutionise medical cannabis treatment," says Ivan Mestrangelo, Chairman of the Board of MediCrops.
Secured funding and strong medical partnerships
MediCrops has already successfully completed two financing rounds of nearly CHF 20 million and is backed by a broad shareholder base of leading Swiss doctors. These medical partners will play a key role in implementing a health tech ecosystem.
Confidential handling of patient data
MediCrops' digital corporate strategy prioritises the protection of patient's health data. Cutting-edge technologies and strict security protocols ensure that patient data is handled in accordance with global data protection regulations, including the GDPR.
MediCrops,  and Swiss Alpinopharma are actively involved in creating a digital cannabis ecosystem and work closely with the Swiss interest group IG MedCann and the German industry association Cannabiswirtschaft e.V.