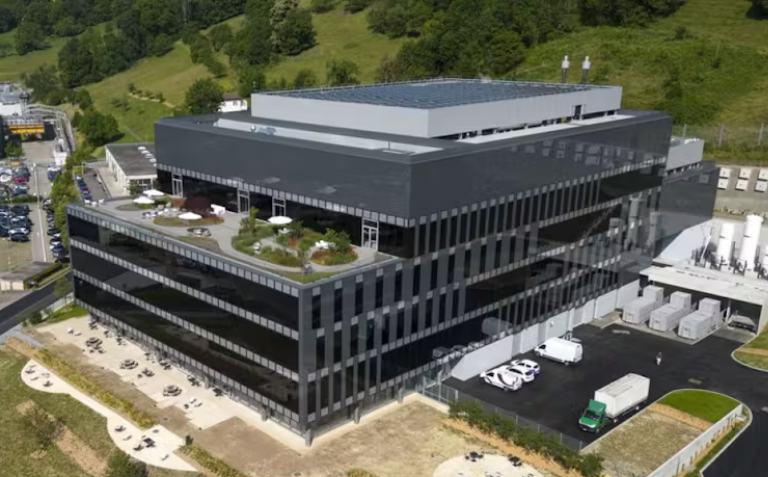 Merck inaugurates its Biotech Development Centre in Corsier-sur-Vevey

German laboratory Merck invested CHF 250 million in Corsier-sur-Vevey (VD). The 15,700 m2 building will combine research and production of biotechnology drugs and employ 250 people.
The pharmaceutical company has invested more than 250 million Swiss francs in this "Biotech Development Centre". It is dedicated to the development and production of active ingredients for clinical studies," says Merck, which already has a presence in Corsier-sur-Vevey. It will be fully operational by the end of the year.
Close to the existing production centre, this new building will turn the Riviera municipality into a genuine biotech hub, according to Merck. The inauguration ceremony took place on Wednesday morning, in the presence of Belén Garijo, Chairman of the Board and CEO of Merck, and Séverine Evéquoz, President of the Vaud Cantonal Parliament.
In Canton of Vaud for almost 40 years
"The centre is equipped with the most advanced digital solutions and the highest technological standards, particularly in terms of continuous production processes, robotisation and automation," writes the group. It is also covered by 500 m2 of solar panels.
Over the past twelve years, the leading science and technology group has invested more than one billion Swiss francs in Switzerland, where it has been established since 1929. It employs around 2,400 people at several sites.
Merck, which also has a presence in Aubonne, has been established in the canton of Vaud for almost 40 years. It employs more than 1,600 people. In March 2019, the laboratory announced the reinforcement of its Aubonne site, with an investment of CHF 165 million until 2023.