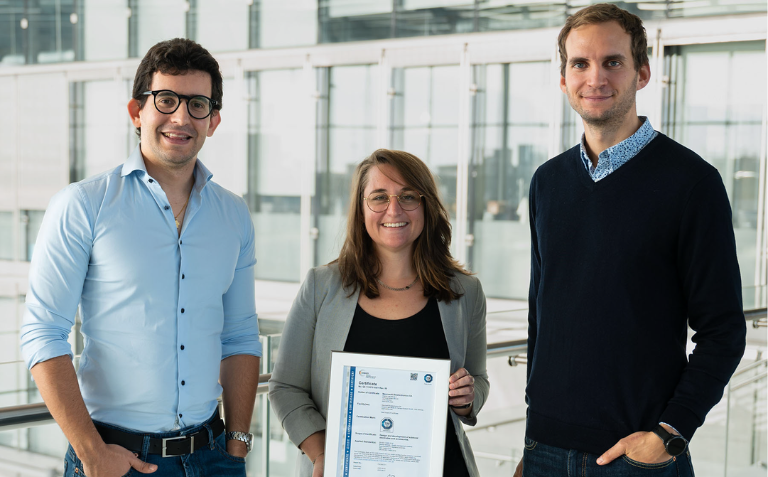 Neurosoft Bioelectronics receives ISO Certification for its Quality Management System

Neurosoft Bioelectronics SA, a startup developing implantable brain-computer interfaces, announces that it has received ISO 13485:2016 Certification by TÜV SÜD for its Quality Management System.
This is a major milestone for Neurosoft Bioelectronics as it brings the company one step closer to its first clinical studies and regulatory approval of their first product : SOFT ECoG. The SOFT ECoG is the first high-density and stretchable subdural electrode that can be used to record from and stimulate the surface of the brain. This device holds promise for providing monitoring and diagnostics for drug-resistant epilepsy patients as well as patients suffering from brain tumors. In addition to these indications, the device will help advance future therapies currently in development, starting from the treatment of Severe Tinnitus through closed-loop cortical neuro-stimulation of a brain region that is currently impossible to safely target without these soft electrodes.
The ISO 13485:2016 is the latest version of an internationally recognized quality standard that specifies requirements for a quality management system: the company needs to demonstrate its ability to provide medical devices and related services that meet customer and regulatory requirements.
The Quality Assurance Manager of Neurosoft Bioelectronics, Chloé Fattebert, commented the milestone: "We strive to achieve the highest standards for all our activities. Therefore, we decided to set the tone as early as possible for the design and development of our subdural electrodes, by being compliant to ISO 13485:2016". Dr. Nicolas Vachicouras, CEO & Co-Founder, added that "this certification is a collective achievement of all the employees at Neurosoft Bioelectronics, indicative of our commitment to quality, and brings us closer to our ambitious goals."
Besides their certified Quality Management System, Neurosoft Bioelectronics has implemented and finalized a medical grade production line with Good Manufacturing Practices in an ISO 6 and ISO 7 cleanroom environment at the Campus Biotech, with the help of the Neural Microsystems Platform (NMP). Since 2021, the cleanroom has repeatedly met and exceeded environmental bioburden requirements for the manufacturing of invasive neural interfaces. Michaël Stoeckel, the head of the NMP, commented "This certification proves that R&D processes and medical device development can evolve inside the same environment. Another huge milestone reached with the certification for the Neurosoft team.".
In addition to the NMP, Neurosoft Bioelectronics would not have achieved these goals without the constant help from the Wyss Center for Bio and Neuroengineering, who provided support for implementing the infrastructure and Quality Management System, and from the Laboratory of Soft Bioelectronic Interfaces headed by Prof. Stéphanie P. Lacour at EPFL who highlighted "this certification as a milestone in our efforts of translating academic innovation towards clinical medical devices".
About Neurosoft Bioelectronics SA
Neurosoft Bioelectronics Ltd. is a Swiss neurotech spin-off from the Swiss Federal Institute of Technology in Lausanne (EPFL). Neurosoft Bioelectronics is developing the next generation of soft implantable electrodes to interface with the brain for the treatment of severe neurological disorders. Its main product is a fully implantable closed-loop Brain-Computer Interface (BCI) to treat severe tinnitus, a condition that affects 7M people in the US and Europe, of which 7% attempt suicide every year. It is also developing a family of subdural electrodes intended for monitoring during brain tumor and epilepsy resection surgery.
About the Neural Microsystems Platform (NMP) at Campus Biotech
The Neural Microsystems Platform (NMP) is a 400 m2 ISO 7 Micro-nanofabrication facility that provides a range of microfabrication and characterization equipment and technical expertise to the Campus Biotech community as well as, to date, external academic users. The core mission of the NMP is to enable research and development in wearable and implantable neurotechnologies. Unique to the NMP is the shared thin-film, organic and inorganic fabrication and imaging facilities. The NMP supports research in Soft Bio and Physical devices and systems bringing experts in engineering, life sciences and medical sciences to design the next generation technology, devices and systems for human benefits. The NMP operates via hands-on training and a shared user environment. Users benefit from a close partnership with the platform staff to optimize and improve processes and design innovative process flows.