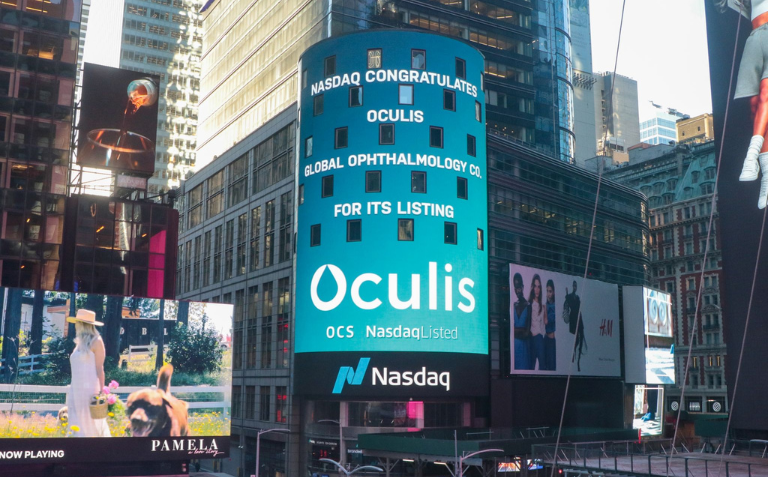 Oculis Announces US public listing on Nasdaq

A Swiss Health Valley success story! Oculis goes public.
Oculis Holding AG ("Oculis"), based at EPFL Innovation Park in Lausanne, is a global biopharmaceutical company purposefully driven to save sight and improve eye care. On 3 March 2023, it announced its listing on Nasdaq after successfully closing the business combination between European Biotech Acquisition Corp. ("EBAC") and Oculis SA. The business combination was unanimously approved by the board of directors and shareholders of Oculis SA and by the EBAC shareholders at an extraordinary general meeting on February 28, 2023. From today, Oculis' shares will trade on the Nasdaq Stock Market under the ticker symbol "OCS".
Upon closing, Oculis had a pro-forma enterprise value of approximately $220 million and a cash balance exceeding $117 million, prior to payment of final transaction costs. Oculis is supported by leading new and existing institutional investors in the upsized PIPE financing including LSP 7, funds managed by Tekla Capital Management LLC, Earlybird, Novartis Venture Fund, Pivotal Life Sciences and VI Partners, among others.
Riad Sherif MD, CEO of Oculis, commented: "Listing on the Nasdaq Stock Market is a major corporate milestone for Oculis and its investors. It is a confirmation of the potential of Oculis' pipeline to bring significant value for patients, physicians and investors. Oculis' robust financial position enables the advancement of multiple clinical stage candidates and the delivery of several important near-term catalysts for value creation, including potentially OCS-01, the first topical eye-drop for DME, OCS-02, the first biologic eye-drop for Dry Eye Disease (DED) and OCS-05, the first neuroprotective agent for neuro-retina diseases, such as Acute Optic Neuritis (AON) and glaucoma."
Eduardo Bravo, CEO of EBAC, said: "EBAC and its investors are exceptionally pleased with the closing of this business combination with Oculis. We value the advanced-stage, diversity and novelty of Oculis' assets and we are confident in the expertise and experience of Oculis' leadership team, Board of Directors, Scientific Advisory Board and network of world-class industry collaborators to bring tremendous value to the advancement of treatment outcomes in ophthalmology. We are excited about the potential of Oculis' differentiated pipeline to meet medical needs for patients."
Pravin Dugel MD, President of Iveric Bio, and newly appointed Non-Executive Director of Oculis, said: "I was delighted to support Oculis as a Scientific Advisory Board Member and I am thrilled to continue my support as a board member during this pivotal moment in the Company's growth story. Oculis has a unique opportunity with its diversified late-stage pipeline to address areas of significant unmet medical need in major segments of ophthalmology including retina, dry eye, and neuro-ophthalmology. There is no doubt in my mind that it has the potential to change the treatment paradigm for patients worldwide."
Oculis' Board of Directors now comprises seven members, including six directors who are "independent" as per Nasdaq listing standards. Anthony Rosenberg will continue to serve as Chairman of the Board of Directors, which now includes Christina Ackermann, Lionel Carnot, Pravin Dugel M.D., Martijn Kleijwegt, Geraldine O'Keeffe and Riad Sherif M.D.
Source: press release