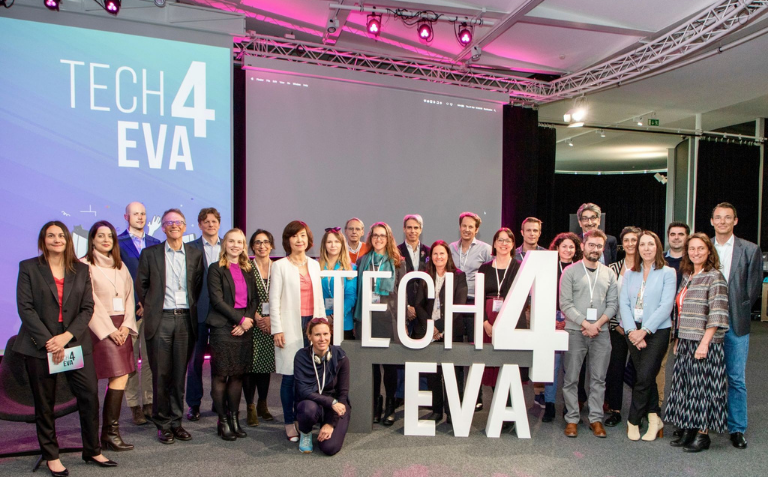 13 growth-stage startups and 15 early-stage start-ups and projects have been selected for the 2022 program.
Tech4Eva is an EPFL initiative that aims at creating a long-term impact for FemTech startups and a global FemTech Community. The 2022 international cohort, selected from a total of 124 applications, is mainly represented by Swiss-based, USA-based and Israel-based entrepreneurs, the majority of which focus their solutions in the areas of Fertility & Pregnancy and Women's Wellness and Medicine.
Six Swiss Startups
Among the 2022 cohort, 2 companies are growth-stage startups and 4 early-stage startups.
Pregnolia is an ETH Zurich spinoff developing a diagnostic device to evaluate the risk of preterm birth and improve detection rates from 40% to 80%. The Pregnolia System measures the stiffness of the cervical tissue of a pregnant woman and its changes during pregnancy. By detecting abnormal stiffness changes, it can diagnose cervical incompetence and the likelihood of preterm birth.
b-rayZ allows breast units to use their full potential for earlier, better and quality-controlled diagnosis of breast cancer thanks to a revolutionary AI technology. The b-box is a scalable plug-and-play solution supporting all tasks of professionals (doctors, technicians, and clinical managers) in the breast unit. All diagnostic and administrative tasks in breast imaging are automated and controlled.
Deliver Health wants to revolutionize midwifery education by building a knowledge platform, in line with international standards, combined with cutting-edge technology to try to avert 80% of all maternal deaths.
FimmCyte develops a novel treatment that selectively destroys the diseased endometriotic tissue with precision. Endometriosis is a painful, chronic, infertility causing and recurrent disease affecting 10% of women of reproductive age.
Navina Plus is Smartwatch/Fitness Tracker available on prescription from General Practitioner or Gynaecologist to help women navigate symptoms of menopause.
OncoGenomX is a Swiss developer of precision cancer software providing AIaugmented strategic decison support to pharma companies and clinical decision support to cancer centers.
About Tech4Eva
The Tech4Eva 9-month equity-free start-up acceleration program will help selected start-ups companies to refine their business models and go-to-market process strategy, meet investors and potential customers and connect them with leading FemTech hubs around the globe. In 2021, Tech4Eva has supported 30 projects that were able to raise $ 60 million.
« We started Tech4Eva a year ago to create an innovation and international platform to advance women's health », declares Lan Zuo Gillet, director of the program at EPFL Innovation Park. « I have been amazed to see how much attention we had from the media, the investors, the corporations… »
« Tech4Eva brings all the actors around the table. There is still a lot of work to do, but in a few years, femtech will be mainstream », says Sophie Revaz from Groupe Mutuel, one of the founding partners of the program.
BioAlps is very proud to be one of Tech4Eva partners. Our Senior Advisor, Dr Claude Joris, is one of the program's mentor.