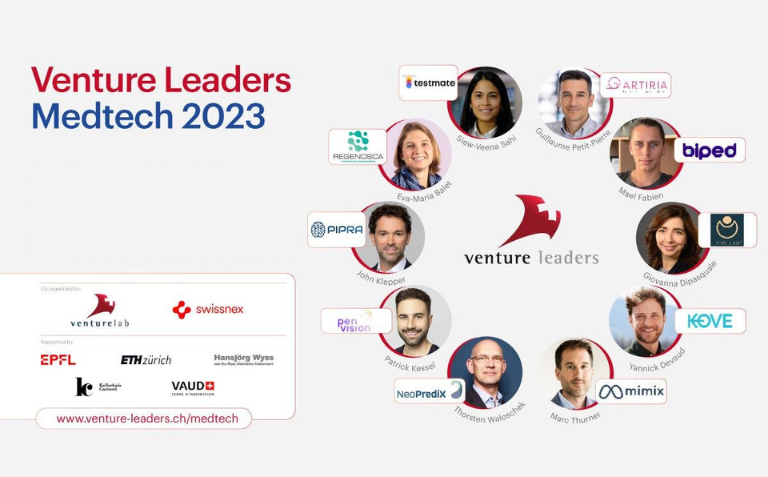 Venture Leaders Medtech 2023

10 medtech projects were selected to join the Swiss National Startup team that will travel to Boston and Cambridge next September to meet investors in industry leaders.
For the third consecutive year, the dedicated program will represent Swiss Medtech innovation in the United States. "From novel surgery solutions to AI-driven solution to improve patients care, the 2023 Venture Leaders Medtech Team illustrate again the Swiss made quality in this field. I am excited to introduce the entrepreneurs to Boston's investor scene," said Jordi Montserrat, managing partner at Venturelab. Here are the 10 selected projects:
Artiria Medical SA (GE) is revolutionising neurovascular surgery with a minimally invasive catheter and guide-wire, enabling a seamless navigation and stroke treatment.
Fusion Lab Technologies Sàrl -biped.ai (VD) develops biped.ai, a smart harness, worn on the shoulders, bringing autonomous driving features to visually impaired people. biped.ai avoids obstacles, anticipate collisions, understands the scene, gets navigation instruction, through 3D sounds.
HeroSupport SA (GE) aims to improve cancer treatments effectiveness, safety, cost-efficiency and universal access with personalized patient-positioning medical devices and standardized workflows and services.
KOVE medical AG (ZH) develops a device to seal and fix the hole created by the surgical tools used to treat fetuses during pregnancy. By closing this hole, KOVE decreases dramatically the risk of preterm birth.
mimiX Biotherapeutics Sàrl (NE) develops a bioprinting skin product with Acoustic 3Dprinting. Its FastSkin® tissue is an advanced dermal substitute for treating acute and chronic wounds, utilizing a unique biofabrication technique: the Sound Induced Morphogenesis (SIM).
NeoPrediX AG (BS) develops decision support tools with maternal, neonatal and perinatal screening platforms to evaluate, optimize and personalize medical strategies in pediatrics.
PeriVision SA (VD) helps eye doctors diagnoses vision diseases with AI, VR and the cloud.
PIPRA AG (ZH) has developed a cutting-edge AI-based pre-operative tool called PIPRA to assess the risk of a patient developing POD.
Regenosca SA's (ZH) patented technology TissueSpan results in off-the-shelf and ready to use implants to avoid a second surgical site in soft tissue repair surgeries.
Testmate Health (VD) is developing the first disposable home test for common STIs. It is a urine based test for both men and women, and provides results in minutes for chlamydia, gonorrhoea & trichomoniasis.
The Venture Leaders Medtech programme is organized by Venturelab in collaboration with Swissnex Boston, and supported by EPFL Lausanne, ETH Zurich, Hansjörg Wyss, Kellerhals Carrard, and Canton of Vaud.