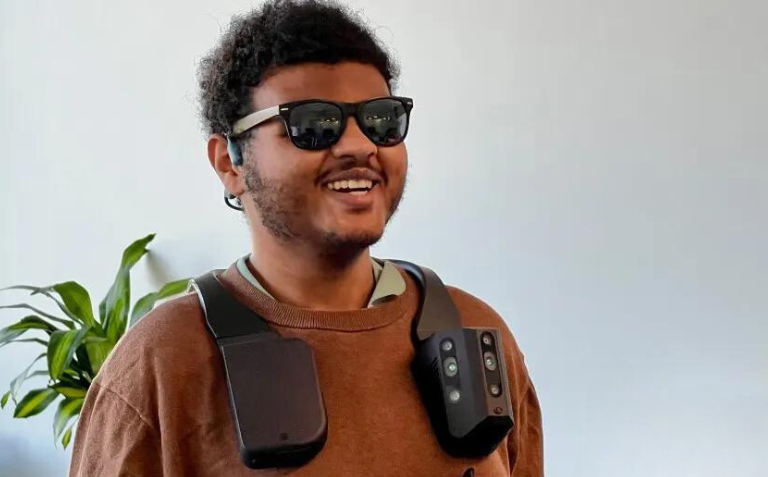 Biped wins the Prix de la canne blanche

The Swiss Central Union for the Blind (UCBA) awards projects for blind, partially sighted and deaf-blind people. Twenty-one projects were submitted for the ninth edition of the competition, and the Vaud based Biped.ai won the contest.
Biped – an intelligent co-pilot for blind people (picture)
Biped is a co-pilot for blind people, worn like a vest over the shoulders. The solution enables GPS navigation, predicts collisions and issues warnings via bone-sound headphones. Over 250 beta-testers and more than 10 partners, including the Swiss Federation for the Blind and Visually Impaired and the Jules-Gonin ophthalmology clinic in Lausanne, have been involved in its development.
2 other projects were in the final run
Head2Screen – Augmented reality for screen-based work
Launched by the University of St. Gallen and developed by the company acfa, the project helps people with visual impairments to work on a screen. Its aim is to use a smartphone and augmented reality to enlarge the screen, always exactly in the reading area, without visually impaired people having to wear a magnifying glass or other device on their head.
EAO door-opener button
EAO, Olten, has developed a touchless door opener to help blind and partially sighted people open public transport doors. With the 57 Touchless series, about to be launched on the market, travelers should be able to interact with public transport vehicles without direct contact.
The White Stick Award (Prix de la Canne blanche) will be awarded on 19 September 2023 at Olten's Stadttheater.