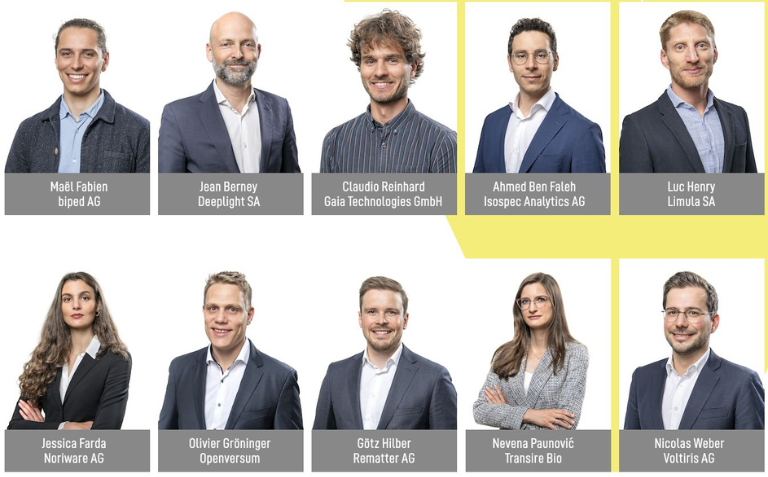 6 life sciences startups in the Top 10 of the W. A. de Vigier Award

From a record number of over 300 submitted projects, the jury picked their Top 10. On 20 June 2023, up to five of those young leaders will receive a W. A. de Vigier Award, each endowed with CHF 100,000
biped AG from Epalinges (VD) – Independence for the Visually Impaired
270 million visually impaired people worldwide face challenges in their daily mobility, like avoiding obstacles and finding their way. biped is a small harness, worn on the shoulders, equipped with cameras. Just like a self-driving car, it can detect and predict all obstacles and play a short "beep" in bluetooth headphones to warn the user. biped is on a mission to support visually impaired people to spend time outdoors stress-free, and ultimately help them discover new places independently.
Gaia Technologies GmbH from Berne (BE) – Turning Agro-Waste into Valuable Ingredients
Agricultural waste contains a plethora of resources that could replace synthetic compounds used in the cosmetic and food industries, however, this waste mostly gets discarded without being valorized. ETH-spinoff Gaia Technologies is building scalable solutions to enable the industry to replace harmful chemicals with renewable biocompounds. The core of their IP is a fully biodegradable sorbent that can be regenerated several times before serving as soil amendment.
Isospec Analytics AG from Denens (VD) – Empowering Biotechnology Through Molecular Intelligence
The analysis of molecules represents most of the workload in clinical labs and is key to early disease diagnosis. However, current databases only cover a small fraction of known molecules, which leads to a high percentage of ambiguous results. By using the vibrations of a molecule as a unique fingerprint, Isospec can conclusively assign a molecule's structure via a proprietary database that the EPFL-spinoff develops. This enables the discovery of new disease biomarkers, accelerates the development of therapeutics, and transforms the future of clinical nutrition.
Limula SA from La Tour-de-Peilz (VD) – Cell and Gene Therapy Made Easy
Cell and Gene Therapies (CGT) can save the lives of people with previously incurable conditions, including aggressive cancers. Unfortunately, the production of these highly personalized 'living drugs' is still so complex and expensive that only a small fraction of eligible patients has access to a treatment. Limula is developing a fully automated device that enables manufacturing of high-quality cell therapies at lower costs, on demand and at scale, with the potential to dramatically increase their accessibility.
Noriware AG from Gipf-Oberfrick (AG) – Flexible Packaging Made from Seaweed
90% of manufactured plastic is not being recycled and ends up as microplastic in the environment. In collaboration with ETH and FHNW, the HSG-spinoff Noriware developed a seaweed-based packaging film that is made entirely of natural materials. The growth of the raw material seaweed creates a negative carbon footprint, with the final product being home-compostable within a revolutionary time and therefore leaving no residual waste behind.
Transire Bio from Zurich (ZH) – Painless Delivery of Injectable Drugs
Each day, millions of patients have to administer their medicines through painful injections. Many drugs cannot be taken orally and have to be injected because they are sensitive to degradation and/or too large to cross the gut. This ETH-spinoff takes needles out of the picture and offers a painless alternative for the delivery of these medicines. The technology is based on an octopus-inspired suction patch that patients place on the inner side of the cheek, enabling the drug to efficiently reach the bloodstream. This unique solution removes a huge burden from patients' lives and from our healthcare systems.
Deeplight SA from Lausanne (VD) – High-Performance Lasers on a Chip
Today, many applications require high performance lasers to sense the environment. Deeplight develops and manufactures high-end lasers that are small, consume very little power and come at a low production cost. Deeplight lasers serve several multi-billion-dollar markets and can be applied to long-range monitoring of infrastructures (aircrafts, telecommunication networks, bridges), long-range sensing of chemicals (methane spills in oil fields) or long-range sensing of objects (automotive industry).
Openversum from Schlieren (ZH) – Saving Lives with Clean Drinking Water
Today, two billion people do not have access to safe drinking water. Openversum provides a business blueprint to water entrepreneurs and enables them to manufacture and sell drinking water filters locally. The startup's novel membrane filter is highly efficient, cost-effective and quickly removes pathogens, heavy metals, and micropollutants from water. The company's microfranchising ecosystem and operational platform allows for fast scaling in order to improve millions of lives.
Rematter AG from Zug (ZG) – Fully Recyclable Floor Slabs Made by Robots
Construction accounts for 50% of resource consumption and 37% of CO2 emissions globally. Rematter's floor slab system uses widely available, locally sourced, low carbon materials – earth and timber – that are 100% recyclable. Robotic fabrication ensures competitive pricing and high, consistent quality. This allows builders to minimize the environmental impact of their buildings, while maximizing performance and room climate quality.
Voltiris AG from Lausanne (VD) – Solar Modules to Combine Energy and Crop Production
Greenhouses require significant amounts of energy and growers are halting operations because of rising energy prices. They want to produce solar energy but current solutions reduce crop yields by shading them. Voltiris' color-optimized solar modules filter sunlight and transmit only the components needed for photosynthesis to crops, while producing solar energy with the unused light. This enables the production of renewable energy without impacting crop yields and ultimately allows growers to keep producing the food we all need.
About the W.A. de Vigier Awards
The W.A. de Vigier Award is the oldest award for young entrepreneurs in Switzerland and, with annual prize money of up to CHF 500,000 (five times CHF 100,000), is one of the most highly endowed startup prizes in Switzerland. Over the past 34 years, the foundation has distributed almost CHF 14 million of seed money. The results are well over 100 flourishing startups, successful IPOs, multiple company exits and above all, many newly created jobs.
The following aspects are relevant for the evaluation of the projects: The entrepreneurial personality, the degree of innovation, the value for society as a whole, the technical and financial viability, market prospects and the potential for job creation.
The award ceremony on 20 June 2023 will be opened by André Hoffmann, President of the Foundation, this year's keynote speaker is Federal Councillor Viola Amherd.