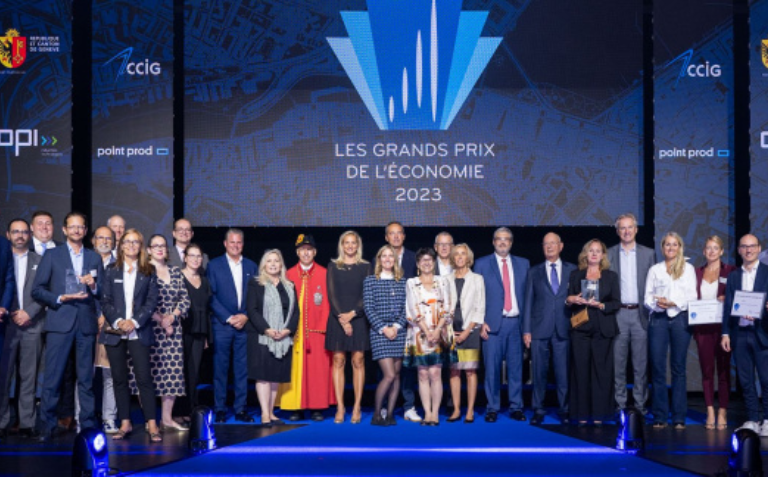 Amal Therapeutics wins Geneva Innovation Prize

Les Grands Prix de l'économie 2023 are organised by the CCIG, with the support of the State of Geneva and the Office de Promotion des Industries et des Technologies (OPI).
The Innovation Prize went to Amal Therapeutics, which specialises in cancer treatment and prevention. This spin-off from the University of Geneva and the University Hospitals of Geneva, was acquired by the German immuno-oncology group Boehringer Ingelheim in 2019 for €325 million. Thanks to this financial and scientific injection, the Geneva-based start-up can now conduct clinical trials with a view to developing an oncology vaccine, The vaccine has the ability to educate immune cells to recognise and destroy metastatic cells. We administer six injections, with side effects comparable to any other vaccine. The treatment will not replace surgery or chemotherapy. It must be co-administered with standard treatments. The treatment developed by Amal Therapeutics has the advantage of being able to target small metastases that may escape chemotherapy. Vaccines contain antigens, i.e. protein segments that are also expressed by cancer cells. By exposing the patient's immune system to these antigens, they activate killer T lymphocytes, which in turn target the tumour.
The Prix de l'économie genevoise was awarded to LEM, a leading provider of high-quality electrical measurement solutions. The Equality Award, created two years ago, went to Jacquet SA, a B Corp-certified family business renowned for its garden, pool and playground landscaping. Finally, the jury chose to award a Special Prize to the World Economic Forum (WEF), a non-profit foundation set up in 1971 by Prof. Klaus Schwab.
Source: Etat de Genève