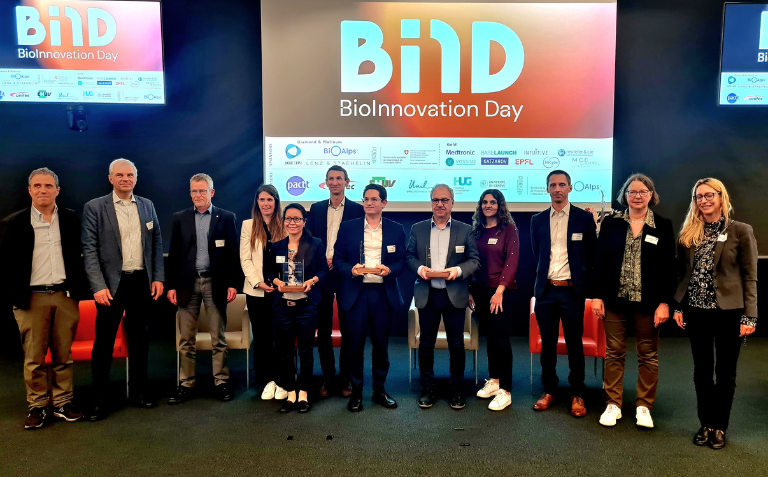 BIND: Bioinnovation Day Awards

On 11 May 2023, 31 early stage life sciences projects were presented to the public at the AGORA (Fondation ISREC) near the CHUV in Lausanne, during the Bioinnovation Day. Three of them received and award.
The BIND is an event was organised the PACTT, the Technology transfer office of University of Lausanne (UNIL) and University Hospital of Lausanne (CHUV), and UNITEC, the Technology transfer offices of the University of Geneva (UNIGE), to showcase the best of the academic life sciences research in Western Switzerland universities. About 160 people gathered to discover a selection of projects developed in our region. 3 of them received an award.
Best Innovation Project (CHF 5000): Prof. Curzio Rüegg from University of Fribourg (UNIFR) develops a blood test for an early detection of breast cancer which could revolutionize the patients' management and the disease treatment. The test detects homeostatic alterations in the blood in combination with DNA-origami-based nano sensors.
Start-up Prize (CHF 5000): ND Biosciences develops next-generation therapeutics and diagnostics for neurodegenerative diseases (NDs), such as Parkinson's and Alzheimer's Disease. ND Biosciences has developed unique technologies that allow for the first time reproducing the biochemical, structural, and functional properties of pathological protein aggregates observed in NDs.
Audience Price (CHF 1000) : TheraMe! uses microfluidic technology (a kind of miniaturized laboratory on a chip) to determine the best therapy options directly on live tumour samples from patients.
As a sponsor, BioAlps was very proud to contribute to the success of the event and to support the newest and most promising life sciences projects of the Swiss Health Valley. The BIND is organised every two years and will return in 2025.