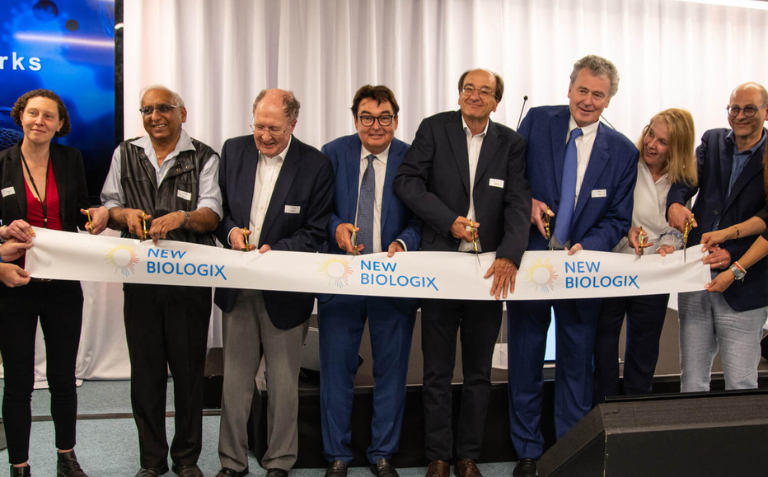 NewBiologix is betting on the industrialization of gene therapy

With CHF 45 million raised, the start-up NewBiologix, officially launched on 11 May 2023 at the Biopôle in Epalinges, has very high ambitions. Its two founders, Igor Fisch and Nicolas Mermod, want to reproduce the model that they had successfully implemented in Geneva with their previous company, Selexis.
NewBiologix SA emerged from stealth as a technology innovation company developing a proprietary and breakthrough platform for the advanced engineering of cell lines used to manufacture gene and cell therapies. The Company's DNA-based platform is being developed to address key manufacturing challenges associated with the production of recombinant adeno-associated virus (rAAV) vectors used to produce advanced therapy medicinal products (ATMPs). NewBiologix's $50 million (CHF 45 million) Series A was led by Recipharm A/S with additional funding from the Company's co-founders, Igor Fish and Nicolas Mermod.
"As the number of gene and cell therapies in the clinic and market continues to grow, improved manufacturing solutions for viral vectors are needed," says NewBiologix co-founder and CEO, Igor Fisch, Ph.D., who brings more than 20 years' experience in biotech and cell line development to the new entity. "Our mission is to help biopharmaceutical companies treat some of the most devastating diseases by providing them with innovative technologies and solutions to boost the production and efficacy of viral vectors, rapidly and more cost effectively."
NewBiologix is currently focused on recombinant adeno-associated virus (rAAV) vectors, the preferred delivery vehicle for gene therapies. Specifically, the Company's technologies will be applied to human (HEK-293) and mammalian (CHO) cell lines. These cell lines will be engineered to be readily adaptable to meet the viral vector demands and requirements over a full range of therapeutic indications to help partners address rare, chronic, and currently incurable diseases. Cell lines engineered with NewBiologix's innovative platform will allow for more stable rAAV production, higher quality and predictable expression levels, less empty capsids, and better batch-to-batch reproducibility of production.
"Current gene and cell therapies primarily focus on rare diseases. We believe our approach to generating rAAV vectors should help biopharmaceutical companies advance into emerging therapies that target larger patient populations with chronic conditions," says NewBiologix co-founder and senior vice president of research and development, Nicolas Mermod, Ph.D., also a 20-year biotech veteran with expertise in molecular biotechnology. "NewBiologix's platform is a quantum leap forward. Our approach will significantly impact the cost of goods sold (COGs), making gene therapy more viable for rare diseases."
NewBiologix is leveraging next-generation sequencing (NGS)-based genome characterization to develop a proprietary bioinformatics platform designed to improve cell line capabilities for the expression and production of ATMPs. By including NGS-based technologies during the cell line development process, NewBiologix can make data-driven decisions about the cell banks' stability, integrity, and biosafety while providing robust supportive data for regulatory submissions.
The Company has assembled a prestigious group of scientific thought leaders to sit on its Scientific Advisory Board, including Mahendra Roa, Ph.D., Sir Gregory Winter, FRS, Anna Maurer, Ph.D., and Cori Gorman, Ph.D., M.B.A. Each member brings unique experience from gene and cell therapy, protein and vector engineering, stem cells, and biologics to guide the potential of NewBiologix's innovative technology platform.
With its Series A financing, an experienced start-up team, and a world-class scientific advisory board, the Company will begin beta testing the cell line prototypes with key collaborators by 2024 and anticipates making viral production cell lines commercially available by 2026.
About NewBiologix SA
Based in Lausanne, Switzerland, NewBiologix SA is a technology innovation company developing a proprietary and breakthrough DNA integration platform for the advanced engineering of human and mammalian cell lines. The company is committed to improving the generation and production of viral vectors used in gene and cell therapies by combining an innovative and proprietary bioinformatics platform with advanced R&D experimentation.
Source: Press Release