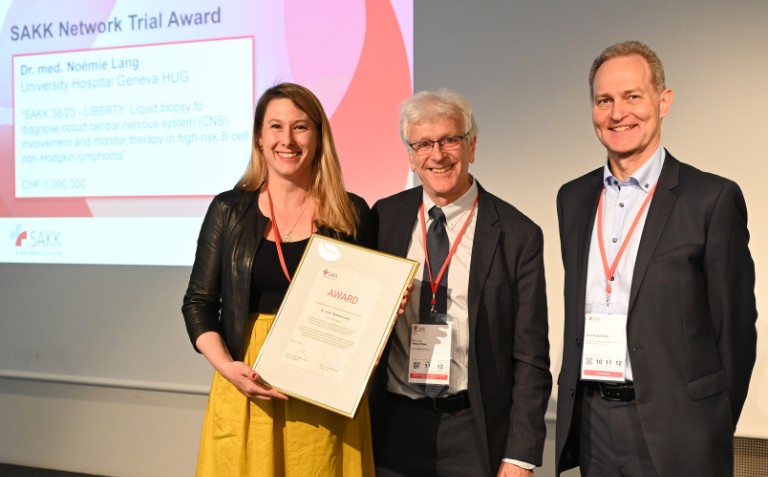 CHF 1 Million for a clinical study on Lymphoma

Dr Noémie Lang, oncologist at Geneva University Hospital (HUG), wins the prestigious Swiss Group for Clinical Cancer Research (SAKK) Trial Network Award.
Lymphomas are cancers that originate from white blood cells and affect the lymphatic system, which plays a major role in immune defense. According to the World Health Organization (WHO), they account for 5% of all cancers. Approximatively two-thirds of lymphomas can be successfully and durably treated. However, certain aggressive subtypes of B-cell non-Hodgkin lymphomas still present a poor prognosis.
In 2 to 5% of cases, the disease spreads to the central nervous system and life expectancy drops to a few months. "Preventive therapeutic approaches exist; however, they need to be administered in a more targeted manner by an early accurate detection of central nervous system involvement in high-risk individuals, treating positively-detected patients and sparing toxicities to negatively-detected patients", says the SAKK prize laureate. Dr Noémie Lang is an oncologist at the Oncology Department at the HUG and conducts translational research in the team of Professor Jérôme Tamburini at the Department of Medicine and the Center for Translational Research in Onco-Hematology (CRTOH) of the Faculty of Medicine at UNIGE.
Her intent is to carry out a study evaluating early detection of central nervous system involvement in lymphomas. Using sequencing technology to detect circulating tumour DNA in the blood and the cerebrospinal fluid, this diagnostic approach may result in significantly improved standards of quality and precision compared to available analytical assays currently in use. This innovation is expected to enable early diagnosis and improve targeted therapeutic approaches.
The study will be conducted in twelve Swiss centres.
About SAKK
SAKK is an independent, non-profit organization that focuses on cancer research. Founded in 1965, it plays a crucial role not only in advancing cancer research in Switzerland, but also in supporting young clinical researchers in their career development. As a centre of expertise, its main objective is to network its members. Its creation of the Network Trial Award, endowed with one million Swiss francs (USD 1.12 million), reflects this objective. Dr Noémie Lang is the first laureate of the award,
Source and full article: HUG