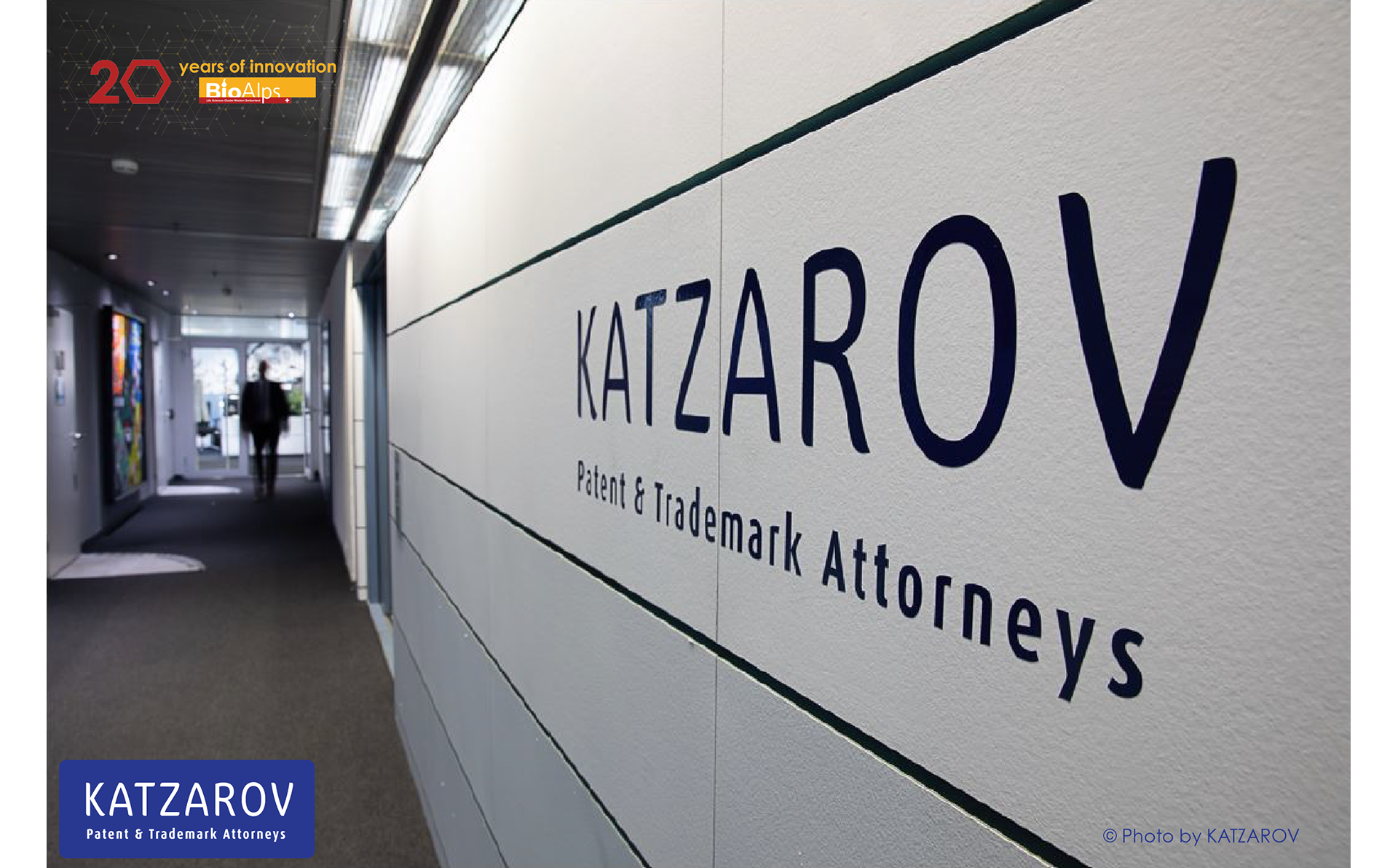 BioAlps | 20 years of innovation | KATZAROV

Intellectual property for Life Sciences innovators
We are pleased to share with you our new testimonial series as part of our ecosystem's 20th anniversary celebrations. The series aims to provide a platform for regional Life Sciences key players to present themselves, share their perspectives on the development of Western Switzerland's Life Sciences ecosystem and their outlook on upcoming challenges and opportunities. The following article is presented to you by KATZAROV.
Presentation of KATZAROV's activities
With more than 50 years' experience, KATZAROV has longstanding international experience in advising Life Sciences innovators in all aspects related to Intellectual Property (IP) rights, specifically in obtaining, maintaining and enforcing patents, trademarks and designs. Our Swiss-based firm has built up a reputed expertise in serving clients' needs and finding solutions to complex legal and technical issues.
Major Life Sciences trends and developments and KATZAROV's contributions
There is a continuous evolution and new developments in the Life Sciences patent field, concerning the criteria for patentability of inventions. New developments mainly concern the patentability of antibodies, diagnostic and medical methods, genomics and proteomics, digital health, artificial intelligence and medtechs as well as regarding the criteria for assessing the plausibility and sufficiency of experimental data for claimed inventions. Our patent attorneys remain up-to-date on both technical and legal matters, notably by attending continuing education seminars, scientific seminars and closely following the case law of foreign patent offices.
KATZAROV has a proven track record on advising Startups, SMEs, Universities and International firms (including NASDAQ listed companies) on strategic Life Sciences IP issues. This expertise has been recognised in many IP rankings throughout the years.
Significant foreseeable trends and challenges in Life Sciences
Cost pressure is a major challenge. Outsourcing work to low-cost countries and international companies is tempting for innovators, but also difficult and risky, both in terms of quality and liability. There is also the risk that we lose some of the technical expertise and know-how in our home country, while the innovation is done here.
One way to reduce costs locally is through digitalisation and artificial intelligence, which are becoming more and more important and present in everyday life and work. These tools can provide many new opportunities and speed up work, research and innovation.
Major events which have contributed to the development of Life Sciences
The success and the development of Life Sciences in our region is rather due to the presence of both first-rate universities (EPFL, UNIL, UNIGE, HES, …) and Hospitals (CHUV, HUG) that understood very early the importance of IP in the development of Life Sciences companies as well as pharmaceutical companies, Cantonal initiatives and incentives to promote Life Sciences, private and public investments, incubators, attraction of talented people from all over the world and to the presence of many companies that have specific expertise in specific technical and legal activities, such as Intellectual Property, Regulatory Affairs, Clinical trials, etc.…
How will KATZAROV evolve to meet the new market needs?

We are constantly adapting, tailor-making and customising our services to more efficiently and better respond to the demands of our clients and to protect and enhance the value of their innovations. This evolution implies, among other things, the recruiting qualified experts in several technical and legal fields, trained at Swiss universities and research institutes, and who are aware of the international markets.
KATZAROV's recommendations
The bilateral agreement with the EU and the access to the EU market is important for our region.