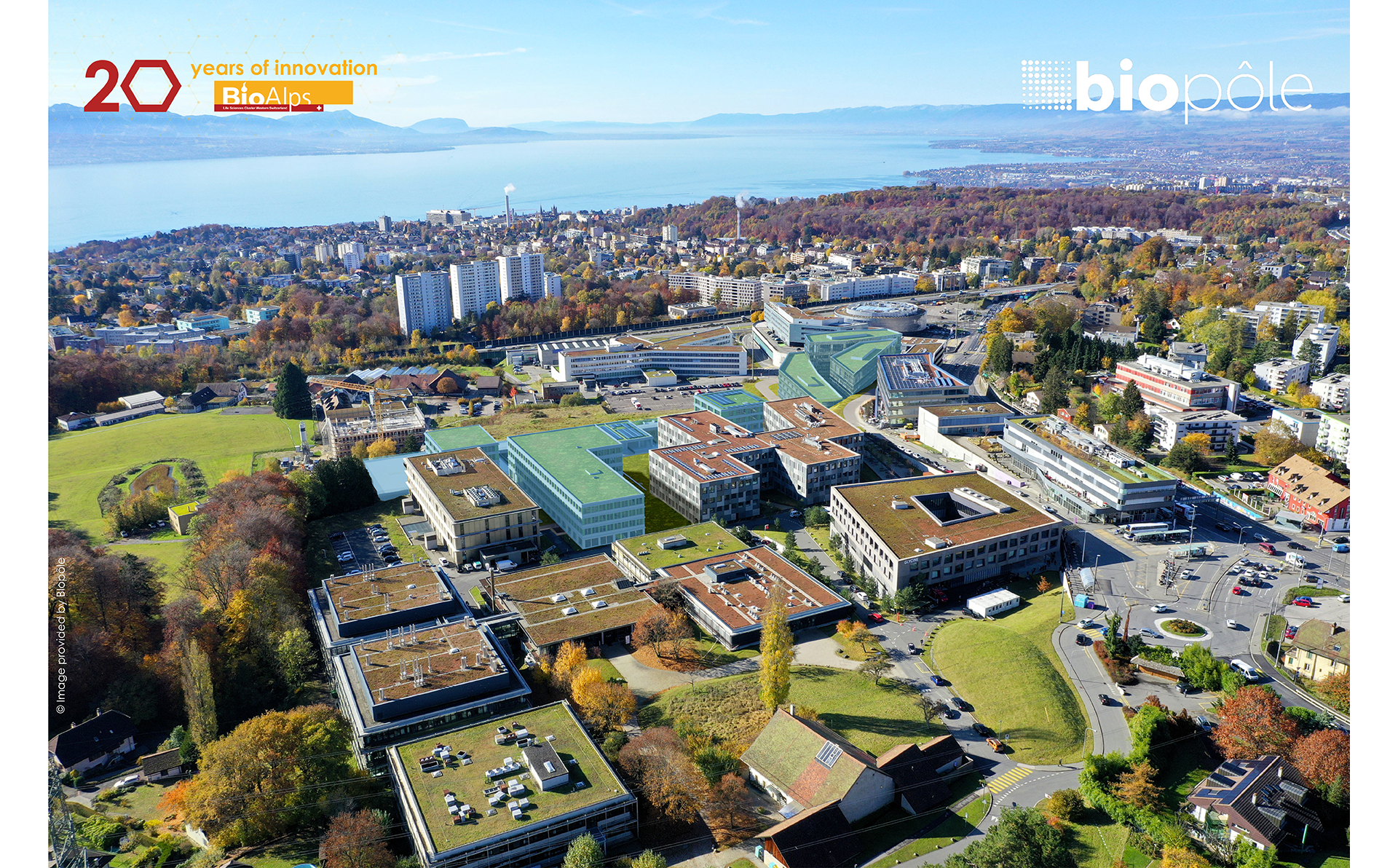 BioAlps | 20 years of innovation | Biopôle

High-quality support and valuable community for life sciences companies
We are pleased to share with you our new testimonial series as part of our ecosystem's 20th anniversary celebrations. The series aims to provide a platform for regional life sciences key players to present themselves, share their perspectives on the development of Western Switzerland's life sciences ecosystem and their outlook on upcoming challenges and opportunities. The following article is presented to you by Biopôle.
Presentation of Biopôle's activities
Biopôle is a science park that hosts companies and universities active in life sciences. Located in Lausanne, Switzerland, we offer high-quality infrastructure and value-added services to enable our members to thrive. In 2021, Biopôle is home to over 100 organisations and hosts more than 25 world-renowned research groups.
Major life sciences trends and developments and Biopôle's contribution
Our approach has evolved significantly since Biopôle's creation by the canton of Vaud in 2004. We started out as simply a park or 'host' of life sciences companies; now, Biopôle is a vibrant community and a place where life sciences companies have access to both high-quality infrastructure and a valuable network.
It is a privilege to see so many of our members – from startups and scale-ups to more established companies – growing and thriving at Biopôle, including Abionic, Distalmotion, HAYA Therapeutics, Ichnos Sciences, Novostia, AC BioScience and Volumina Medical, to mention just a few. One particularly noteworthy success story is ADC Therapeutics, which floated on the New York Stock Exchange in May 2020.
Our world-class initiatives have also contributed to the success of life sciences in the region. StartLab is an incubator for life sciences startups; the Digital Health Hub, DH², brings together professionals, researchers and companies from the digital health community; and Superlab Suisse offers private, ready-to-go laboratory space.
In 2021, we launched the Biopôle Start-up Fund to support the next generation of impact-driven life sciences entrepreneurs. With an annual budget of approximately CHF 500'000, the fund aims to help accelerate innovation for startups established at Biopôle and active in any area of the life sciences.
Significant foreseeable trends and challenges in life sciences
Tax initiatives could be one way to encourage  entrepreneurs in the field, but is certainly not the only one and probably not the most important one. The main challenge facing the life sciences in the region is to continue attracting diverse talents, bringing real value-added innovation to the market and securing the needed funds for their development. Putting the patients, or the citizens at large – all under-diagnosed patients – at the centre of integrative and inclusive innovation is certainly one way to rise to the challenges ahead of us as an industry. But challenges also present opportunities, and in this case Biopôle has stepped up to provide startups with funding through its Biopôle Start-up Fund, but also tapped into different opportunities to support our companies in their growth and put them in contact with large market players through our corporate partnership programme.
Major events that have contributed to the development of life sciences
Collaboration is at the heart of our philosophy, so we believe that the power of the community is stronger than the actions of any single organisation. Similarly, we cannot single out one event in the development of life sciences in Western Switzerland. Many different factors have contributed to this success.
The creation of BioAlps, for example, has improved representation for the industry, while our prestigious schools and universities have transformed our region into a valuable talent pool. The success of the École polytechnique fédérale de Lausanne (EPFL) in particular has helped put the region on the map. Several initiatives have been launched to support young researchers as they make the leap from academia to industry.
At Biopôle, we see many startups go from strength to strength each year. We put this success down to several factors. High-quality infrastructure is naturally key, but perhaps more important is our members' access to a wide, diverse network, which includes startups, SMEs and multinational companies. To continue developing life sciences in the region, Western Switzerland must connect with large companies. The launch of the Ferring Biologics Innovation Centre at Biopôle in April this year, for example, creates opportunities. Our corporate partnership programme has also facilitated successful collaboration, for instance the partnership announced this year between Clinique La Prairie and Genknowme, a Biopôle startup.
Biopôle's perspectives on the evolution of life sciences towards personalised medicine in Western Switzerland 
Our vision of life sciences is holistic, spanning all the way from wellness to illness. In line with this, we hope to see the industry evolve to focus more on prevention, so that it can be truly health- and not just disease-centred. We also need to go beyond digital to put innovation at the heart of health technology. Innovation requires collaboration and investment, which is why Biopôle launched DH², StartLab and Superlab to help startups evolve and offer more solutions to address patients' needs.