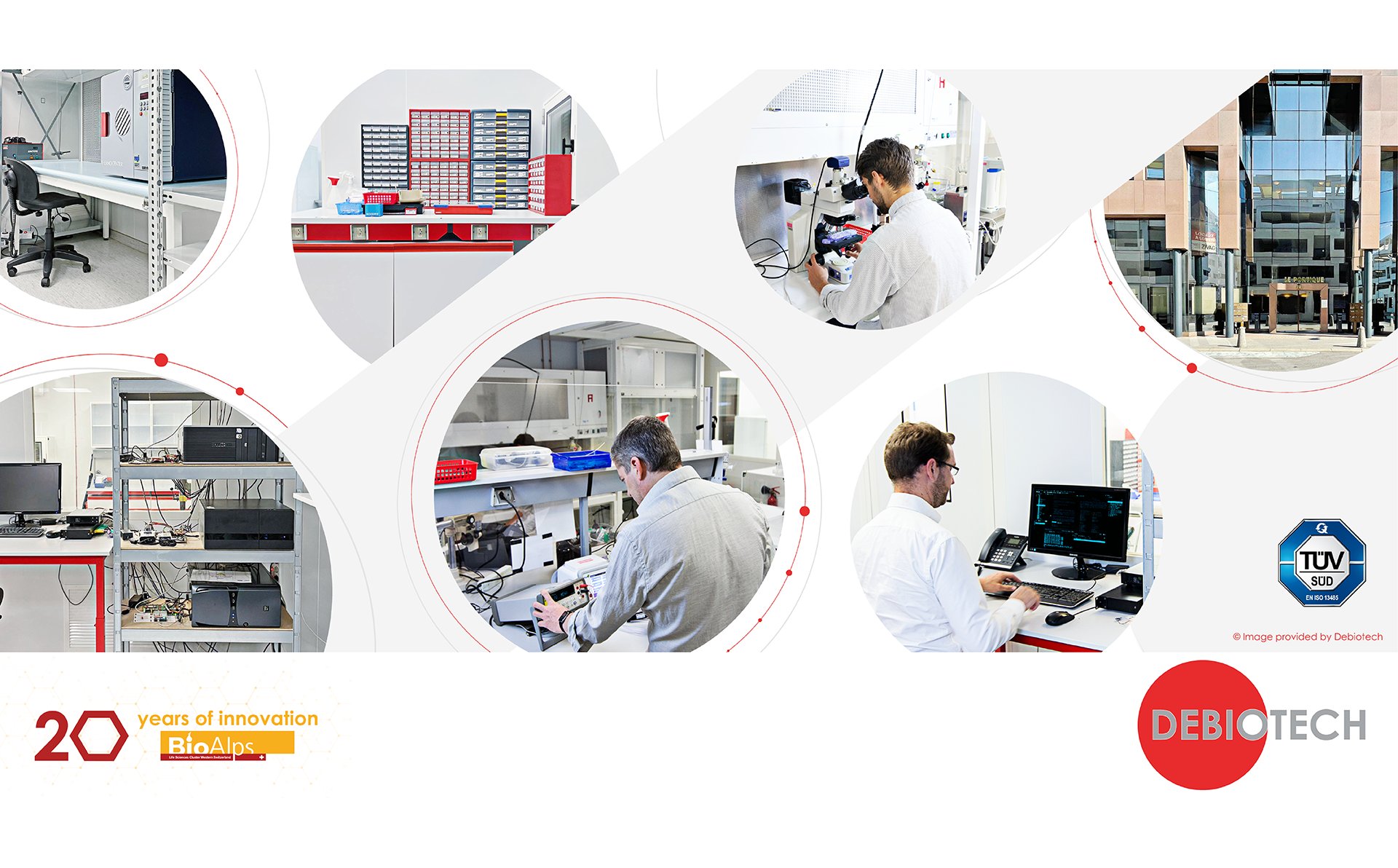 BioAlps | 20 years of innovation | Debiotech

Key medtech player fostering innovative medical software solutions and device development projects
We are pleased to share with you our new testimonial series as part of our ecosystem's 20th anniversary celebrations. The series aims to provide a platform for regional Life Sciences key players to present themselves, share their perspectives on the development of Western Switzerland's Life Sciences ecosystem and their outlook on upcoming challenges and opportunities. The following article is presented to you by Debiotech.
Presentation of Debiotech's activities
Debiotech has been developing medical devices for over thirty years. Today, it is organised around two axes: development of medical software as a service provided to players in the region and beyond, and incubation and development of highly innovative medical devices on its own or in collaboration with external partners.
Debiotech's contribution to the development of Life Sciences in Western Switzerland
As a developer of medical devices for which advanced technologies are a prerequisite, Debiotech has the ambition to reinforce its position as an innovation driver in the region. It has already contributed to this by having designed various breakthrough products in the last thirty years that are now on the market or in the process of being commercialised in areas such as dialysis, injection of contrast agents, intravenous injection, or diabetes. For the anecdote, the company developed solutions to manage an insulin pump via a smartphone when these were just starting to enter massively the market in the early 2010s. Through its history, Debiotech has also contributed to the creation of two spin-offs, one of which has been sold to a multinational company and the other has just raised €6 million in capital.
Major Life Sciences trends and developments
When we look at healthcare sector in 2021, two strong trends are clearly identifiable: the personalisation of treatments and the growing involvement of patients in the conduct of their therapy. In terms of medical devices, this is reflected in the development of solutions that are both simple and intuitive to use, highly connected and combining sensors and therapeutic systems that constantly exchange data to adjust treatment.
A central element in this approach is the software. It allows to gather the data collected by the sensors, to analyse them and to draw the necessary information for the adjustment of the therapy, all this while informing the patient in the clearest and least ambiguous way. The concepts of cyber security, telehealth, remote patient monitoring, artificial intelligence, user experience or patient centricity will become central to the development of any medical device.
How will Debiotech evolve to meet these trends?
These new trends have logically led Debiotech to an evolution of its business model. The company is now operating around two main axes: the development of medical software as a service and the incubation of innovative device development projects. The aim is to build on the experience and know-how acquired over the years and to share it with other companies and other projects to accelerate and secure their medical development.
This field of activity inherently presents many challenges that Debiotech's experience will allow to tackle with serenity. Data management, communication and cyber security are issues that are evolving very rapidly, both at the technical, at the legal and at the regulatory level. From this perspective, the academic, medical, institutional, and industrial network that has been developed in the region is essential. These efforts to bring together the various players with the support of BioAlps are fully bearing fruit with a reputation at both national and international level. Exchanges and collaborations with specialists can be established quickly and efficiently.
In this context, Debiotech is looking forward to its expansion, the establishment of collaborations with other similar ecosystems and intends to play an active role in the development of the health and innovation hub: the Health Valley.