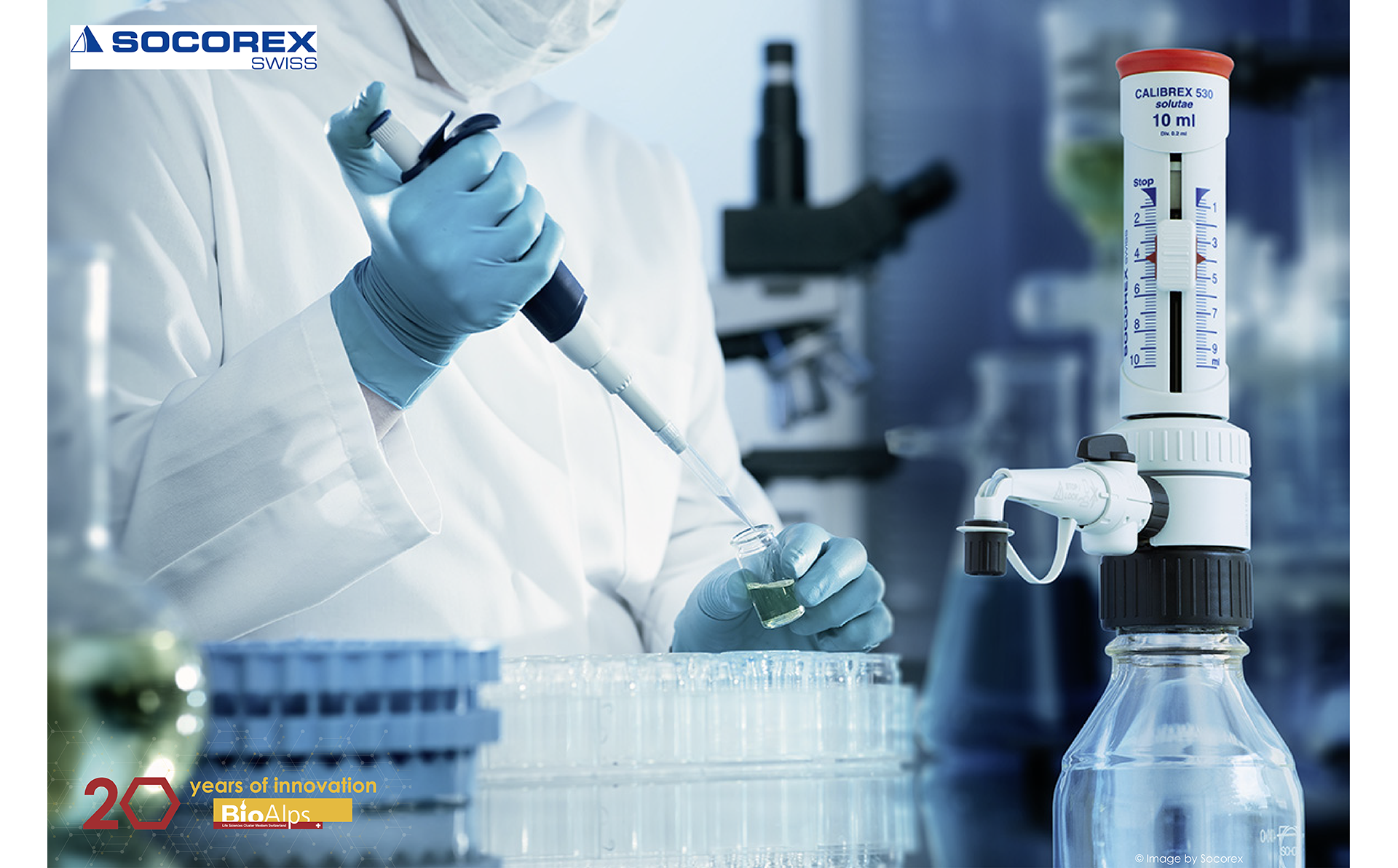 BioAlps | 20 years of innovation | Socorex

60 years of high-quality manufacturing of liquid handling instruments
We are pleased to share with you our new testimonial series as part of our ecosystem's 20th anniversary celebrations. The series aims to provide a platform for regional Life Sciences key players to present themselves, share their perspectives on the development of Western Switzerland's Life Sciences ecosystem and their outlook on upcoming challenges and opportunities. The following article is presented to you by Socorex.
Presentation of Socorex' activities
Socorex is a Swiss manufacturer of precision liquid handling instruments such as electronic & manual micropipettes, repeater pipettes, bottle-top dispensers, pipette controllers, self-refilling syringes, accessories and consumables. Instruments operate under ISO 8655, GLP, GMP standards. Stringent quality control procedures and individual QC certificates. Control laboratory is ISO 17025 accredited.
Major Life Sciences trends and developments and Socorex' contribution
Work organisation in the laboratory drastically changed. There is an overall process acceleration, more to test and less time to provide accurate results.
With its liquid handling programme, Socorex supplies tools meeting high expectations for reliable results. Mechanical simplicity and moderate cost are helping laboratories to be properly equipped without dispendious expenses.
Socorex also developed an efficient service programme to keep-up with the high demand of short term maintenance without long instrument mobilisation. As manufacturers based in Western Switzerland, Socorex also provides sponsoring and financial support to various institutions and organisations, helping them promote Life Sciences locally.
Significant foreseeable trends and challenges in Life Sciences
A great opportunity is to maintain and even increase the excellent research level reached so far. Strong resulting financial resources will have to ensure local companies will remain the leaders.
Challenges for Socorex are mainly linked to the rapid changes related to higher automation and robotisation level in a laboratory. To cope with the expectations of more results in the shorter term, Socorex continues to provide scientists with reliable mechanical instruments and services to preserve the quality and efficiency of these working tools.
Major events that have contributed to the development of Life Sciences
The evolution of the EPFL's activities and the appropriate political/economical support provided to scientists, greatly contributed to the development of Life Sciences enabling the region's expertise to reach its current level. In addition, various associations and organisations such as BioAlps created better networking possibilities and communication bridges among all players.
How will Socorex evolve to meet the new demand for personal health in a growing, interdisciplinary market?

Socorex will continue to serve the Life Sciences community, especially players involved with education, R&D and quality controls. Regular contact with users of Socorex liquid handling instruments enables the relevant perfecting of products and services. By renewing and enhancing existing company certifications, Socorex invests in its production facility keeping it to the latest standards.
Socorex is very proud to be a manufacturer of liquid handling instruments for almost 60 years, and to be part of the dynamic Western Switzerland Life Sciences community. In its strategic development, Socorex has chosen to evolve step-by-step. Every additional improvement phase is carefully studied, thought through, implemented and completed.