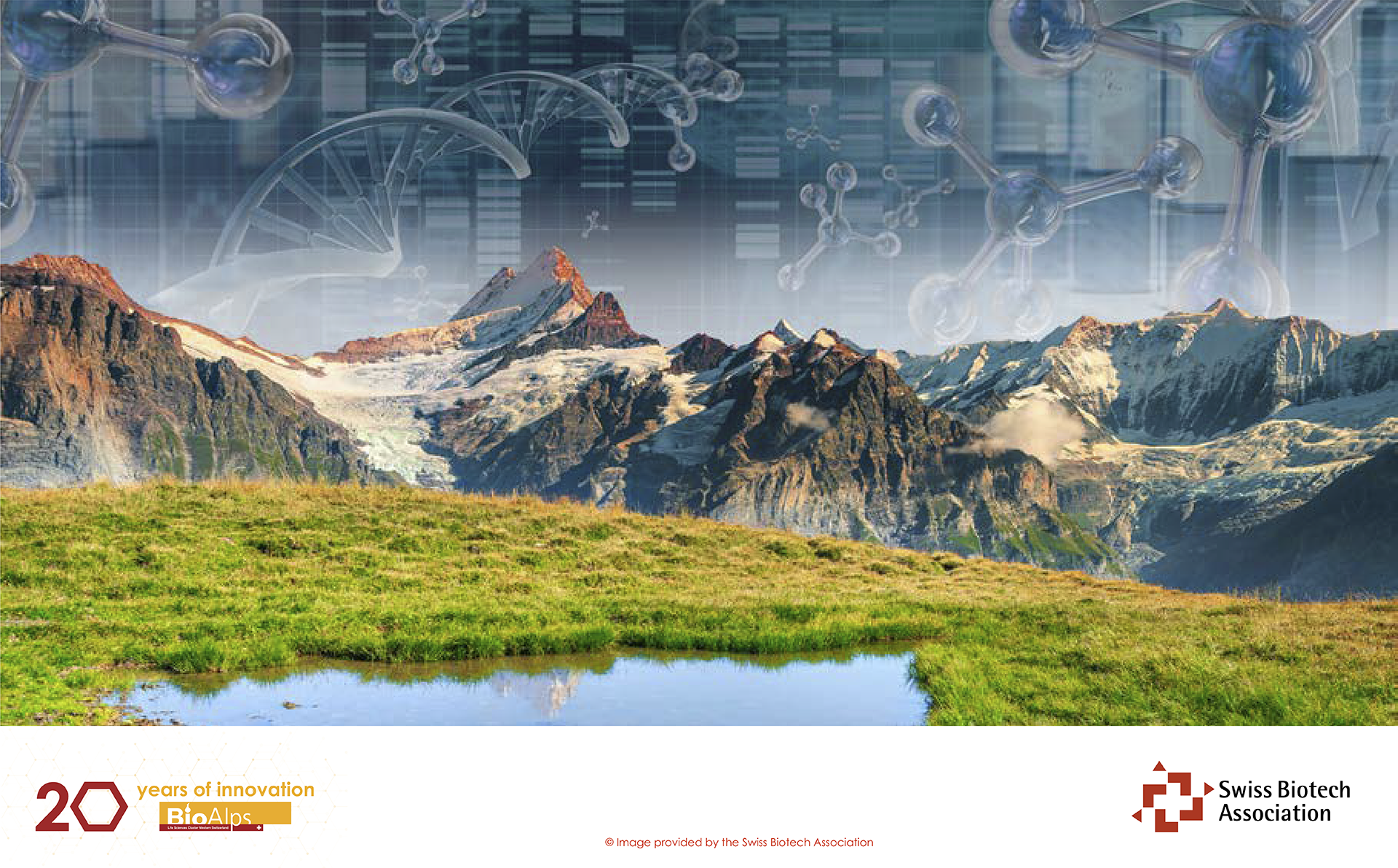 BioAlps | 20 years of innovation | Swiss Biotech Association

SBA | Representing the interests of the Swiss biotech industry
We are pleased to share with you our new testimonial series as part of our ecosystem's 20th anniversary celebrations. The series aims to provide a platform for regional Life Sciences key players to present themselves, share their perspectives on the development of Western Switzerland's Life Sciences ecosystem and their outlook on upcoming challenges and opportunities. The following article is presented to you by the Swiss Biotech Association.
Presentation of the Swiss Biotech Association's activities
The Swiss Biotech Association is a member driven national organisation which represents the interests of the Swiss biotech industry. To support its members, the association works to secure favourable framework conditions and facilitate access to talents, novel technologies and financial resources. The association was founded in 1998.
Major Life Sciences trends and developments
Innovation is on the rise not only in Western Switzerland but throughout the country. We have observed an increasing appetite for startup creation and risk. Switzerland is clearly reinforcing its position as a biotech and medtech startup nation with a record fundraising of CHF 3.2 Billion in 2020 in biotech alone.
Significant foreseeable trends and challenges in Life Sciences
Western Switzerland has a healthy competition from the Basel and Zürich area, which only provides impetus and positive energy. The Agora Research Centre at the CHUV in Lausanne and the Wyss Centre for Bio and Neuroengineering in Geneva will continue to provide impetus via competitive assets in oncology and neurology respectively – just to mention a few. The University of Geneva, the EPFL Innovation Park, Biopôle and Mass Challenge are all active in supporting young innovators take the leap.
Major events which have contributed to the development of Life Sciences
The concerted effort of the cantonal authorities and of the member driven organisations such as BioAlps have been critical in driving the success. Innovation and Bioparks proximal to universities and research hospitals have also been critical in fostering the private-public partnerships required to drive innovation.
How will the biotech industry evolve to meet the new demand for personal health in a growing interdisciplinary market?

Industry will need to make itself more agile by better understanding customer needs (more market research, better market tests) and by increasing its ability to harvest Real World Data (ROW) (more access to anonymised EDC).
The Swiss Biotech Association's recommendations
More and stronger partnerships with other ecosystems aggregators would be welcome, whereby representatives from these organisations participate in meetings across the board. The pandemic has made hybrid meetings, combining in-person with virtual, a reality. It would be great achievement to have a partnership starting with 1 or 2 partner industry associations abroad and/or in Switzerland itself. More continuing professional education opportunities are also welcome.
We also need to broadcast Swiss innovation more aggressively, avoiding too much Swiss discretion – some yes, but in good measure!